Commuters this morning may have spotted work underway at the traffic lights at the intersection of Oak and Scott streets. Bicycle "head start" signals are being installed, allowing bikes to start crossing Oak before cars get a green light. 
"The bike signal will include a leading bike interval, which will allow northbound bicycles to enter the intersection before vehicles," Ben Jose of the SFMTA told us. This head start system is already in place for pedestrians traveling north or south along Scott Street, but now cyclists will also get the right of way to enter the intersection ahead of cars. 
The new bicycle signals are part of the Wiggle Neighborhood Green Corridor project, which received approval from the SFMTA late last year after more than two years of planning. The stretch of Scott Street that runs between Haight and Fell is a popular commuter route for bicyclists, but has also been a high-collision corridor for years. In 2014 a cyclist was injured in a hit-and-run and Oak and Scott, and last year three people were injured in a hit-and-run on Fell and Scott. 
The San Francisco Bicycle Coalition shared its approval of the head start bicycle signal project with us today. "It's really great to see early implementation beginning on the Wiggle project," said Chris Cassidy, spokesperson for the organization. "The City has done a good job of giving people walking a head start at intersections throughout San Francisco, and we hope that this is just the beginning of extending that way to avoid conflict for people biking as well."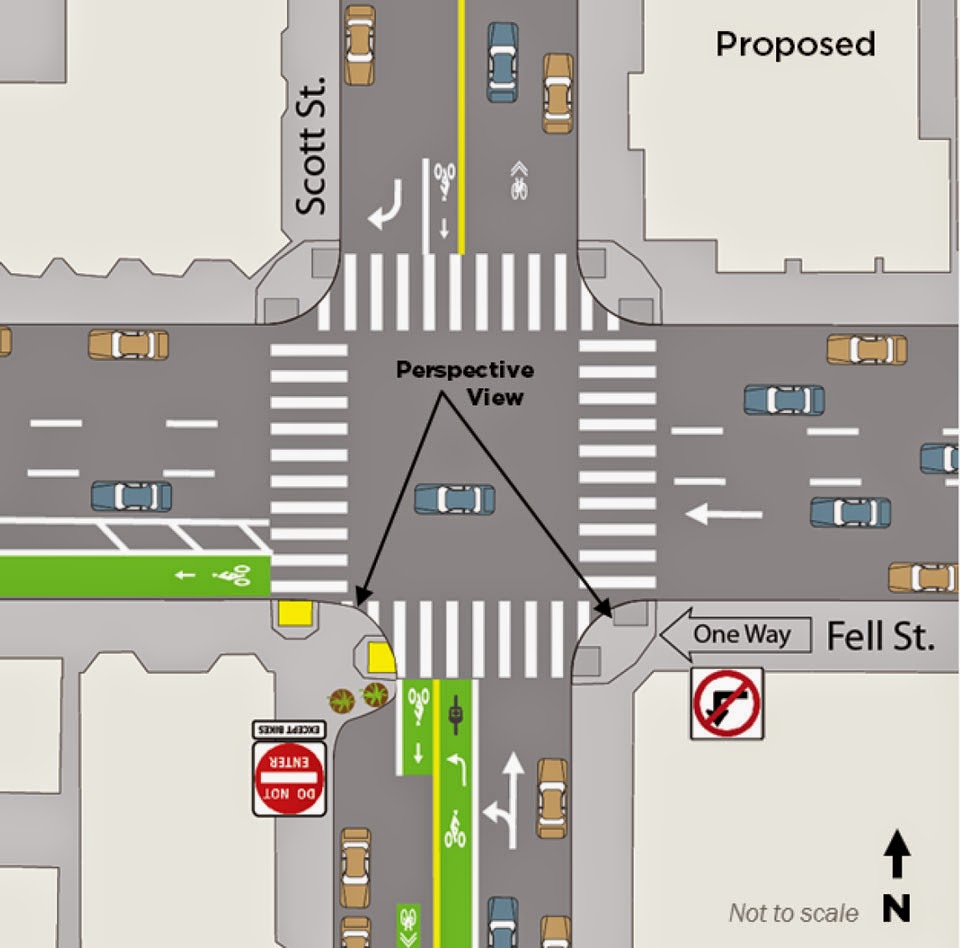 In addition to the bike signals, Scott Street is also set to receive a large bulb-out at Fell, which would act as a traffic diverter for southbound car traffic (bicycles and pedestrians will be able to continue down Scott). "This will reduce Scott Street's appeal as a cross-town route, making it a more pleasant place to walk, bike, and live," the SFMTA told us. 
According to Jose, the project is in final design stages with Public Works; we'll let you know when it's set to be installed. 
One local resident who spotted the bike head start installation this morning says it's a positive move towards safer streets. "I'm glad to see the Wiggle Green Corridor Project taking shape on a popular bicycle corridor," said Melyssa Mendoza, who is on the Bicycle Advisory Committee for District 5, and whose living room windows overlook the Wiggle bike route. "There have been many improvements over District 5 in the past ten years, and as a result I've seen a lot more families riding bikes along the Wiggle. I'd like to see similar improvements rapidly implemented throughout the city in additional districts, particularly along high-injury corridors." 
We'll keep you updated as future Wiggle Green Corridor projects are completed.