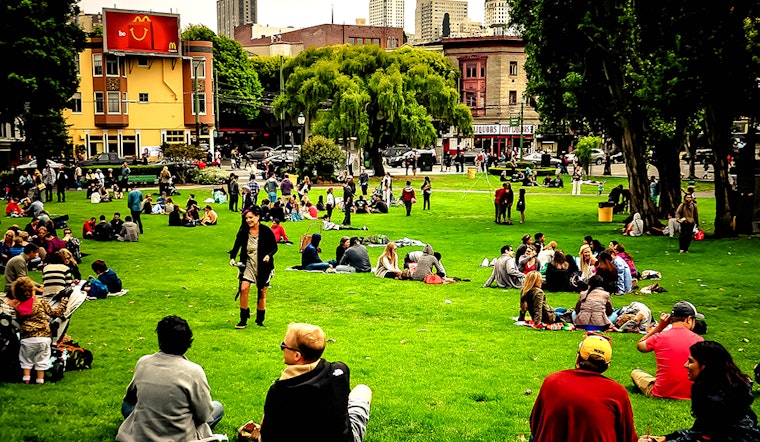 Published on July 14, 2016
It's a good weekend to take to the seas (so to speak) around North Beach.
Tonight is the first of three summer Thursdays where you can enjoy the Bay backdrop and take in a movie aboard the 1886 Balclutha docked at Hyde Street Pier. Tonight's "floating film" is the 1933 movie Tugboat Annie, directed by SF native Mervyn LeRoy. Open seating begins at 6:30pm and tickets, which can be purchased on location, start at $5.
On Saturday you can take a peek beneath the ocean surface courtesy of the Exploratorium's live feed with the Exploration Vessel Nautilus, which is exploring the Channel Islands National Marine Sanctuary in Southern California. You can speak directly with the vessel's onboard scientists and educators to learn about the mission's high-resolution sonar mapping of the underwater ridges, seamounts, and basins. The feed begins at 1:30pm and entrance is free with museum admission. 
On Sunday at 7pm, take a break from the sea by catching a pre-release screening of Kevin Smith's new horror comedy Yoga Hosers, which opens nationally on September 2nd. The film, which stats Natasha Lyonne and Johnny Depp, is a spin-off of Smith's 2014 horror film Tusk; there will be a Q&A with Smith following the screening. It all goes down at Cobb's Comedy Club (915 Columbus Ave.) and tickets are available online.
Also in the news and staying on the oceanic theme, SFist posted an overview of all the hidden gems in the Jackson Square area this week, including the numerous area galleries, the Sydney G. Walton Square and the Old Ship Saloon (298 Pacific Ave.). 
Now, on to our editor's picks for the days ahead. For a full list of what's going on around town this weekend and beyond, don't forget to check our hoodline.com/events. If you see a local event missing and want to get in on the fun, submit it for free for the chance to see it featured in our next events roundup.
Thursday, July 14th


Friday, July 15th




Saturday, July 16th


Sunday, July 17th


Monday, July 18th


Tuesday, July 19th
This Week In North Beach News