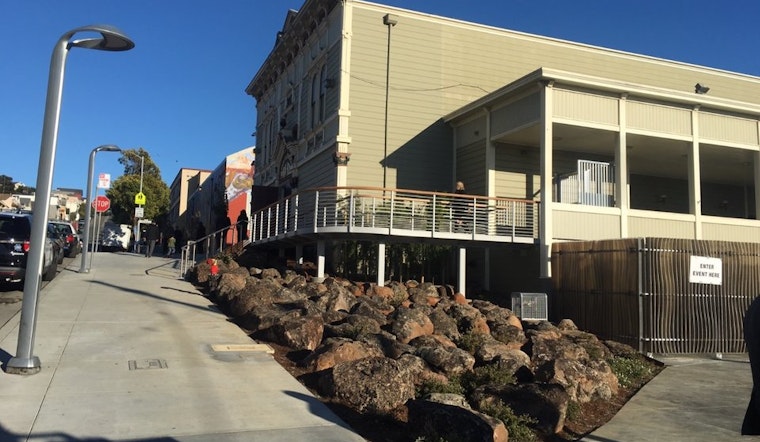 Published on July 22, 2016
In May, we reported that the historic Bayview Opera House had plans to reopen in October after a two-year renovation, but it turns out that doors will be opening much sooner, with the new date set for September 17th. This announcement was made during the community ribbon-cutting ceremony that took place Wednesday in the newly built outdoor theater, an event which drew a crowd of old and new Bayview residents, community leaders and public officials.
Supervisor Malia Cohen headlined the presentation, joined onstage by Mayor Ed Lee, Congresswoman Nancy Pelosi, Police Chief Tony Chaplin, District Attorney George Gascón, Public Works Director Mohammed Nuru, Assemblymember David Chiu, Supervisor Scott Wiener, Bayview Opera House Board member Theodore Ellington, Reverend Calvin Jones Jr. of Providence Baptist Church, and Executive Director of the Bayview Opera House Barbara Ockel.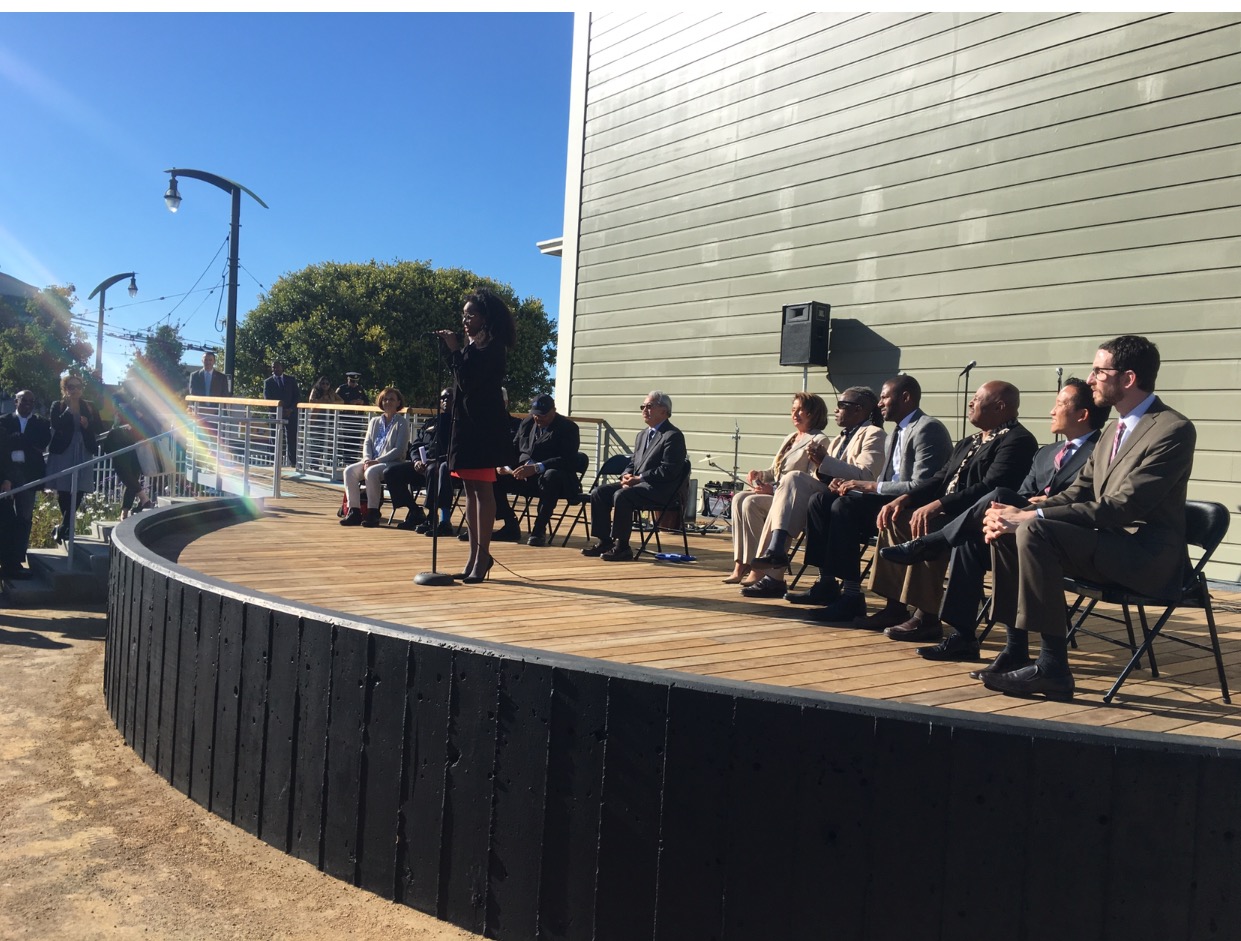 "The Opera House was a safe place for people when they were rioting," said Cohen in her speech. "The Opera House was a safe place for a safe space for after school kids to play and for seniors to congregate. What's beautiful about today is the Bayview Opera House will remain all of this. This is tremendous."
"When I look out there, I see generations of people that have raised their families and have been champions fighting at a time when nobody would fight for us," she continued. "Everyone in this community has a role in making the Bayview Opera House great, and a continued role in making Bayview Hunters Point more than just a dot on the map."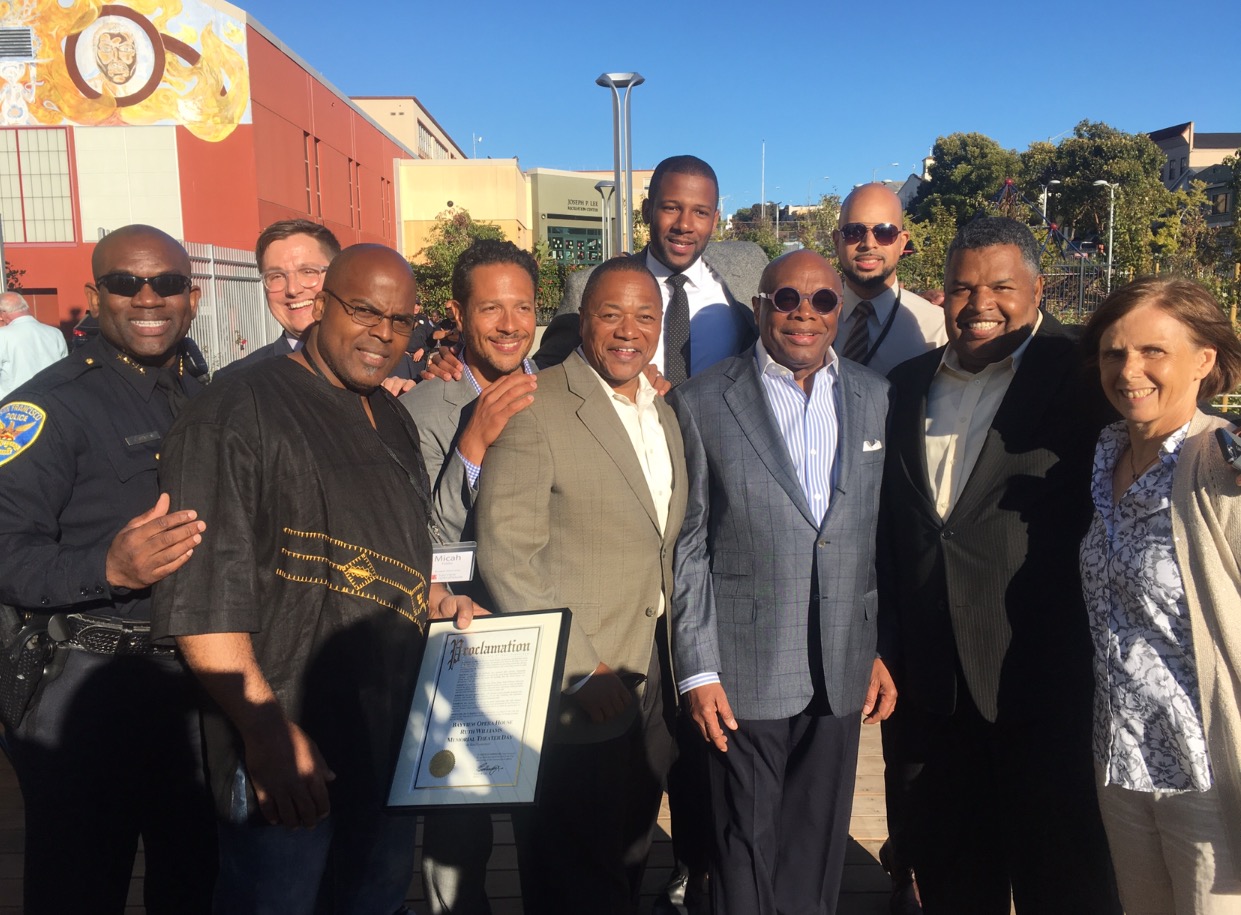 The celebration marked the end of the $5.7 million renovation, spearheaded by the San Francisco Art Commission, which gives the landmark a variety of improvements, the most noticeable being ADA access in and around the building; new restrooms; and a new outdoor plaza with stage, permanent seating, and landscaping.
Landscape architect Walter Hood of Hood Design was the lead in implementing the improvements and facade of the building. "I'm thankful to the community for allowing my team to fulfill their vision," said Hood. "All of our kids should be able to experience quality environments. When the building is closed, the community can still come in ... The building does not give you the lock and key to the landscaping."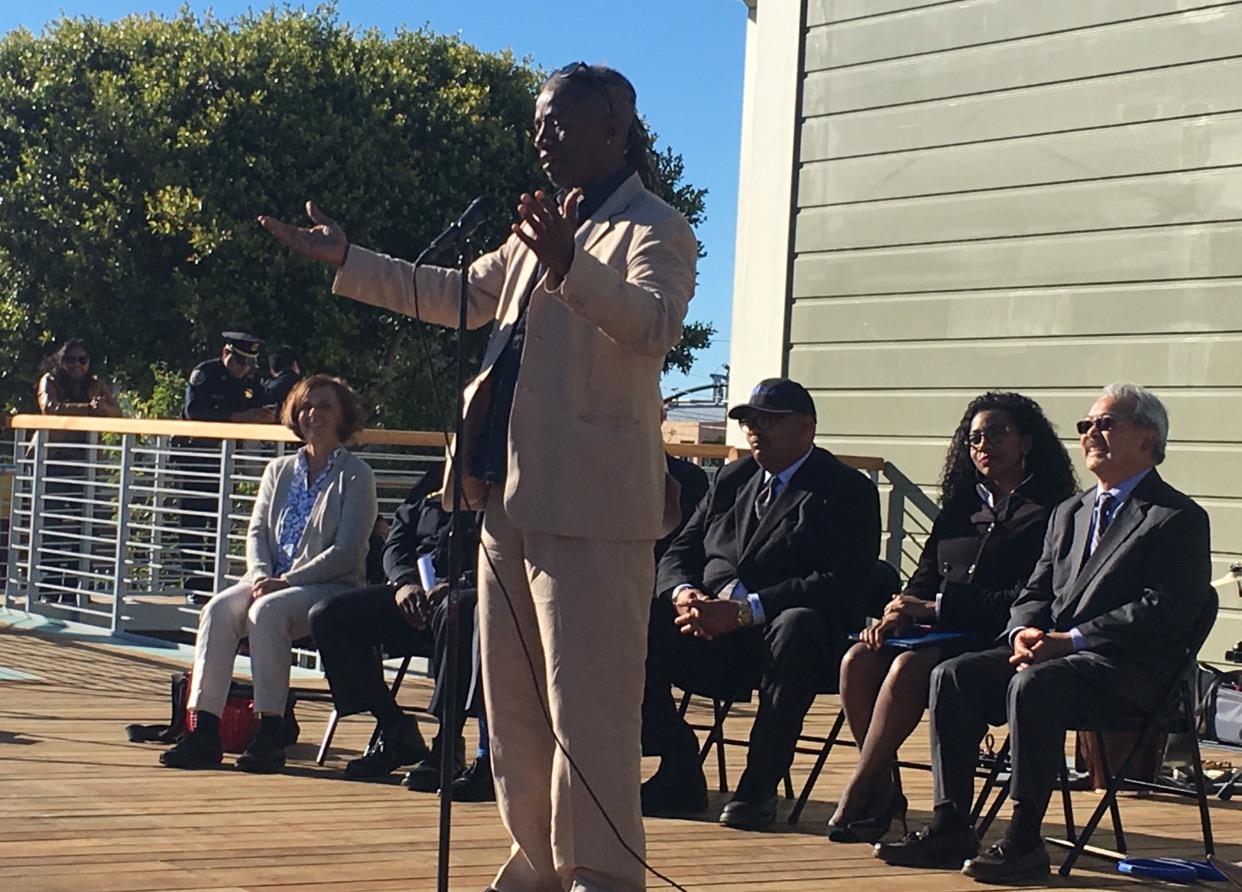 Hood noted that his design was inspired by the idea of "giving the building back to the community." Other improvements include a new entrance and an exterior glass walkway connecting the Newcomb Street entrance to the stage area.
Mayor Ed Lee also expressed his gratitude for the successful collaboration between community stakeholders and city agencies, and presented a proclamation to the family of Ruth Williams, seated in the front row, that declared July 20th "Bayview Opera House Ruth Williams Memorial Day" in San Francisco.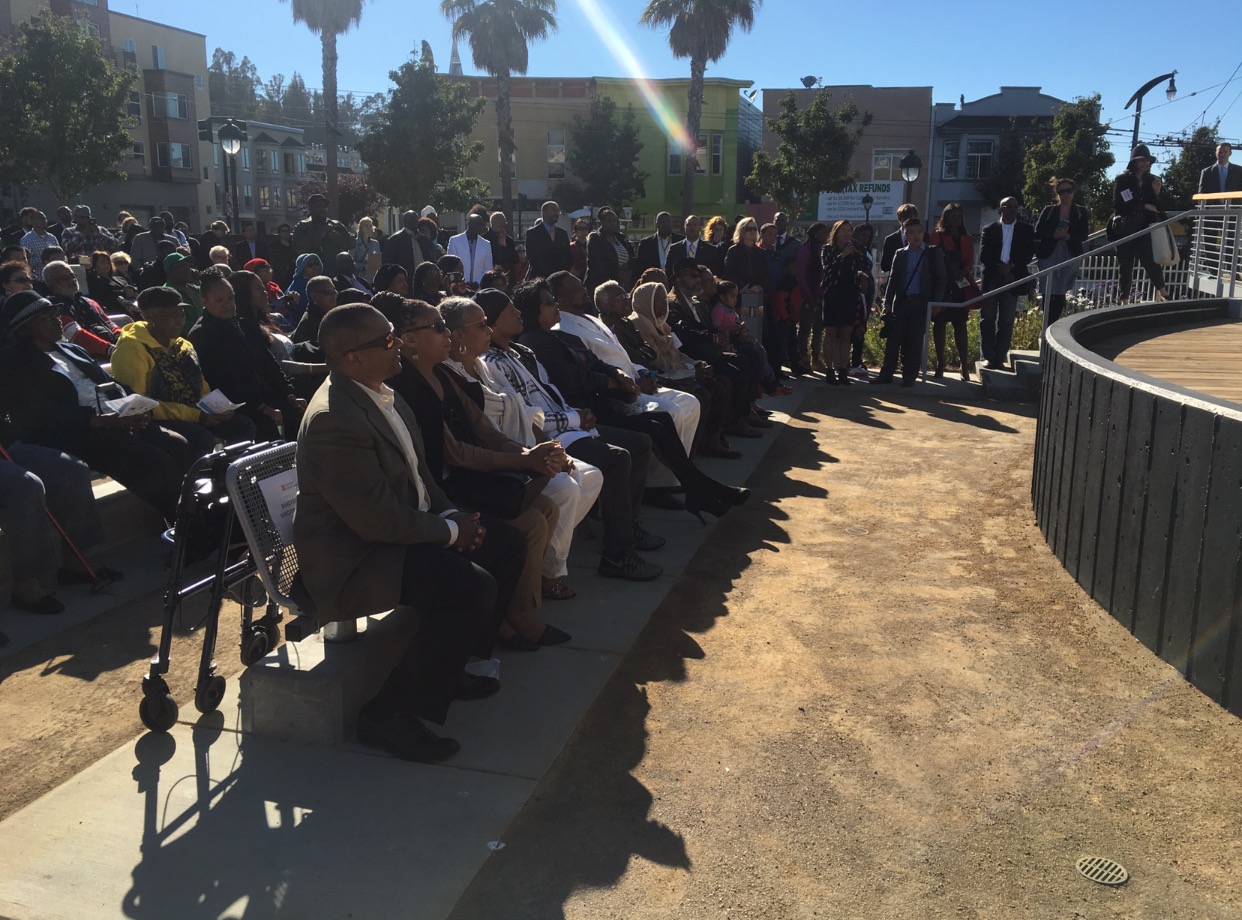 "This is one of many investments being made in the Bayview thanks to leadership of Supervisor Malia Cohen and leaders like Sophie Maxwell, to name a few, said Mayor Lee. "We are not about making new promises when it comes to Bayview. We are all working together carrying out old promises of investing in this neighborhood. There is more to come because of the commitment we've made, and right now, we can afford to keep those commitments."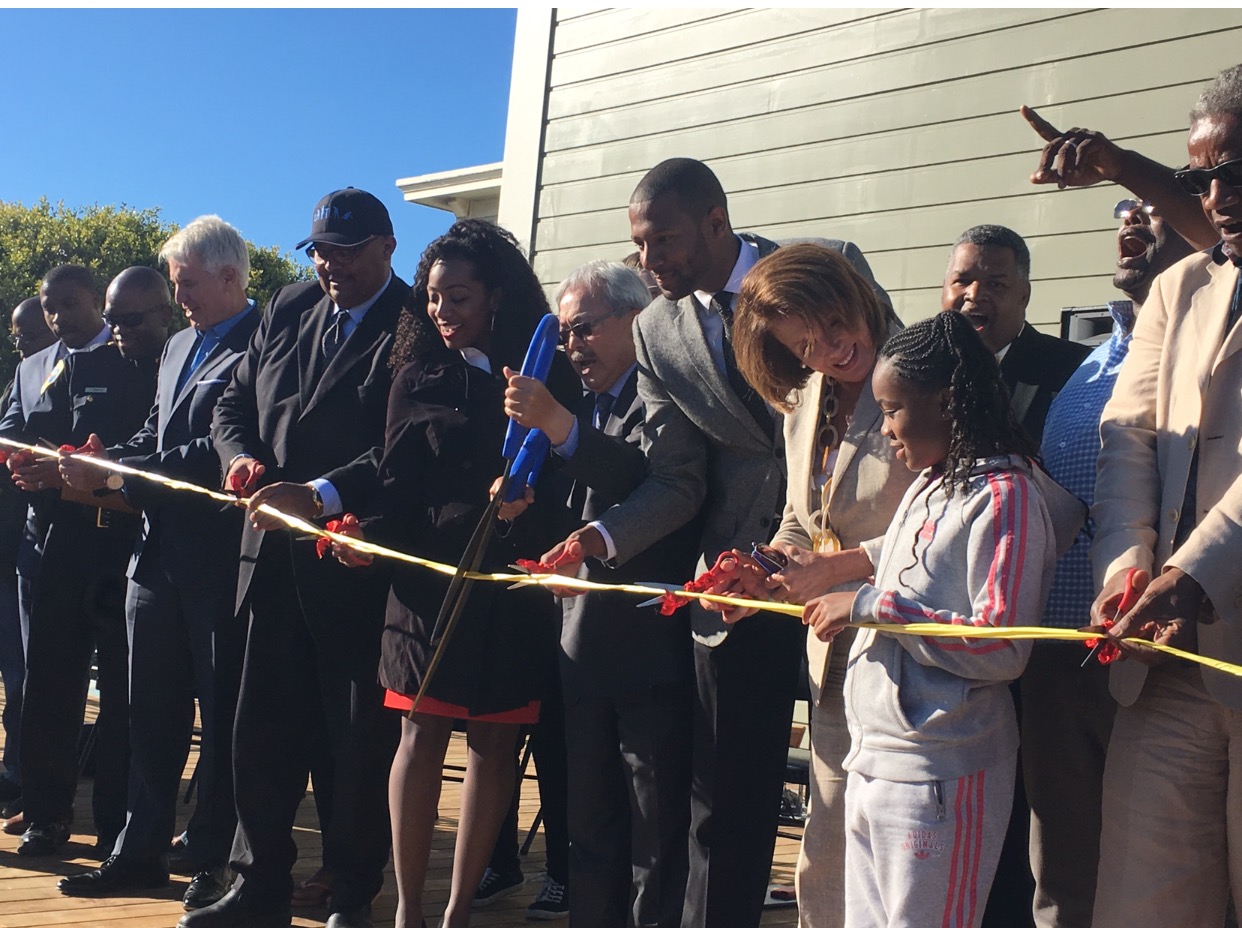 Other prominent community supporters and stakeholders shared their sentiments with us on the long-awaited renovation:
I'm excited, but I'm more anxious to see how it's going to play out with the community. My concern is losing the historical element. I know it's for the community, but I'm here to check out the scene and see what we are working with.
- Mary L Booker,  longtime Bayview Opera House acting teacher
This district has what I call energy and wisdom. We have the oldest population and one of the youngest. So the Opera House will kind of bridge all of that together like we do as a culture.
- Sophie Maxwell, former District 10 Supervisor
I am a third generation Bayview resident. I used to walk past the Bayview Opera House, once a week with my father and it's so inspiring that I will be able to continue that tradition with my son, but now walk past a new, improved, state-of-the-art  Opera House  where he can really enjoy the art and history of the community.
- Leah Pimentel, Commissioner of the Office of Community Investment and Infrastructure (OCII)
It's really a testament to having a belief that good things can happen no matter how many things come along to discourage you. That's what I see coming out of this community. When I was a beginning reporter at the end of the '60s, I came out here to cover stories at time when we didn't think this building would ever look like this. And it's wonderful and makes me feel really good to have lived long enough to see the city keep a promise that nobody thought they would make good upon.
- Belva Davis, the West Coast's first African American broadcast journalist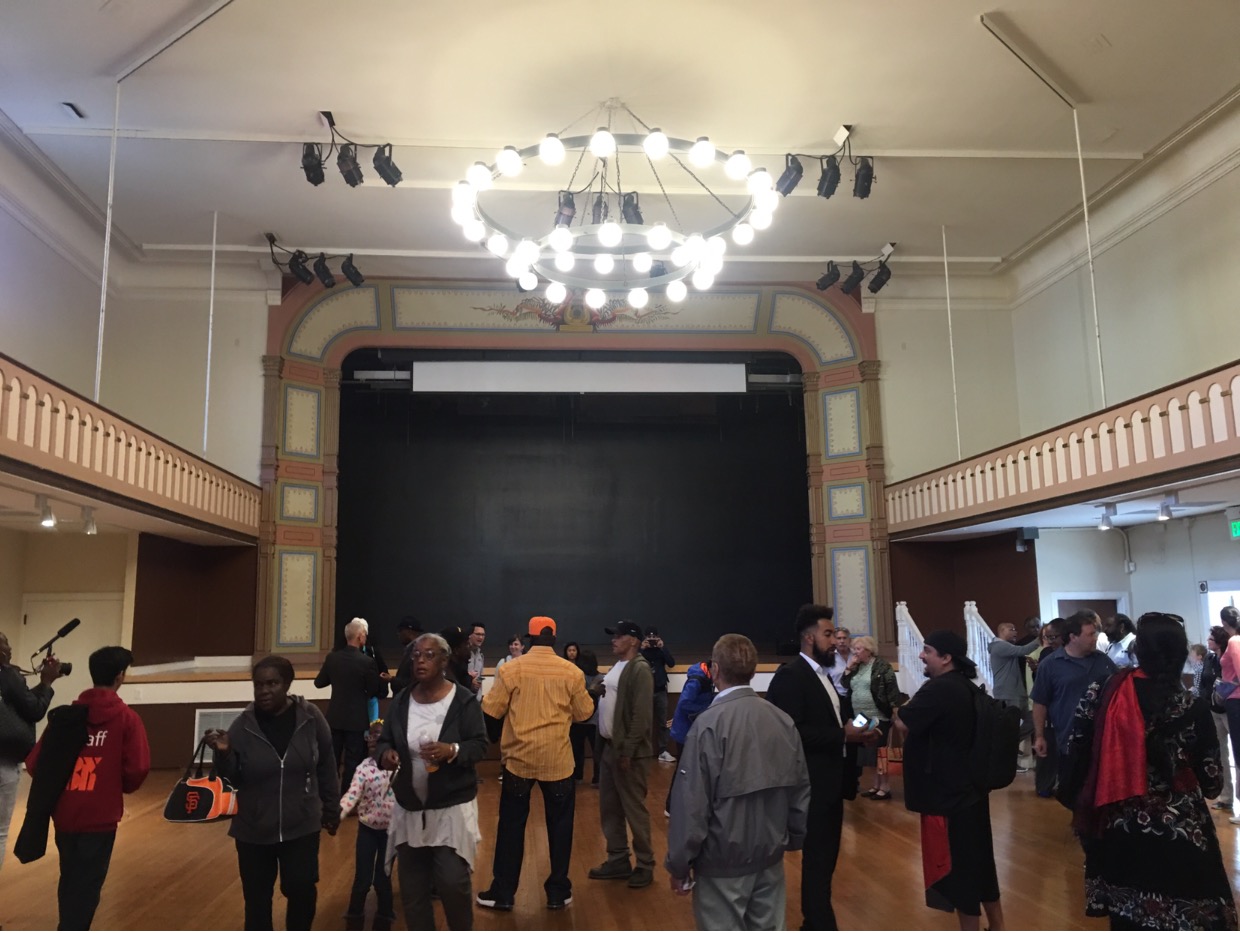 As preparations for the September opening and new programming continue, existing programming includes the 5th annual Circus Festival, which takes place this Sunday, July 24th, from 12pm-4pm, with Circus Bella and the Prescott Family Circus. The event is in collaboration with 3rd on Third and NOW Hunters Point ,and will feature a giant slide, games, local food and vendors. For more info on this event and future programming, check out the Bayview Opera House 
website.