25 years ago, the Chinatown Community Development Center and Chinatown's youth came together around a simple cause: improving the neighborhood through community service and engagement.
Last week, the organization celebrated that anniversary with the debut of a new art exhibition, "Made in Chinatown." Housed at community space 41 Ross, it'll be open to the public for viewing until September 4th.
The exhibition is comprised of photographs, a short documentary and a model of Chinatown made entirely out of Legos. It focuses on four notable arenas of youth engagement in Chinatown: Adopt an Alley (AAA), which holds monthly and annual events to clean the streets; Chinatown Alleyway Tours, a social enterprise that educates visitors about the neighborhood's history; The Campaign Academy, a youth lobbying group that advocates for causes like school lunches and free Muni passes for youth; and Youth for Single Room Occupancy Hotels, which aims to improve living conditions and cultural opportunities at SROs.
A representative for the CCDC told us that the exhibit is completely organized by youth leaders, and is intended to examine how youth have contributed to Chinatown and have helped envision its future. "[It] documents the youth leaders' efforts to clean up and beautify the alleyways, provide services for families in SROs, and educate seniors on issues like pedestrian safety and water conservation."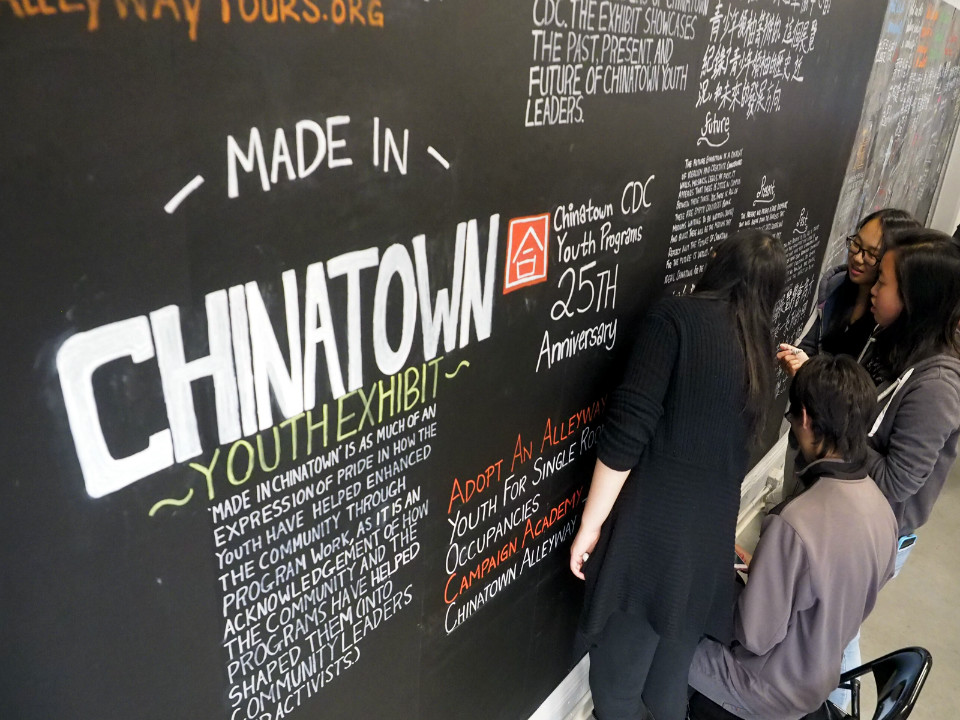 "This is a profound movement that started 25 years ago and has not only transformed hundreds of youths' lives, but has positively impacted Chinatown," said District 3 Supervisor Aaron Peskin.

"The youth program has been the place for me to go—not just to volunteer, but to feel like I was able to have my opinions and voice heard," said Lisa Yu, a Chinatown native and AAA member who will be attending the University of San Francisco this fall. "[We're here to] celebrate 25 years of Chinatown youth leadership and many more years to come ... celebrating the past, present, and the future."
District 6 Supervisor and State Senate candidate Jane Kim, a former youth organizer with CCDC, said that she owes much of her development as a leader and a public servant to the organization. "I learned the power of mentorship and organizing. I learned to fight for what is right, even when faced with insurmountable odds. I learned that one of the most powerful tools for change is love. I can honestly say much of who I am today was 'Made in Chinatown.'"
Looking to check out the exhibit? 41 Ross (between Jackson and Washington streets) is open Thursday-Tuesday from 11-4pm.