This week, you may have noticed that the Hayes Valley skyline got a bit more colorful (and topical).
That's because world-famous artist Shepard Fairey is in town this week, and has completed one of the two murals he's got planned based on prints he'll feature at his newest show, American Civics. 
The exhibition will focus on five of what Fairey describes as "abiding issues of our time," including gun control, voting rights, mass incarceration, income inequality, and workers' rights. All of the limited-edition serigraphs are based on famous images captured by photographer Jim Marshall.

The new mural, which is located on the side of a building on Linden Alley near Street of San Francisco Bike Tours, took two days to complete and is titled "Worker's Rights". It depicts Cesar Chavez upon completion of his 300-mile march to Sacramento in the name of farmworkers' rights. Today and Friday, he'll head over to the Mission to complete a mural at 701 Alabama St. which will portray Fannie Lee Chaney, whose son and two friends were murdered by the KKK for registering African-Americans to vote.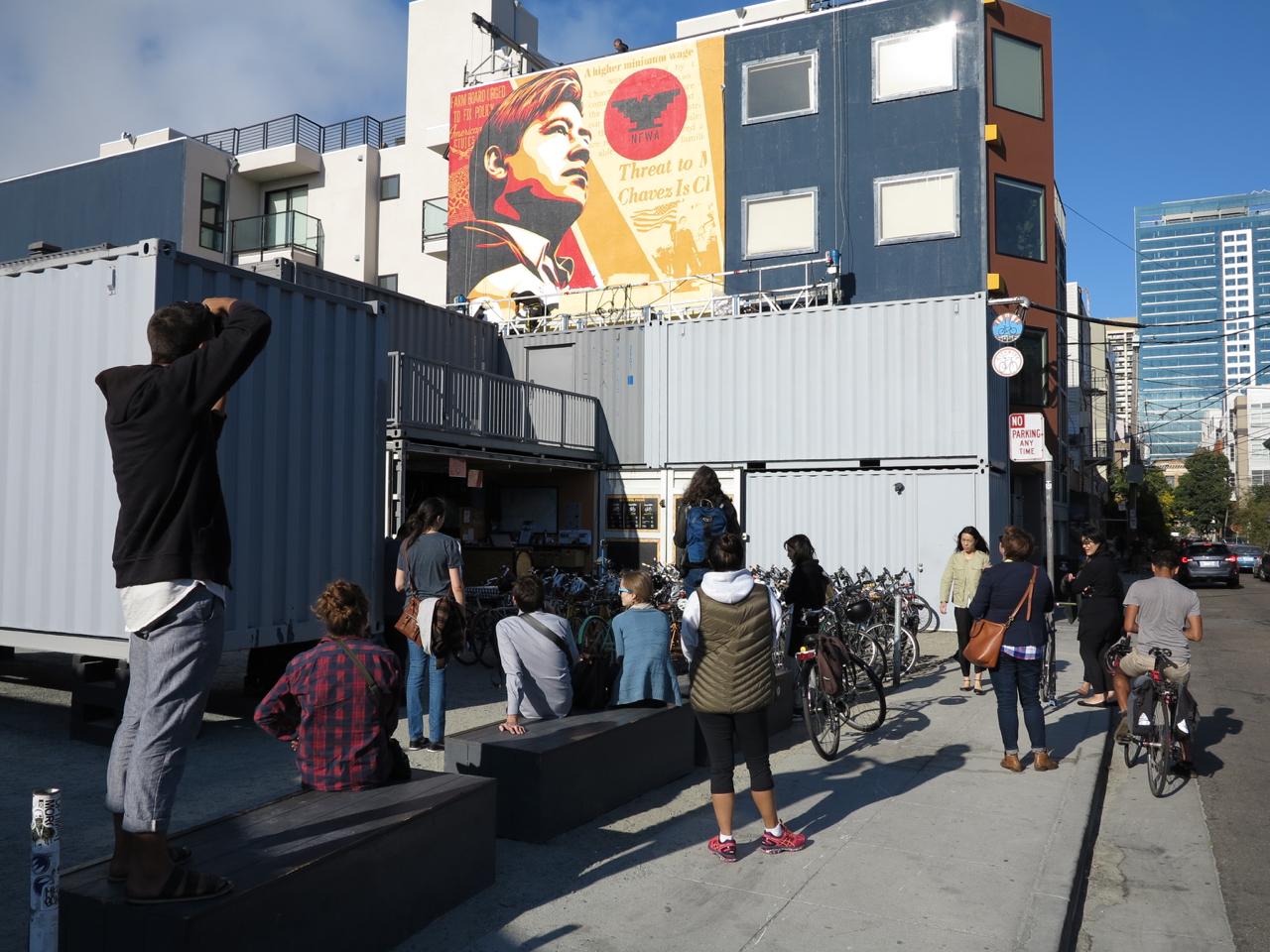 We were lucky enough to catch up with Fairey just after he completed his Hayes Valley mural to discuss his upcoming show, his civic responsibility as an artist, and his intentions behind his newest mural project.
Your new show, American Civics, focuses on what you feel to be five important issues in American society today. Tell us a little about why you chose these topics.
Well, these are all things that affect everyone, and even though the reference images are from the '60s to the early '70s, they are timeless issues. I think that after the big recession from 2008, it's been much easier for corporations to dominate things, because anytime that capitalism seems shaky, you know who the winners are. For me, I was a Bernie Sanders supporter, but I think this is a really important election and I think that Americans are sensible enough not to elect Trump, because we'd be going into another very, very dark time if that were the case. So these are all just issues that I care about, that I think are relevant right now for the election season, but they are also always relevant ... I just want more justice and more compassion in the world, and these images are about that.
They are all images from Jim Marshall's archive that I thought would allow me to talk about those issues and make a strong image. No one cares what you have to say if you don't say it in an appealing way, so that's always a challenge for me. A lot of art is purely decorative. People don't want to have to think about something heavy. They don't want art to be challenging.
Do you think that since you've gained such widespread recognition, you have a certain duty or obligation to make art that deals with these sorts of issues?
You know, a lot of people make art for different reasons. I feel a sense of obligation because I feel very fortunate. I lived at the poverty level for the first 10 years of my career and I was very, very stressed out. Now that I make a comfortable living, I feel like it is my duty in a sense because I can relate to the struggle. I feel like anybody who understands what it feels like to work hard and wonder if you're going to get evicted or have your car repossessed and who then is in a more fortunate position should do what they can to do good in the world.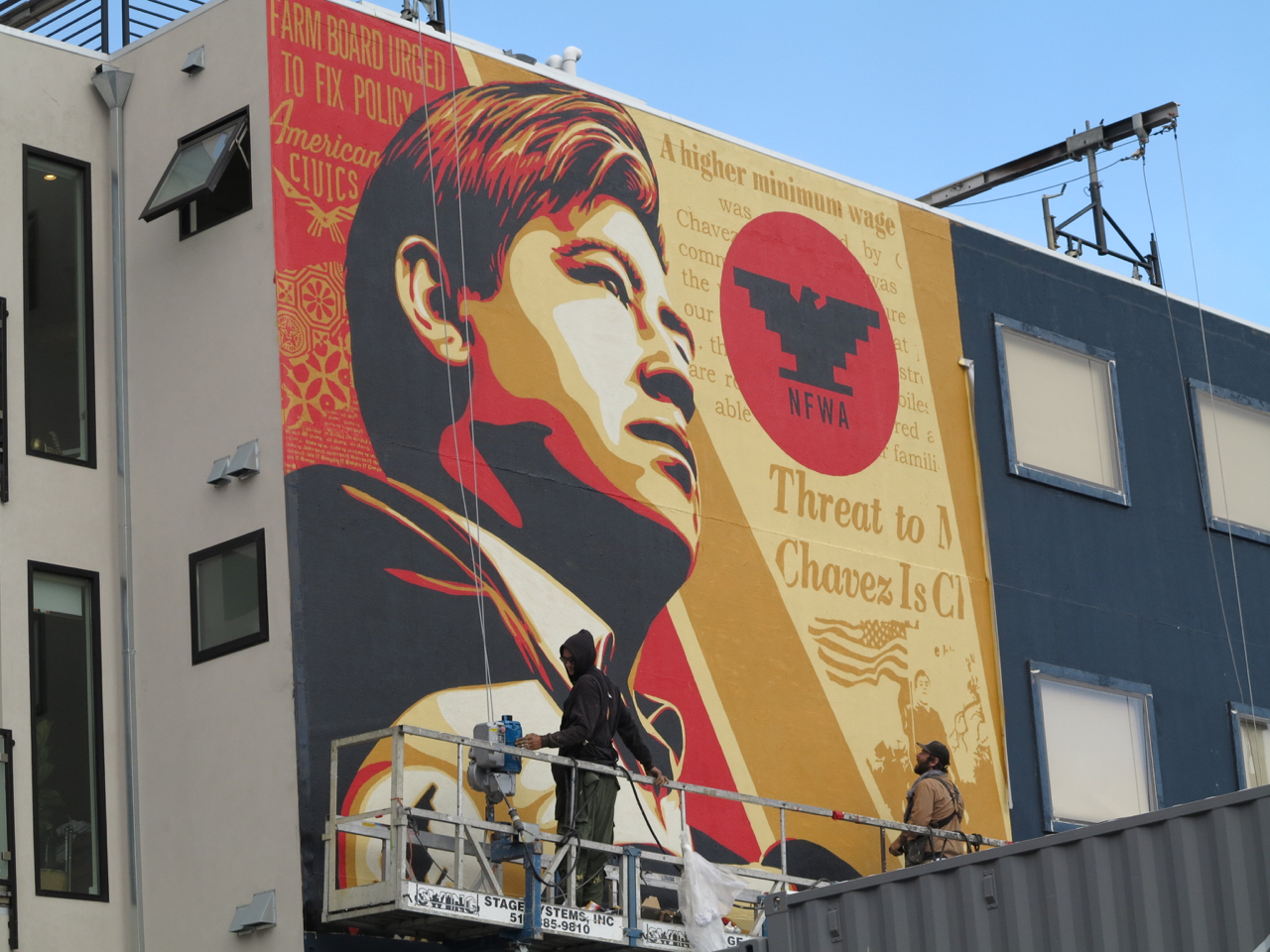 Why did you bring this all to San Francisco? What's significant about this city in relationship to this project?
Well San Francisco was always my favorite city for graffiti and art in the '90s. Then in the late '90s and early 2000s, there was the first dot-com boom and there was some gentrification and a little bit less space for the grimy types and the public art, and that's progressed up to today. But I still love this city and there are a lot of people with progressive politics and it's a good place for me to show the work because of the history here. Also, Jim Marshall, whose photography I'm referencing, lived here. Maybe it's a reminder to San Francisco that this type of thinking is an important part of its heritage and maybe it should stay.
What do hope this mural gives to the residents of Hayes Valley?
I didn't put Cesar Chavez in Hayes Valley as a like reality check to those who would gentrify indiscriminately, but in a way I think every neighborhood in San Francisco is getting more expensive, and maybe it's a nice thing to remind people about some of the important issues. I would have loved to do this image on Cesar Chavez Street, but I couldn't get a wall there. But at the same time, I think it's appropriate pretty much anywhere in the city.
Shepard Fairey's "American Civics" opens this Saturday at the San Francisco Art Exchange (458 Geary St.). He'll be there in person from 2-4pm to meet fans and discuss his work.