When Bacchus Management Group, the restaurant group behind Spruce, The Village Pub, and Mayfield Bakery & Cafe, steps into a new space, it tries not to bring preconceived notions of what it will soon become, says owner Tim Stannard. "The space tells you what it wants to be."
Soon after getting the keys to 1008 Larkin St. (at Post) and discovering its extended basement, they knew they had a supper club on their hands. On November 9th, they'll reopen it as The Saratoga, a New American restaurant with a specialty in old-school liquors.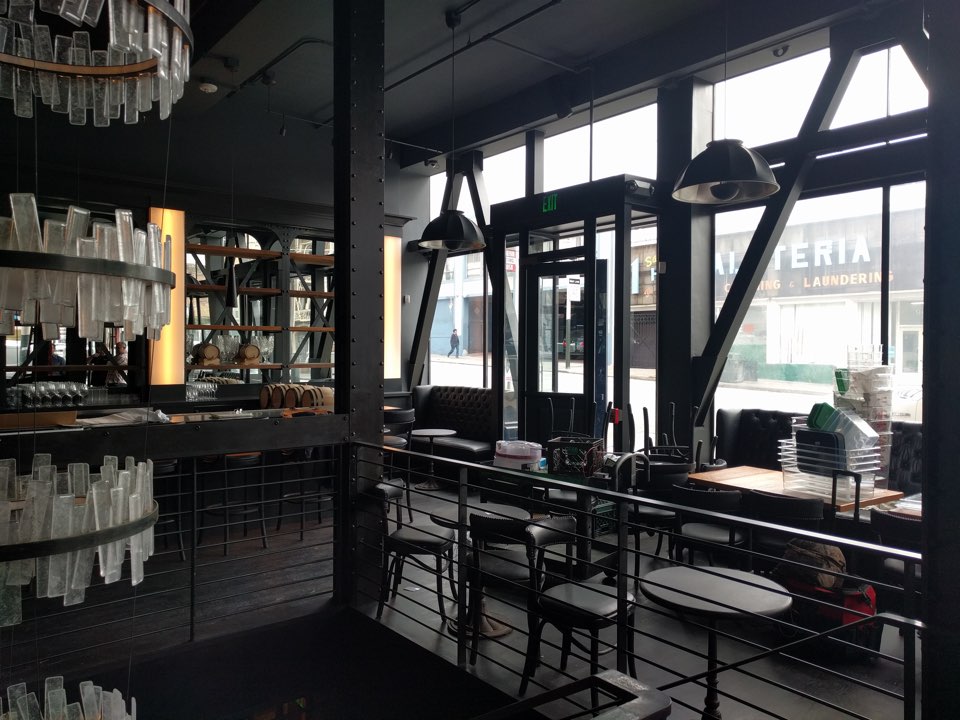 The space was in a "bad state of disrepair," having been boarded up for what appeared to be many years, Stannard said.
Upstairs, Bacchus Group exposed the building's original elements—including support columns made of Carnegie steel. One column, near the front door, is even emblazoned with its local source: Folsom Street Iron Works.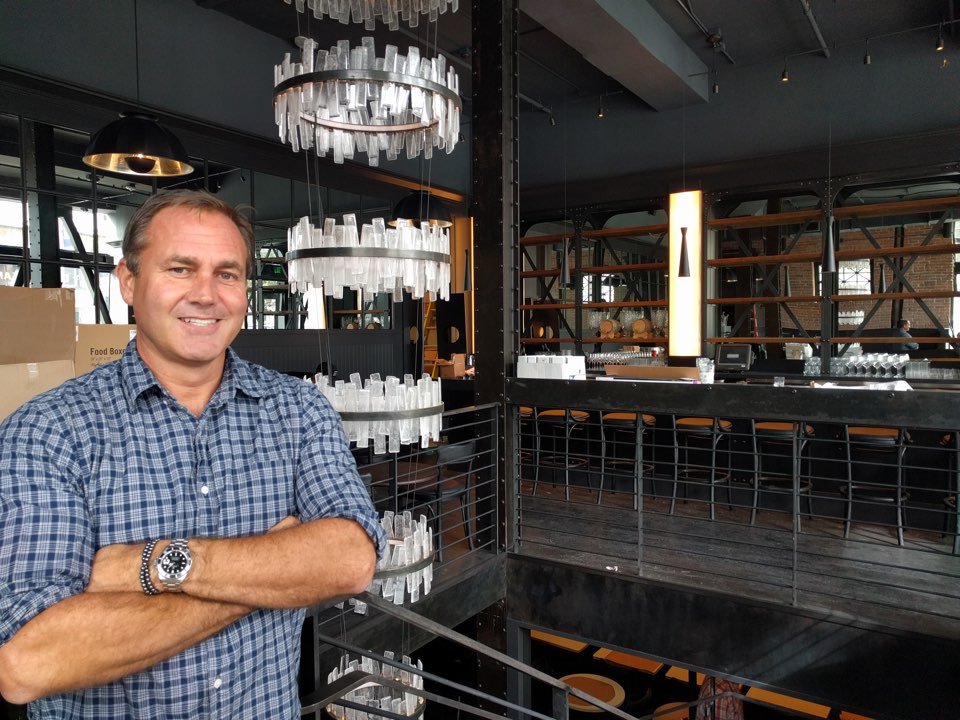 Now, the open upstairs lounge, offering roughly 65 seats, is designed to be a casual space neighbors can visit regularly, with a more upscale supper club in the basement. 
As soon as he saw the basement, Stannard said he knew it wanted to be an Art Deco bar offering a nod to the 1930s and 1940s, the neighborhood's heyday. The space reminded him of The Arts Club, London's famous members club.
The cozy room offers about 24 reservation-required seats, with closely packed tables and a marble bar. Grey cashmere-lined walls are covered in vintage art, including '20s and '30s works sourced by The Lost Art Salon, and a few modern commissions.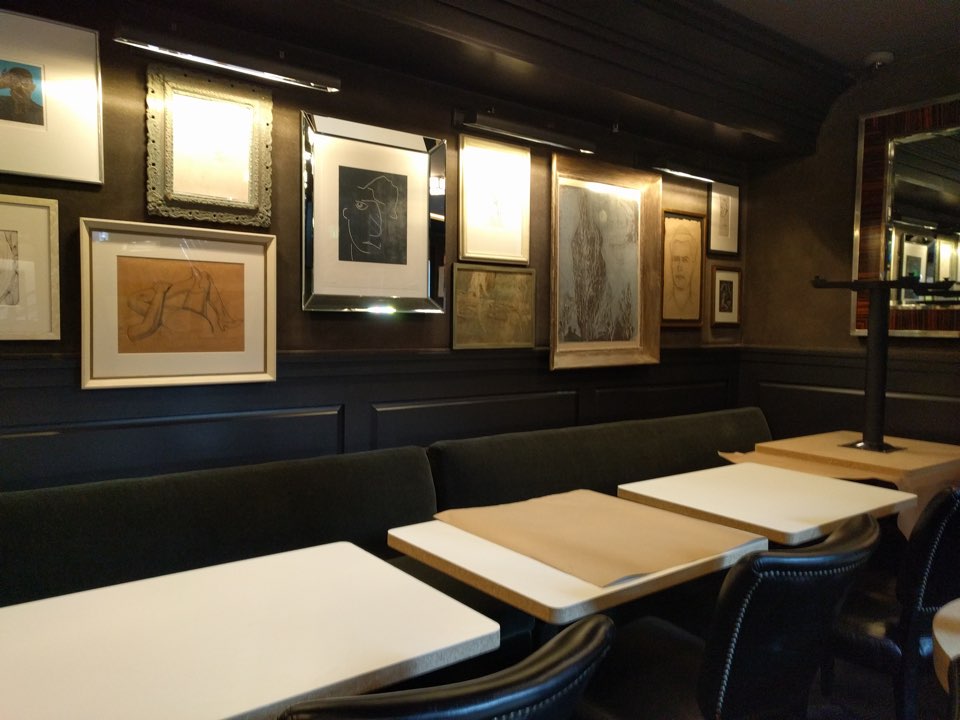 While The Saratoga offers two distinct experiences, the aim is for the two to "speak to each other," Stannard said. In that vein, they'll both serve the same limited menu, which Stannard characterized as "small, simple, fun."
While The Saratoga will be darker, louder and more fun, its service, food and drinks will offer the same level of quality as its sister restaurants, Stannard said. Chef de cuisine Jason Wittek, along with Spruce's culinary team, is focusing on an interpretation of classic American bar fare, with food that Stannard says is "more fun, not quite as serious." Don't be surprised to see a hot dog on the menu—alongside tater tots, a burger, chicken sliders and housemade Ho-Hos.
As for beverages, Spruce's head barman Brandon Clements is bringing an extensive cocktail selection to the table, along with a "library of lost and forgotten spirits." So far, he's collected more than 800 bottles of vintage liquor, many of which hail from the 1920s and '30s.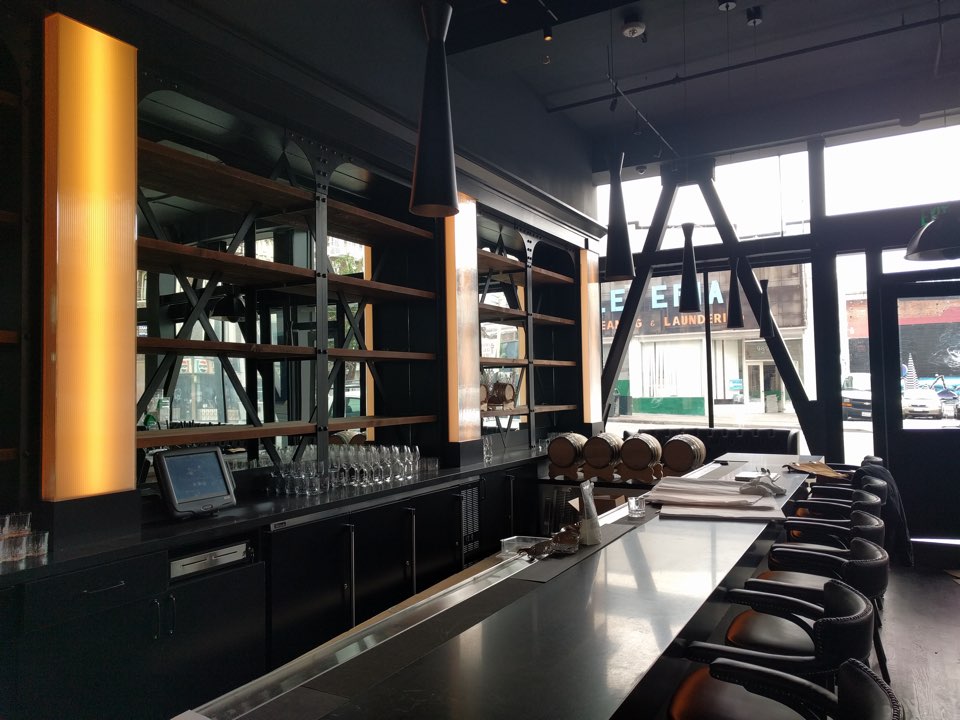 The Saratoga, which opens to the public November 9th, is Bacchus' first restaurant in the area. Stannard said he's always admired the Tenderloin's historic architecture, and loves their building—and its original neon signage, which only required a few minor touchups to the paint.
Stannard said he's impressed with the new businesses in the neighborhood, calling out neighbors like the adjacent clothing store Hero Shop and barber shop Barber Walter's, bakery-cafe Jane on Larkin down the street, and Post Street's future Meraki market.
But he also assures residents that Bacchus Group has always designed its restaurants with their surroundings in mind. "All our restaurants are neighborhood restaurants first. This one should be no exception."
Once opening day arrives, The Saratoga will be open from 5pm-2am daily. In supper club fashion, food will be served until 1am.
Thanks to tipsters Kelsey B. and Josh G. 
See something interesting while you're out and about? Text Hoodline and we'll see what we can find: (415) 200-3233.