Still reeling from yesterday's election results, the Castro, with its paws up and its poker face on, also had to deal with another bout of guerrilla sidewalk advertising this morning.
According to tipster Jamison W., pink #Joanne tags have been painted all over Market Street between Noe and Castro, to promote Lady Gaga's latest album of the same name.
"Over the night, Lady Gaga graffitied the Castro with her advertisements for some shit new album," wrote Jamison on Nextdoor.
"There are already a pair of city workers hard at work removing Lady Gaga's vandalism," Jamison continued. "It sickens and outrages me when seemingly reputable artists or companies decide they can graffiti whatever they want to sell their crap. It costs the city to clean up, and [the] city loses revenue from legitimately paid-for outdoor advertising."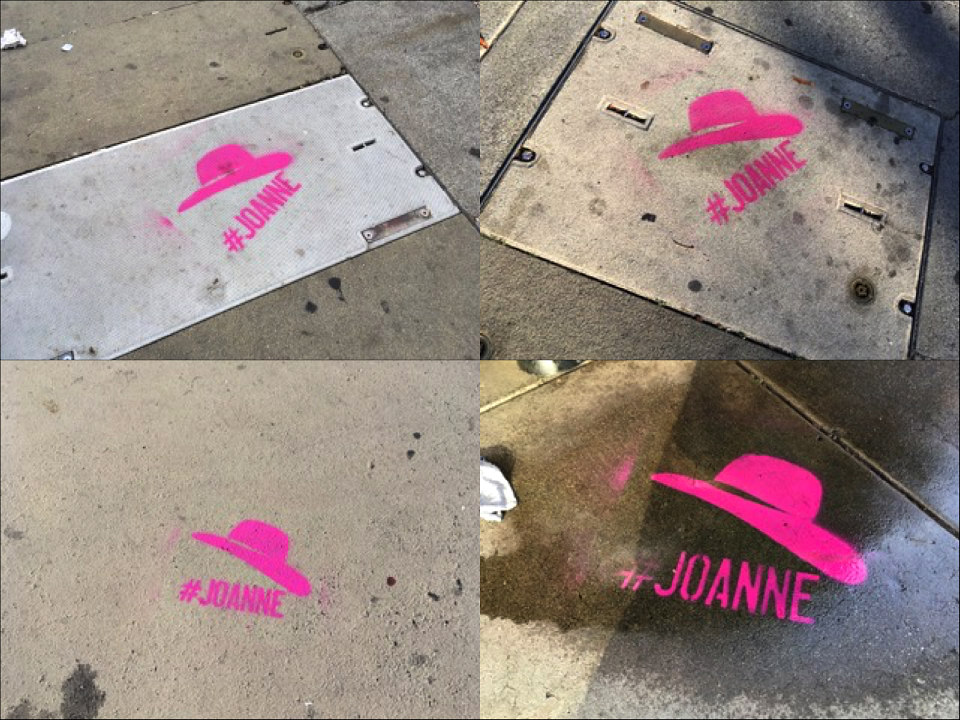 You may recall that Justin Bieber pulled a similar stunt around this time last year. As we previously reported, Biebs' graffiti promotions for his then-new album had SF Public Works cleaning up spray-painted sidewalks all over San Francisco. The City Attorney's office said that it was "demanding full cooperation from his record label and distribution company to compensate San Francisco for the cleanup."
We reached out to both Public Works and to the City Attorney's office to see how they plan on dealing with the Lady Gaga graffiti, but we couldn't get them on the "Telephone."
Thanks to Jamison W. for the tip.
We'll update when we get a response, but if you see more Lady Gaga tags in the meantime, send us a tip or text us a photo at (415) 200-3233. 
Update, 3:41pm: We just caught up with Rachel Gordon of Public Works. She thanked Hoodline (shout out again to tipster Jamison W.) for bringing this to her attention earlier this morning.
"Number one," she said, "we do not at all condone the use of our public sidewalks for advertising billboards. That's not what they're for."
According to Gordon, a Public Works inspector was sent out to the area along Market Street, between Noe and Castro, as well as the surrounding blocks. In total, the inspector found 11 illegal Gaga ads.
"The inspectors will be looking for who was responsible," said Gordon, "and we're looking at the record company and any promoters. We'll be keeping track of all of our time and we will be sending a bill to the responsible party for illegally using our sidewalks."
Gordon said that a cleaning crew is currently working to remove the Castro graffiti and that Public Works would be keeping an eye out in other parts of the city for the guerilla advertisements, although none have been spotted so far.
According to the Public Works spokesperson, she's been in touch with the City Attorney's office to see what to do next. Citing city legislation and previous cases as examples, Gordon said that "we need to send a message to people that we will pursue this, and that this is not okay."