The fate of famed North Beach dive bar Mr. Bing's has been in question since earlier this year, when we first reported that the business was set to be sold. When new owner Pete Cooper, of Irelands 32, bought the bar, it wasn't certain whether the bar would retain its dingy charm or be transformed into a new concept altogether.
Now, after some major renovations, the bar is back in business: the interior has a completely different look, but the exterior remains, including the iconic sign.
Originally, Cooper told us that he wasn't planning on making major changes to the bar beyond fixing the crumbling floors, adding some paint and making the bathrooms ADA compliant. But after sitting down with his team and head bartender Daire O'Conner, the team realized that some drastic changes needed to be made in order to make the project more viable.
"Owning a bar is like having a child," Cooper told us. "You try and give it direction but it often goes in another way." He said that it all depends on the neighborhood and the clientele to to determine what a bar ultimately becomes. But the bottom line, he told us, is that sometimes change is inevitable. 
Not everyone is happy with change. Upset former customers have been ringing him complaining about his decisions, Cooper told us. "But everyone is entitled to their opinions, aren't they? The rent is the rent is the rent," he said. "We have to be flexible and do what's best for us. The bar was for sale and I bought it. Now it's my turn to make a go of it."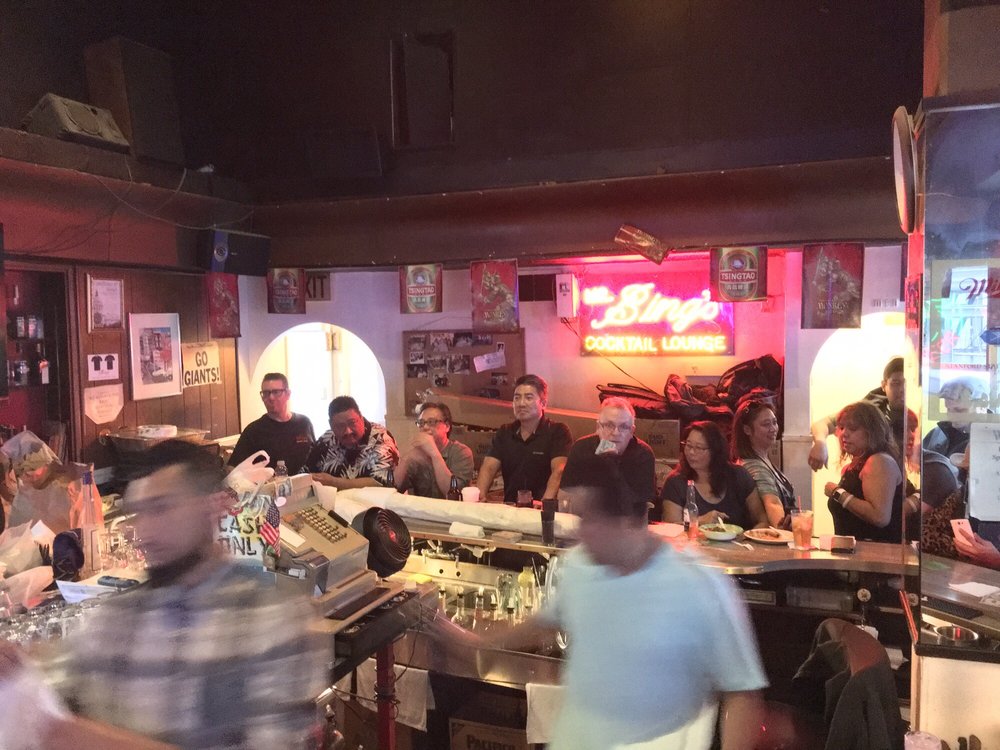 Chandra Walker, a former employee at Mr. Bing's and now head bartender at Brandy Ho's next-door, told us that "everyone knew with the sale that they were going to have to make some changes. But if you are thinking that it is going to be the same place where people place dice, it won't be. I think that it will eventually be moving its way towards something more like the vibe at Ireland's 32."
The most notable change inside Mr. Bing's is the removal of the triangle bar that once filled most of the space. But Jack Yaghubian, infamous North Beach denizen, Vesuvio bartender and author of The Dim Light Bar Guide, told us that it had to go. "The bartender took up 50 percent of the bar," he said. "It wasn't efficient." 
The space now features several tables, a long wooden bench, and a bar along the left-hand side of the room.
While the bar is Irish-owned, O'Conner notes that there are other Irish pubs in the area, such as Bar Nua, Chief Sullivan's and Kell's, and he doesn't want Mr. Bing's to be categorized as such. 

Instead, he envisions the pub as a neighborhood spot for locals, tourists, and members of the service industry, regardless of the upgrades. "We might be changing the style of the bar," he said. "But we still want it to be homey and cozy. We're not going to be a mixology bar, but we'll still have great cocktails. We want this to be a local North Beach pub. If you want a PBR and a shot, we'll have that." 
Mixing it up even further, they're mulling the possibility of having live music and a DJ once they look into securing the proper entertainment permits. 
And while some have lamented the loss of another historic dive bar in San Francisco, "They didn't destroy Bing's, they changed it." Yaghubian said. "It still has a funky vibe that will settle in over time." 
Cooper and O'Conner are still adding some finishing touches during the daytime and opening around 6pm, but will soon extend the bar's opening hours to 2pm-2am daily. 
Thanks to tipster Carole P. for the tip.
See something interesting while you're out and about? Text Hoodline and we'll see what we can find: (415) 200-3233.