Lori's Diner at 336 Mason St., the original location in a small chain of San Francisco eateries, is closing its doors after nearly 32 years serving customers. Its last day of business will be January 2nd.
A sign spotted on its window stated "lease expiration" as the only reason for the closure, and a Dec. 19th announcement on the chain's Facebook page said the decision to close was made "with a heavy heart." It also noted "leasing issues."
An employee at the location confirmed the news Monday.
"We have been able to enjoy your patronage for almost 32 years," said the message on the window. "Thank you so much from the bottom of our heart."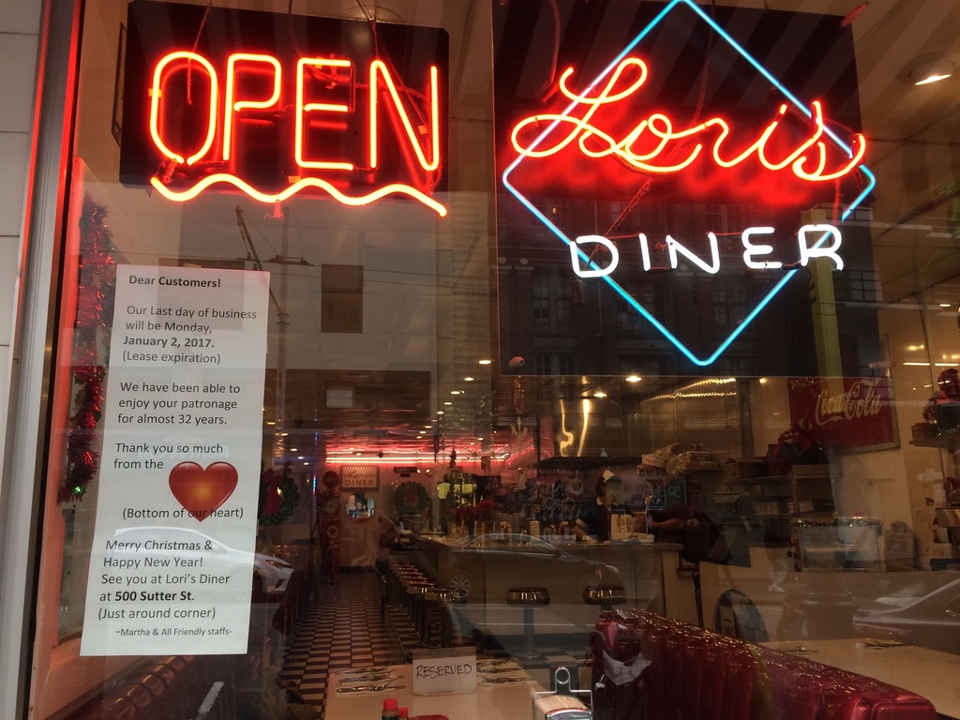 Lori's opened its first diner at 336 Mason in 1985 and steadily expanded over the next 14 years. In 1993, the chain opened its second location at 500 Sutter. A third location at 149 Powell began serving customers in 1995, and a fourth one opened in 2000 at Ghirardelli Square. There's also a spot at the San Francisco International Airport.
The restaurants serve American diner fare and sport a classic vibe, with sparkly red booths, pinball machines, vintage cars, and Elvis and Marilyn Monroe memorabilia.
"By providing generous portions of our classic home style fare, we ensure the old fashioned value that diners are famous for," according to the Lori's Diner website.
Man J. Kim, who owns the chain, has operated a number of restaurants and bars in San Francisco, including Sears Fine Food and the Golden Gate Grill. The latter opened in 2012, shortly after the Powell Lori's closed its doors.
For those craving "moon doggie" hot dogs, Oreo Cookie shakes and other Lori's menu items, the restaurant's Ghirardelli Square and Sutter Street locations will remain open.