Oakland activist Anita De Asis isn't waiting for the city to solve homelessness.
Last Saturday, De Asis and several others began building what she calls a "village" inside Grove Shafter Park at 36th Street and Martin Luther King, Jr. Way. Volunteers have constructed three shelters, installed a portable bathroom and hand-washing station, and are close to completing a hot-water shower.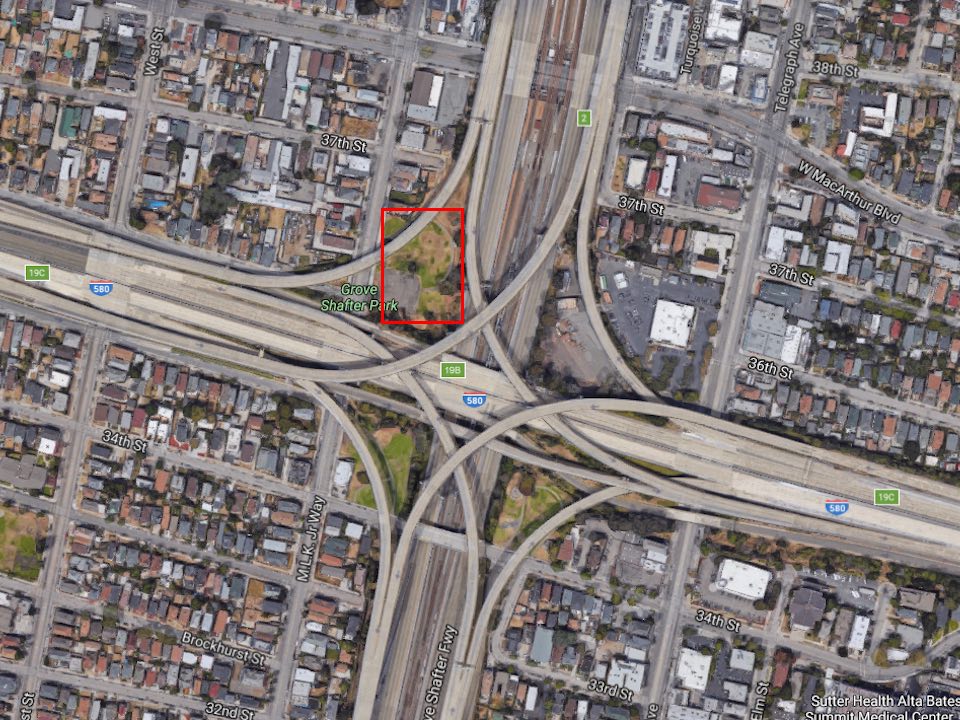 Future plans call for a kitchen and a wellness center staffed by "doctors, nurse and non-traditional healers" who'll focus on "recovery from trauma, crisis and addiction," said De Asis. Work is being performed by members of Asians For Black Lives and Feed The People, a food-justice group founded by De Asis.
"I was really overwhelmed at seeing the encampments grow, and I had to do something," she said. During the holidays, she visited several encampments and observed that many residents were struggling to get by in substandard shelters during heavy rains, "and everybody was sick."
"I knew feeding folks wouldn't solve the problem," said De Asis, who delivers provisions "and hot, home-cooked meals" to unhoused Oakland residents.
In recent years, Grove Shafter Park, which sits beneath a cloverleaf for the 580 and 980 freeways, was primarily used as a dog run by neighbors. Since claiming the space, village founders have reverted to using its prior name, Marcus Garvey Park.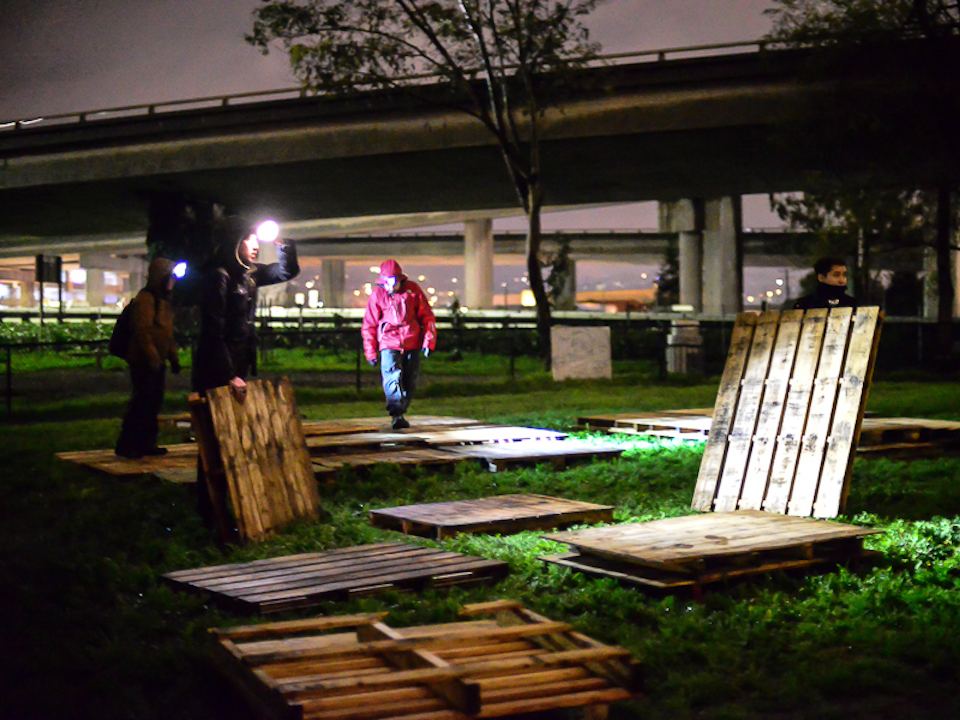 The shelters are being assembled on site in a "style inspired by IKEA furniture," said De Asis. The largest structure is 10 feet tall with an 8' X 8' footprint; the smallest is about 8 feet tall and 10' X 10', she added. 
Six days in, the village has 12 residents and a waiting list of 32.
De Asis said her group did extensive outreach and only found one person who objected — an absentee landlord concerned about the value of his property. "The people who live here totally support what we're doing," she said, adding that several neighbors have volunteered to help.
The village has attracted attention from City Hall: "they sent someone from the City Administrator's office, and they were ready to negotiate on day one," said De Asis. Because "the city's ignored this park for 30 years," she said she's not motivated to get them involved.
"The city is never going to take care of us, ever," she said. "The goal right now is to get these young, single, primarily white folks with affluence and no children to come into Oakland and take it over." Instead of asking for help or permission, "we just decided that the time had come to take matters into our own hands."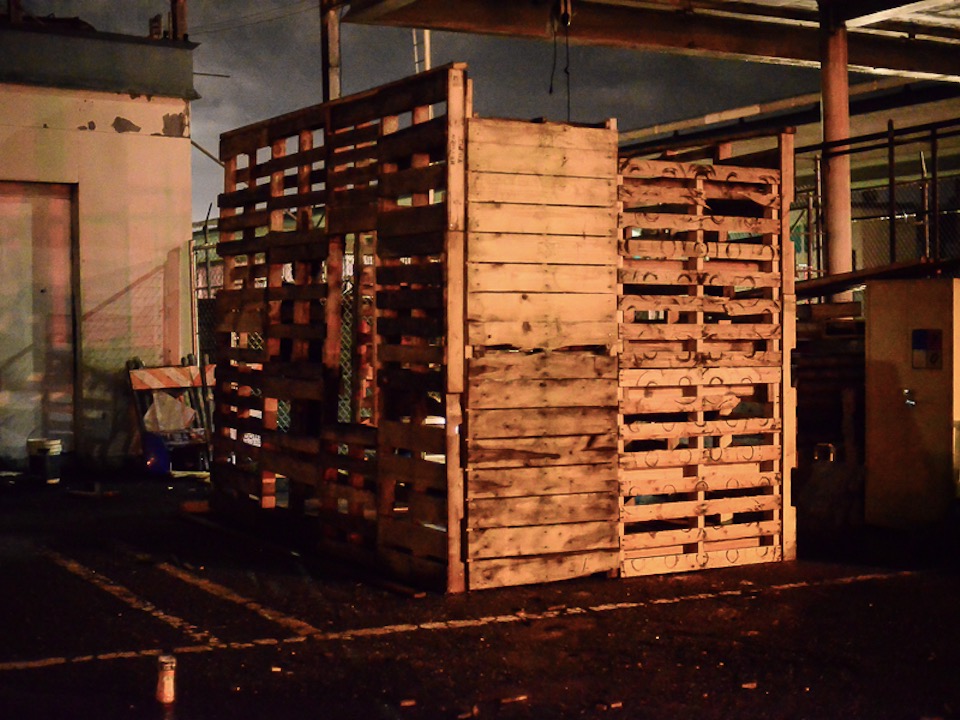 Police have given the owners of mobile homes parked at the village 96 hours to remove them and have warned residents against cooking with open flames. Apart from that, no enforcement action has been taken, said De Asis.
Initially, the organizers' strategy was to occupy the land and claim adverse possession so they could officially claim the title in 5 years. According to land records, however, "this piece of property is not owned by the city or county," said De Asis. "This parcel does not exist on any records."
Hoodline contacted both the City Recorder and County Assessor's office to verify the claim; according to the representative we reached, the park is publicly owned, but it's not clear whether it's city, county or state property.
"We're not stopping here," said De Asis. "This is just the first piece of land we're taking," she added. Future villages will be constructed on publicly-owned land, railroad rights-of-way, as well as vacant lots that have been undeveloped or become blighted.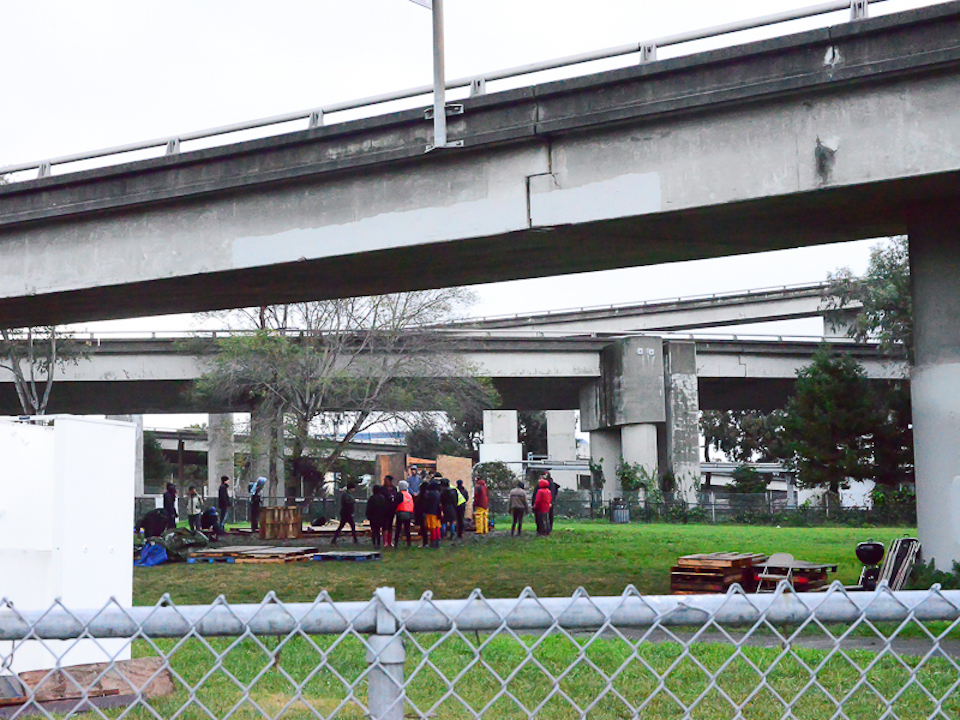 This weekend, Asians For Black Lives and Food For Justice are staging "a huge housebuilding party" in an effort to "fill as much of this land with homes as we can," De Asis said. Attendees are encouraged to donate food and warm clothing, as well as plywood, insulation and flame-retardant paint.
"There's no reason why we have all this land and we're building homes of people who don't even live in Oakland yet, and we have the people of Oakland suffering on the streets, said De Asis. "It doesn't make any sense at all."