You didn't need to read our article in December to know that San Francisco's streets aren't in the best shape.
For the second year in a row, San Francisco and Oakland were jointly named by a DC-based transportation research group as having the worst roads of any large urban region (a population larger than 500,000) in the country.
Whereas our previous coverage focused on the report, we wanted to know what City agencies are (and aren't) doing in response to the report.
First Stop: Public Works
Public Works is tasked with fixing the City's potholes and maintaining our streets.
According to Mindy Linetzky, deputy director of communications and public affairs for Public Works, a number of factors can affect the rate of deterioration of city streets, and resurfacing projects are targeted at roadways in the worst condition.
San Francisco's streets typically have a "useful life" of seven to 20 years (a street-by-street look at the city's pavement health can be seen here), and Linetzky told us that once a street is paved, a five-year moratorium is imposed on excavation by utility companies and other agencies, unless there is an emergency.
But just how much money does the city dedicate to annual street resurfacing projects?
Between fiscal years 2012-2013 and 2014-2015, Public Works' street resurfacing budget was approximately $65 million per year.
Linetzky said, however, that most projects during this time were funded by the Road Repaving and Street Safety Bond that was approved by voters in 2011.
Prior to the 2011 road repaving bond's passage, San Francisco's Pavement Index Score hovered in the low 60s. It's now at 68. Linetzky says the steady score gains are a direct result of the 2011 bond.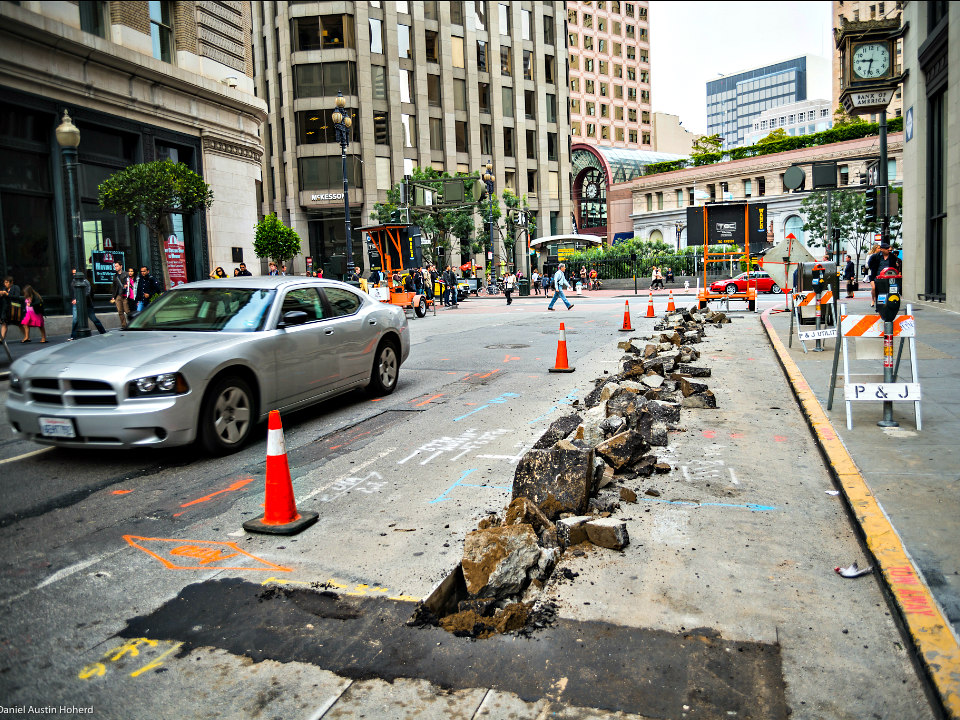 "That funding has been used," Linetzky wrote in an email. "If Public Works is to continue spending at the rate established by the 2011 bond, a new source of revenue [for street resurfacing projects] is required."
Linetzky says that in order to achieve and maintain a citywide PCI average of "good" (a score higher than 70), an annual estimated budget of $65 million per year—at least—will be needed.
A sustained funding source to replenish 2011's Road Repaving and Street Safety Bond, however, has not yet been identified by the city.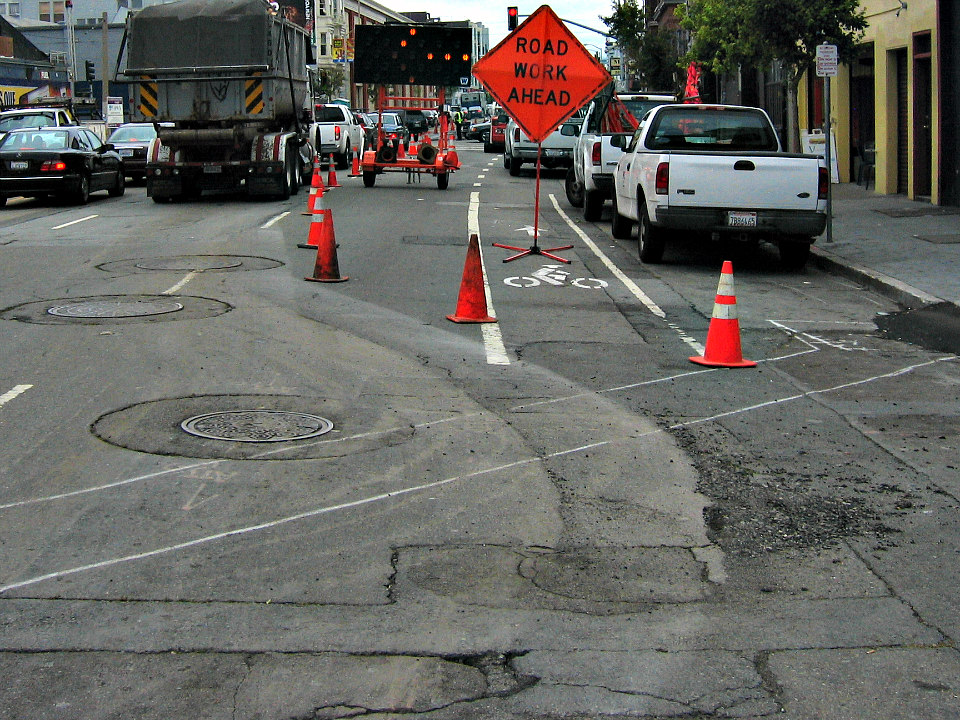 Stop Number Two: The City's Capital Plan
Brian Strong knows arguably more about the City's Capital Plan than anyone else—he's been working on it for over a decade.
"The tricky thing with general obligation bonds like the one passed in 2011," said Strong, "is that they are only temporary measures—the [Road Repaving and Street Safety] bond is almost completely spent."
According to Strong, when the bond was initially passed in 2011, there was concern from individuals who felt as though funding for roadway rehabilitation projects in San Francisco should be "a more regular way of business" with permanent revenue streams from the general fund.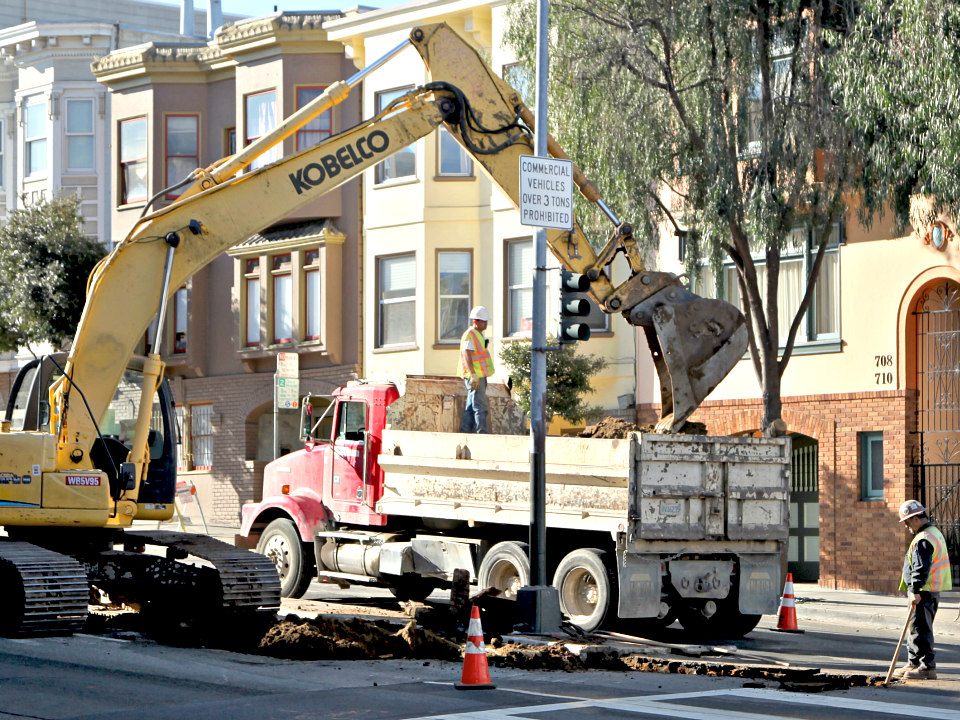 Yet, Strong told us that there are neither permanent plans to fold road maintenance spending into the general fund budget, nor does he expect another street repavement bond to come before voters.
"Our goal in the Capital Plan has been to find a more permanent solution," Strong said. "That was part of the sales tax measure that recently didn't pass."
This past November, over 65 percent of San Francisco voted against Prop K, which would have allocated roughly $33 million dollars to street repaving projects by increasing the city's sales tax, says Strong.
"The loss of that revenue is something that we're going to be addressing in this next Capital Plan update," Strong said. "We'll have to look for some other sources of funding."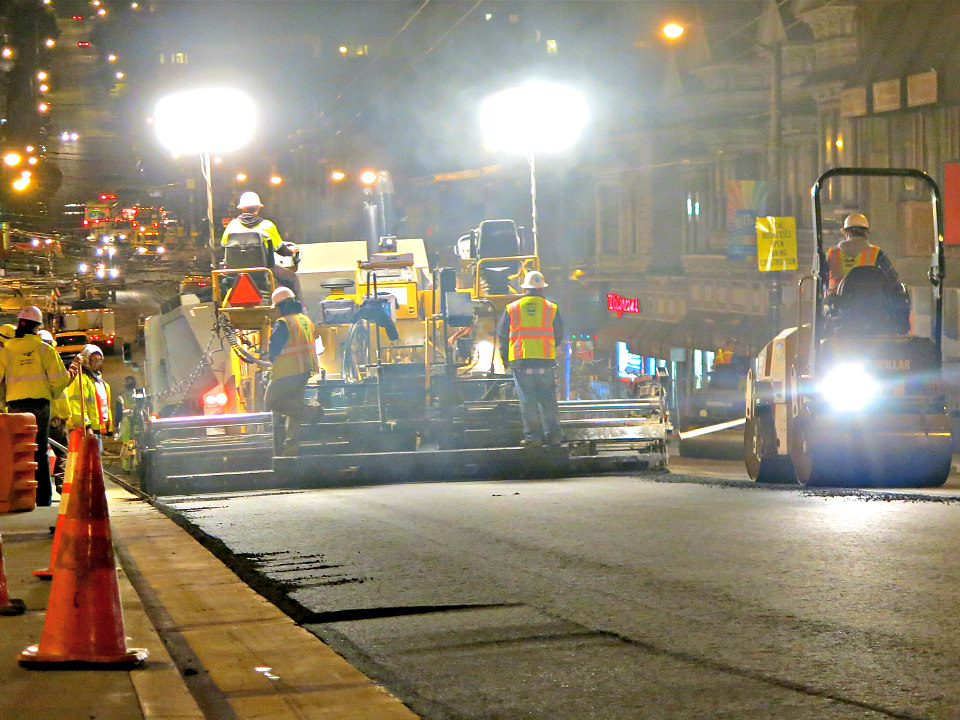 Last Stop: The Board of Supervisors
There are three supervisors who sit on the Land Use and Transportation Committee: supervisors Cohen, Peskin, and Sheehy.
We gave newly appointed District 8 Supervisor Sheehy a pass since he's been with the Board for a week.
We reached out to Supervisor Cohen's office a number of times, but she has yet to respond to our request for a statement regarding how she plans to maintain and rehabilitate San Francisco's streets.

Supervisor Peskin's office, however, did respond to our inquiries by sending us comments made by Peskin during roll call introductions at the Board of Supervisors' meeting last Tuesday.
"I know that every one of our offices has received frustrated calls about gaping potholes and the patchwork of constant road repairs that result from consecutive road construction projects," Peskin said to his peers.
"It's not a sexy topic, but it impacts our residents' everyday lives."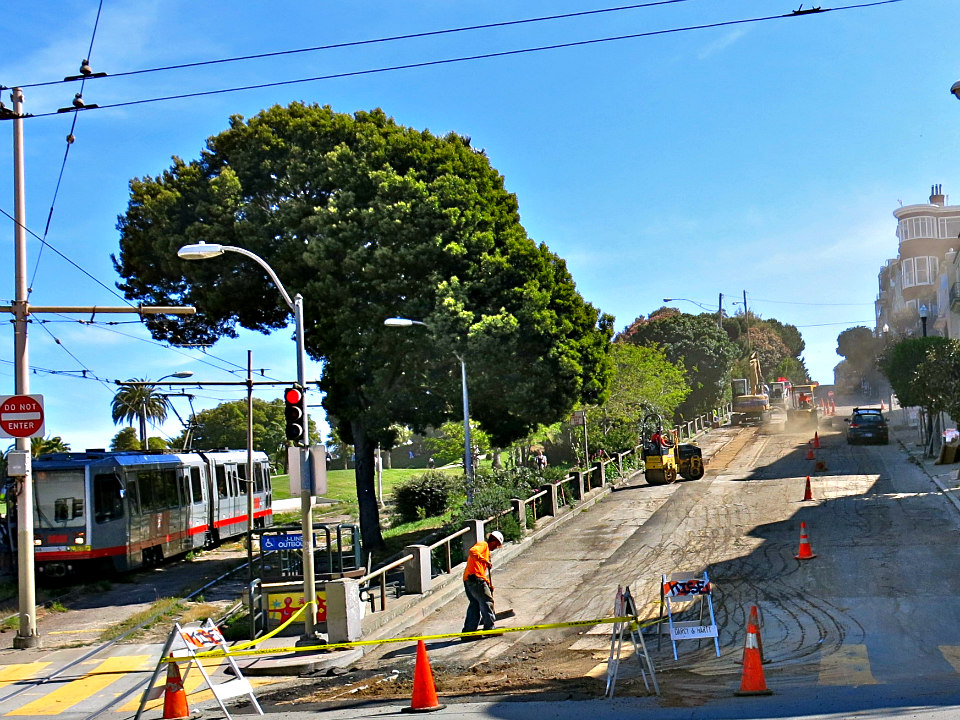 Peskin went on to say that he'd work with agencies such as Public Works, the Public Utilities Commission, Planning, and SFMTA to analyze the findings of the TRIP report to generate strategies that would remove San Francisco from the national ranking's top spot.
"Perhaps it's time to revisit discussions around a vehicle license fee," Peskin said. "Whether it's funding, better citywide planning coordination or a mixture of both, I want to ensure that our road repaving and capital improvement plans are on track."
"As our city grows, it's one of the most important infrastructure investments we can make."