Hundreds of San Franciscans assembled in the rain outside Senator Dianne Feinstein's Financial District office Monday evening, encouraging her to reject four of President-elect Donald Trump's Cabinet picks in solidarity with the nationwide Day Against Denial.
The U.S. Senate is conducting confirmation hearings this week for many of Trump's nominees, some of whom have received public criticism for their denial of climate change and their close ties to the oil industry.
In particular, the January 9th protest targeted four of Trump's Cabinet picks who are purported to pose the greatest threat to global climate initiatives. Rex Tillerson, the nominee for secretary of state, is the CEO of ExxonMobil and has helped bring the fossil fuel industry around the globe. Scott Pruitt, the potential EPA Administrator, is a climate change denier. Ex-Governor Rick Perry, who once vowed to abolish the Energy Department, has been pulled forth to become secretary of energy and head that same department. Representative Ryan Zinke (R-Montana), the candidate for secretary of the interior, often votes against environmentalists on issues including oil and gas drilling, coal extraction and pipeline projects.
Speakers at the San Francisco rally included Bay Area author-activist Rebecca Solnit; Peace Action Executive Director Jon Rainwater; and energy analyst and journalist Antonia Juhasz, who just that morning published an In These Times cover story "Why Rex Tillerson Could Be America's Most Dangerous Secretary of State."
Citizens carried signs emblazoned with messages like "Stand up to Big Oil" and "Diplomacy, not Oiligarchy." The San Francisco Projection Department also beamed political animations and the words "Reject Trump's Climate Denier Cabinet" against the historic 21-story facade of the Hobart Building.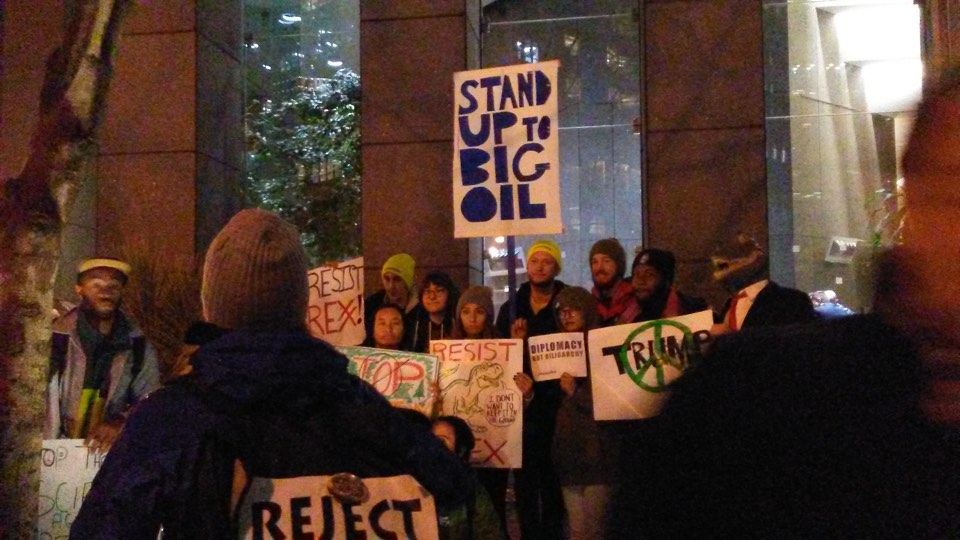 The action was orchestrated and attended by local chapters of 350.org, Peace Action, Greenpeace and the Wellstone Democratic Renewal Club. On the same day, citizens in more than 40 states reached out to their senators in a collective effort to make their message clear.
"We're at a stage in the U.S. where there's the most unmediated corporate power grab in American history," said David Solnit, the North American arts organizer at 350.org, who helped organize the rally. "It's the department of foxes regulating the hen house. I think it's important to walk our fellow citizens through exhausting every channel we can, starting with pressuring our senators to stand up for us. Hoping that they will but knowing that they won't do it enough and still trying."
If any of Trump's choices are denied their appointments, it will be a rare occurrence. The U.S. Senate has rejected just nine Cabinet nominees in the past 228 years. That's 57 presidential terms, each with four to 21 Senate-approved Cabinet members appointed at the beginning of each term. Nonetheless, organizers and attendees remained resolute that direct public action and appeals to legislators are some of the most important tools that concerned citizens have at their disposal.
"History is made by social movements and ordinary people organizing themselves," explained Mr. Solnit. "We expect that [the nominees] will mostly get in, but it's important to show the maximum amount of resistance and exhaust the channels. The goal here is to start organizing ourselves and building momentum knowing that we'll have to fight these guys if and when they're in power."
Rainwater pooled along the curbs of Market Street. Puddles and slick building facades reflected street lamps and traffic lights as the sky went dark. The weather drifted between drizzle and downpour. The crowd dispersed around 6pm, as quickly as it had formed.
At 9:30am Tuesday, the Senate began its first hearing. Despite the uncertainty, Solnit remains upbeat.
"It's for me a hopeful and positive time to be in the United States," he said. "It's probably the best chance we've ever had to turn this country around, which the world needs us to do."