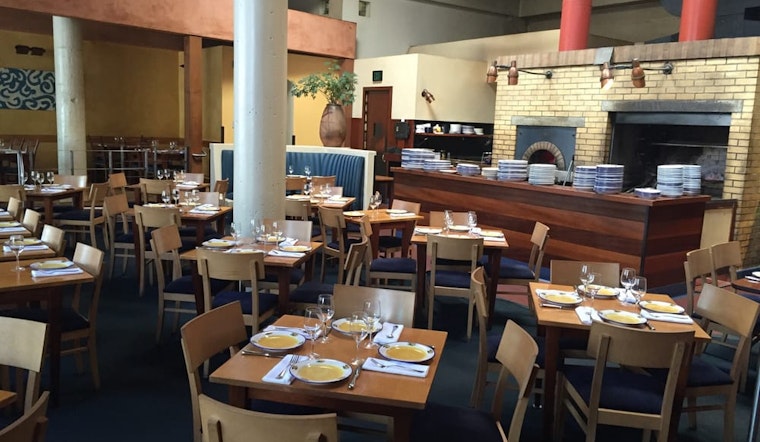 Published on January 03, 2017
Restaurant LuLu, a San Francisco mainstay that's anchored its Folsom Street space since 1993, has closed its doors.
Tipster Adam first noted the closure, sharing a sign that'd been posted outside the restaurant at 816 Folsom St., which reads:
Restaurant LuLu has closed. Thank you for 24 wonderful years.
The restaurant's website and Facebook page both appear to have been shut down. We've contacted owner Rowena Wu, but have not yet heard back with details. 
As food critic Michael Bauer noted in a 2014 review of the restaurant, LuLu pioneered many trends that prevail today, such as family-style dining, communal tables, a converted warehouse vibe, and a wood-fired oven that lent a cozy ambiance to the dining room.
"I can't think of another restaurant that better created and foreshadowed the trends we see now," he wrote. "Yet, in the intervening years, Lulu has been lost in the wash of hundreds of new restaurants that have captured our attention."
With more attention to the food offering, which Bauer found lacking, "Lulu could—or at least should—be as busy as the day it opened," he went on. But a lot has changed in the past couple years, as evidenced by the impending closure of another SoMa restaurant, five-year-old AQ.
As we noted yesterday, Thrillist used the story of AQ's struggles to illustrate a nationwide trend that could signal the bubble bursting on restaurants, especially sit-down operations that require more staffing than the fast-casual options popping up around town. Rising wages, rents and health care costs, as well as increased competition, have hit many restaurants where it hurts.
And, though we don't yet know the exact reasons behind LuLu's closure, it seems safe to assume that some combination of these factors led to the decision to call it quits.
See something interesting while you're out and about? Text Hoodline and we'll see what we can find: (415) 200-3233.