San Francisco's Fix-It Team is addressing quality-of-life concerns a bit differently these days: with metal barricades.
The barricades are now in place on Prosper Street, next to the Eureka Valley/Harvey Milk Memorial Library, and on 16th Street, adjacent to the "Hope for the World Cure" mural.  
Both sites are well-known for being frequented by homeless individuals and street youth. The barriers were put in place to deter people from sitting, laying, and setting up tents along the sidewalks.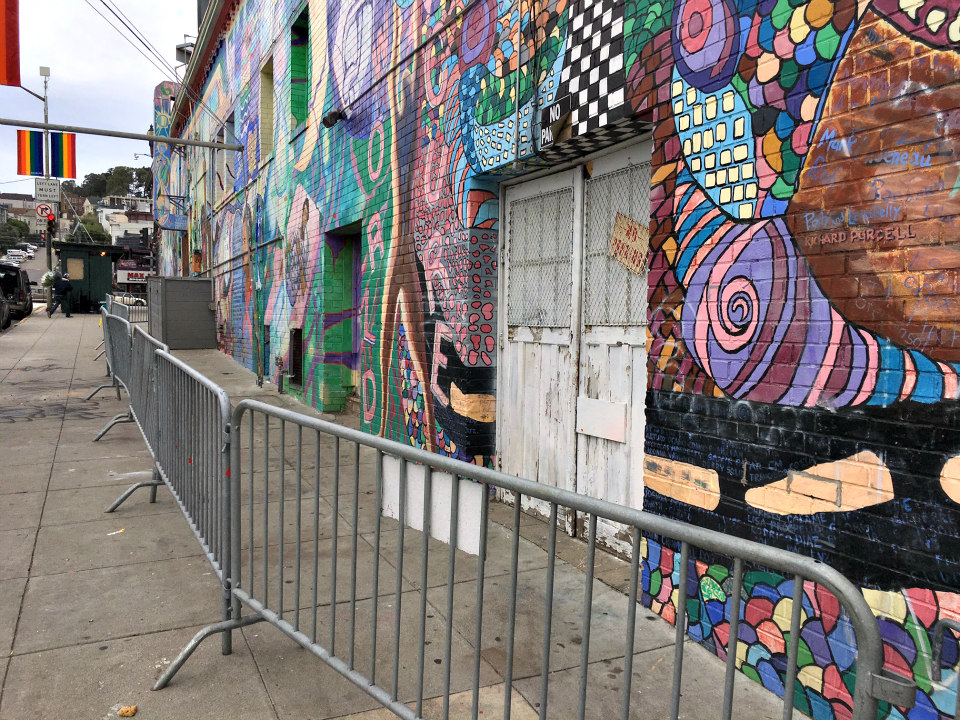 As we reported last year, the area around the Eureka Valley branch library has been the focus of the Fix-It team's efforts, and has benefited from improvements like new lighting, freshly trimmed trees, repainted crosswalks and curbs, and repaired signage.
Fix-It director Sandra Zuniga previously told us this area was chosen based on SFPD and 311 data, as well as ongoing dialogue with neighbors.
Zuniga explained via email that the decision to deploy the barricades was made by a combination of city agencies, including SF Public Works, the Department of Public Health, and SFPD. (We reached out to SFPD to learn more about the decision, but they declined to comment.) 
"Both the city and the community are working hard to make the Eureka Valley Harvey Milk Library an accessible, safe and clean place for children, families, seniors, students and all residents," said Zuniga, noting that her team is now "working with library staff on their plans to redesign and improve the library's landscaped area and entryway." (The library declined to comment, referring us to Zuniga.)

"It's important to keep public spaces … sanitary and accessible," wrote Zuniga. "Public safety is and must always remain our number one priority."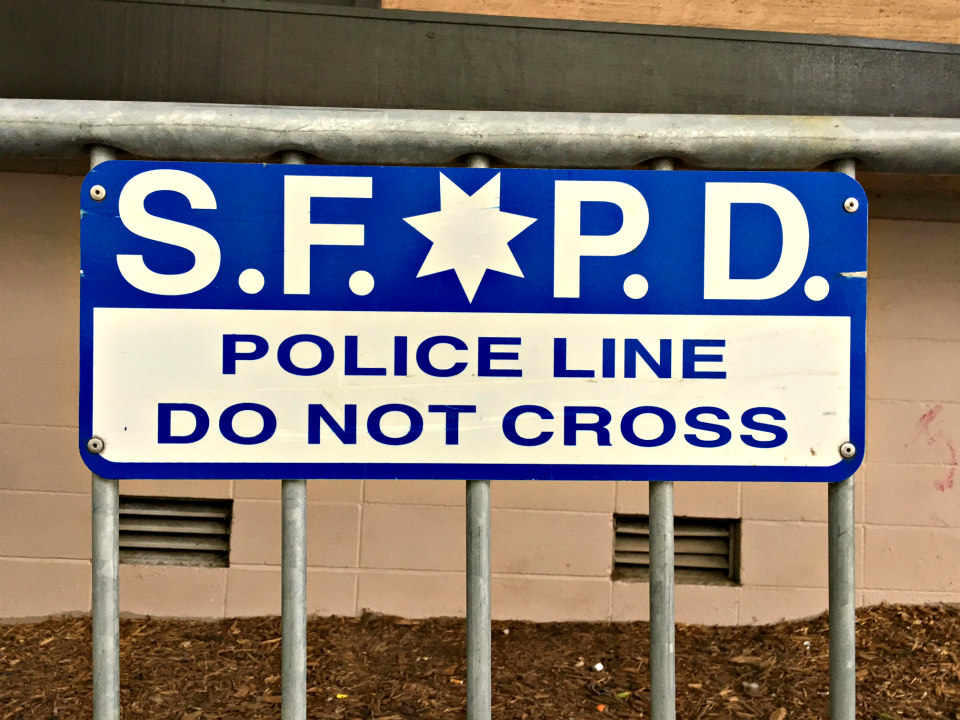 Zuniga failed to comment on whether the metal barricades will be a short-term or long-term landscaping fixture, or whether they'll be erected in other neighborhood spots, such as Jane Warner Plaza. 

"Barricades protect the public right of way and may be used to address situations that have become a hazard to the public due to unsafe and unsanitary conditions," wrote Zuniga. "They are one tool."
But others feel that the barricades are inhumane. "Public spaces are just that — public spaces," said Jennifer Friedenbach, executive director of the SF Coalition on Homelessness. "These barricades are specifically put up as a physical barrier to prevent destitute people from utilizing the space, but serve to make the space unattractive for everyone."
"Barricades do not solve the issue of homelessness, they just scoot the people to another public space," Friedenbach said. 

Andrea Aiello, executive director of the Castro Community Benefit District (CBD)—which runs Castro Cares, a program that aims to connect people living on the streets with city services—told us that she was "completely out of the loop" when it came to installing the metal barricades.

The CBD has been focused on outreach around the library in recent months. In January, it joined forces with the SF Homeless Outreach Team (SFHOT) to reach out to 134 people around the Eureka Valley/Harvey Milk Memorial Library. Of those, 40 percent willingly engaged with the city's outreach workers.
However, of the 134 outreach attempts around the library, 71 percent of the interactions were deemed "unsuccessful," meaning that approximately 95 individuals were unwilling to discuss services with city staff.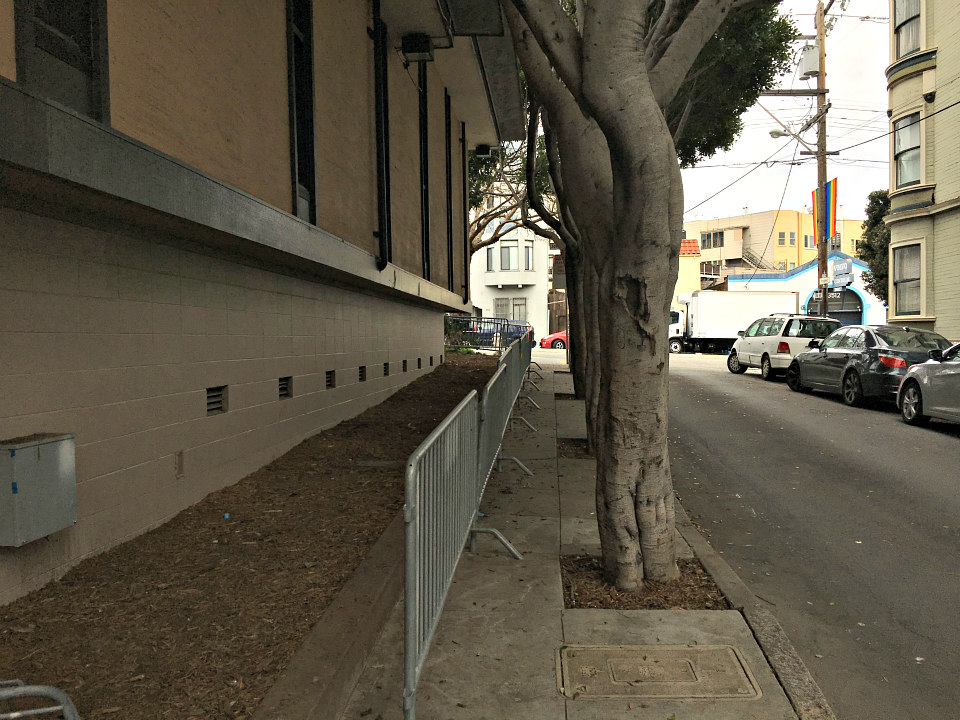 Now that the barricades have been put in place, it's unclear where the 95 individuals who refused city services around the library in January will now go. We reached out multiple times to the Department of Homelessness and Supportive Services (DHSH) to find out more, but the agency did not respond to our requests. 
For those who refuse traditional city services, Amy Farah Weiss, director of the Saint Francis Homelessness Challenge, has been championing what she calls "humane, outcomes-driven, and cost-effective" solutions, like organized transitional villages.  
"In 2015, the City spent approximately $20.6 million to respond to complaints about encampments — which includes issuing citations for quality of life laws, ordering encampment residents to move, and putting up barricades," Weiss said. "During that time, unsheltered homelessness increased by 16 percent."

"San Francisco must move away from the costly and inhumane status quo 'law and order' approach," Weiss said. "It's not getting the results we want."