Mayor Ed Lee joined Sandra Zuniga—head of San Francisco's Fix-It Team—and a host of city officials on a short walk through SoMa last Friday to discuss quality-of-life issues surrounding 6th and 7th streets near Folsom.
SFPD Southern Station Captain Daryl Fong, representatives from the community group United Playaz, and officials from the Recreation and Parks department, San Francisco Public Works and several other city agencies attended the walk to talk about what's been done—and still needs to be done—to improve neighborhood safety and cleanliness concerns around Central SoMa.
Mayor Ed Lee launched the Fix-It Team and appointed Zuniga to lead the the multi-agency effort last May. Neighborhoods the team has already hit include the Castro, Chinatown, portions of the Civic Center/Tenderloin area, Excelsior and the Inner Sunset. Efforts in SoMa kicked off last month.  
The Fix-It Team's goal for 2017 is to address at least 20 sections of the city, Zuniga said. And the department's main focus is to involve city departments efficiently, so community repairs and cleaning efforts are addressed in a smooth and timely fashion.
"It's been wonderful to see all the different city departments work together," Mayor Lee said Friday of the department's work thus far.
During Friday's walk, Zuniga admitted that the city has work to do in SoMa. "We have a lot of businesses coming in, we have a lot of residents. We should be taking care of this area a little more," she said.
Part of the team's efforts will involve informing residents and business owners of which agencies they can work with on their own, Zuniga also noted.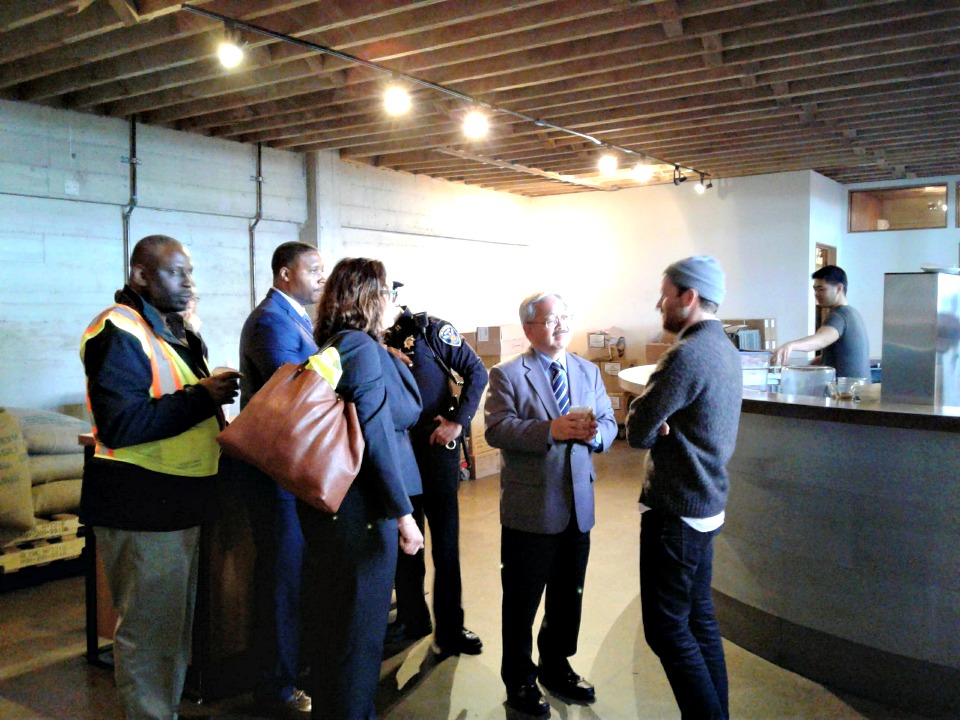 Friday's walk-and-talk started with a cup of coffee at Sightglass Coffee on 7th Street, and continued down Folsom Street to Sherman. Along the way, Zuniga and the mayor discussed adding lighting, repainting curbs and bike lanes, fixing potholes and removing trees.
On the topic of tree removals, Gary McCoy, policy and community affairs manager for Rec & Park, explained that ficus trees are notorious for their deep roots that tend to push concrete up, creating uneven roads and sidewalks. Zuniga also noted that their large foliage can obstruct sight lines, and make streets seem less safe. 
"In the next couple of weeks, we'll be working on tree basins on Minna and Natoma streets, to clean them up and to add missing trees in those empty basins," Zuniga said.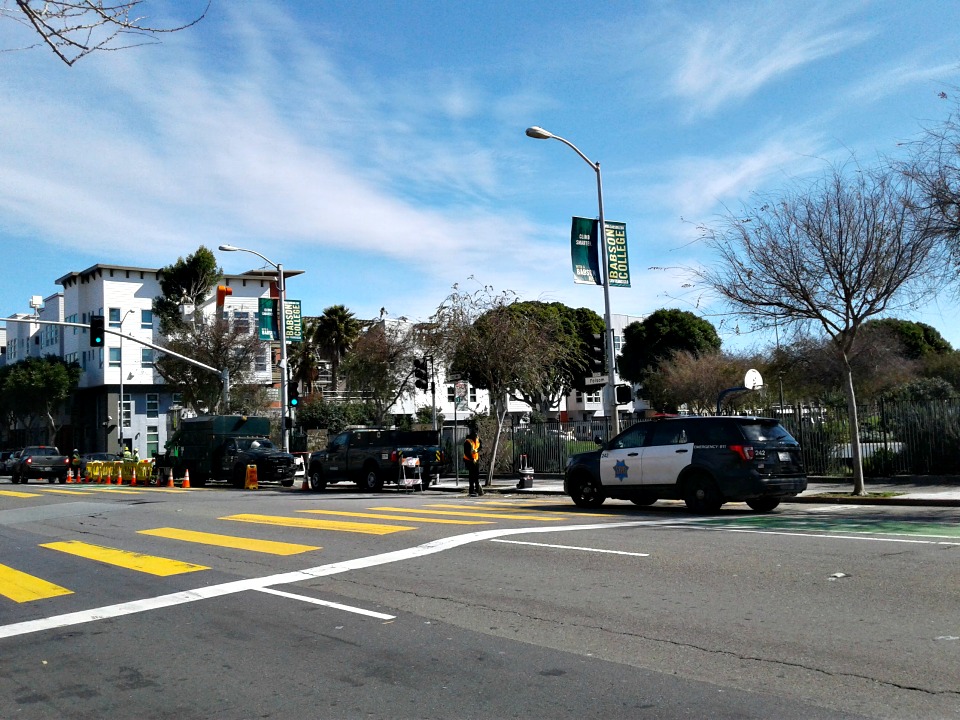 The focal point of the Fix-It Team's walk was Victoria Manalo Draves Park, located directly across the street from Bessie Carmichael School. Residents have continuously expressed concern about safety and cleanliness issues in and around the park.
However, officials from Rec & Park and Public Works agreed that having full-time attendants staff the park's bathroom—through the city's Pit Stop Program—has helped make the park more accessible.
"With the support and funding from Supervisor Jane Kim, we were able to collaborate with Public Works to utilize their existing contract with Hunters Point Family to provide the attendants," McCoy said.
Kadi Poile of Rec & Park noted that the department has seen an increase in children using the park since the restrooms began being monitored.
"There's been significantly less needles and crime in the park," Poile said.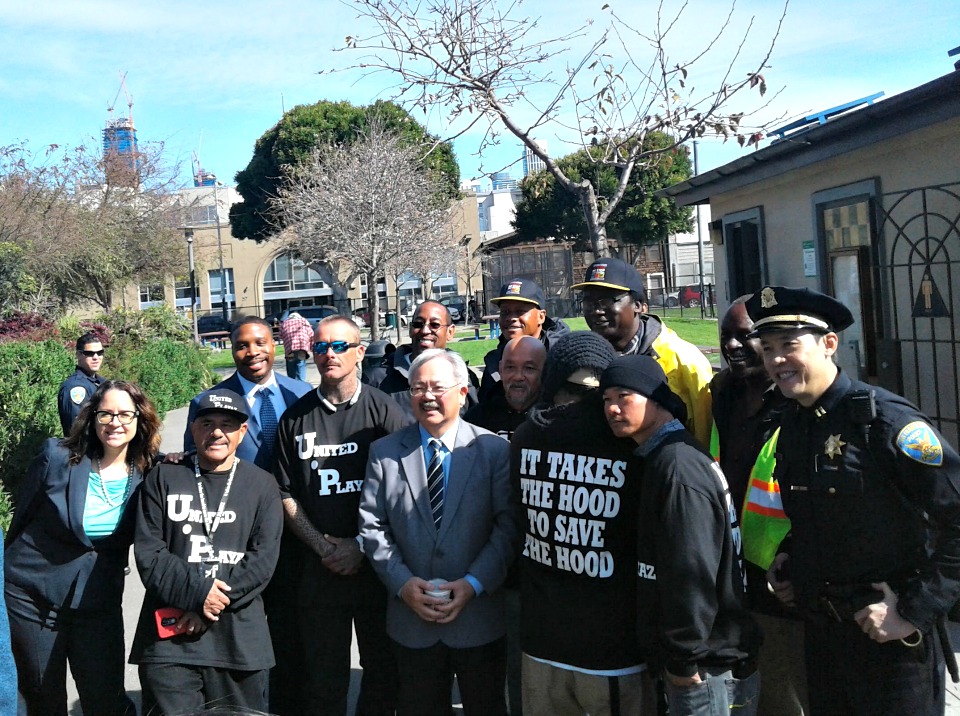 The removal of Tutubi Plaza is also on the Fix-It Team's docket.
Neighbors have long complained about drugs, prostitution and other criminal activity in the pedestrian plaza, which debuted in February 2011 through Public Works' South of Market Alleyways Improvements Project.
Zuniga told Hoodline that a public hearing to discuss the pedestrian plaza's removal will be held in March.
"It's a process, but it's a reasonable timeline," she said. "Fortunately, Public Works already had their eye on the problem, so we'll be able to move forward rather quickly."
Neighbors interested in discussing quality-of-life issues with Zuniga directly can attend tonight's Better SoMa community meeting: 7–8pm at Deli Board (1058 Folsom St.)