If you're looking for an easy way to make your political voice heard, you might want to stop by the Divisadero Farmer's Market on Sunday.
'Social Studies', a newly minted civic group formed by Rice Paper Scissors' Valerie Luu and friend Madeline Moore, is hosting its first event—a letter writing party—at the farmer's market. Participants will be encouraged to pen concerns to their government representatives in a fun, social setting.
"We created Social Studies to create opportunities for people to learn and act," Luu said of the fledgling activist organization via email. "We want to make political activism interesting, fun and easy, and something done in the company of others. We find that it's hard to be involved in politics simply because you feel like you don't know enough."
Social Studies will provide all of the requisite materials for Sunday's session, but participants are encouraged to bring stamps and other supplies they'd like. The party will go on rain or shine.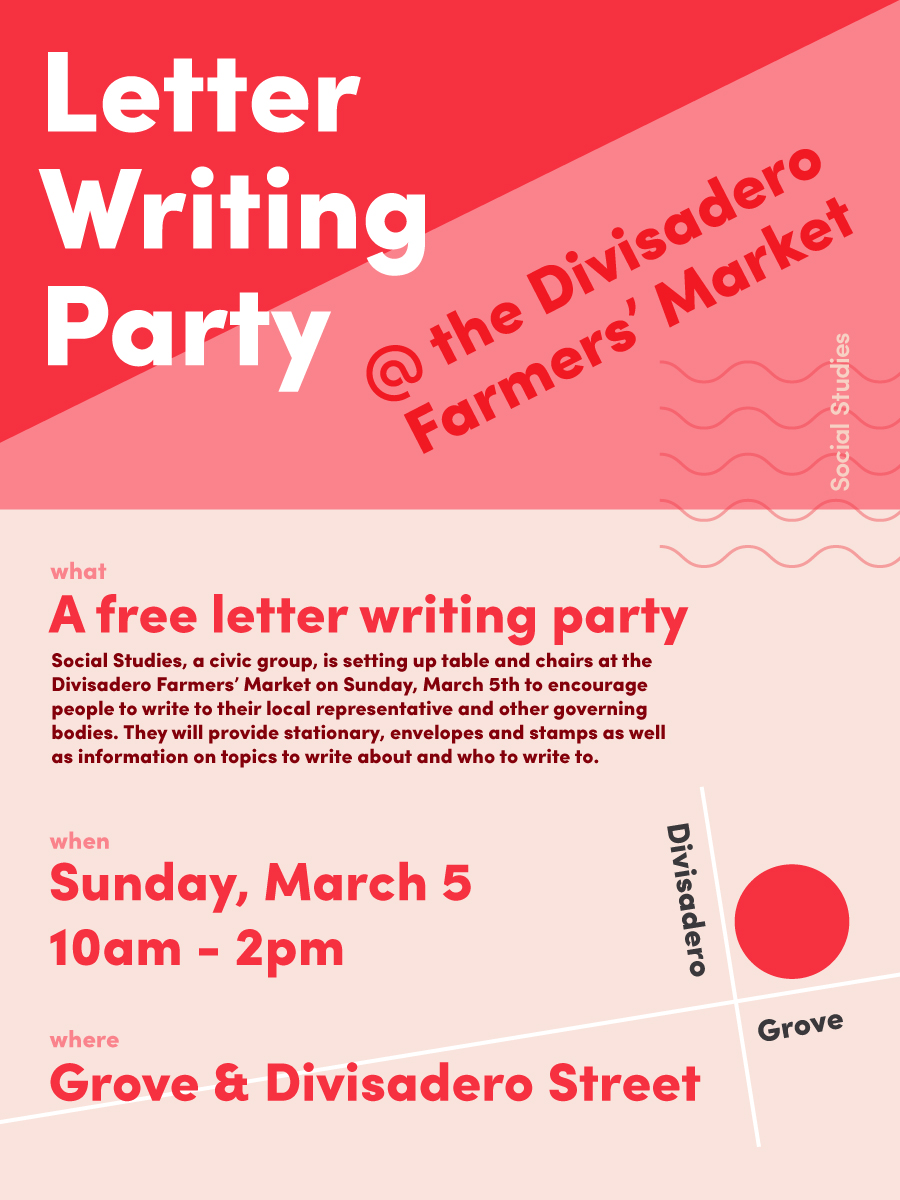 The idea behind Social Studies grew out of a conversation after last year's election. "Clubs and groups are important during these times," Luu told Hoodline. "It's a way to check in, connect and mobilize—in real life. The energy of a real, live group is key. So if we're just able to meet together around an event or an idea—that's already half the battle."
If you can't make this event, the next Social Studies gathering will be "Call Your Rep: A Telethon Party" from 7–9pm March 15th. "Talking points, popcorn, and drinks" will be provided, Luu said. The location is still TBD, but you can reach out for more details through the group's Facebook page.
Over the next few months, the organizers plan to host events where speakers can shine extra light on pertinent topics.
"It takes a lot of time and energy to know what the issues are and how to tackle it, and we are first to admit that we don't know that much," Luu said. "But we're here to learn as a group and help spread information and give people an outlet to learn and act."