At the corner of 20th and Capp, just one block from the vibrant colors of Mission Street, lies a relic of the 1970s conceptual art movement: a house packed with stories and arrangements, serving as both a living space and an exhibition hall.
One of the oldest on the block, the house at 500 Capp St. belonged to David Ireland, a conceptual artist who spent much of his life moving in San Francisco's creative circles. He spent more than 30 years renovating and refining the home, which is now considered one of his greatest works.
Though Ireland passed away in 2009, his house was purchased by art historian and philanthropist Carlie Wilmans, who's transformed it into a tribute to his work and a thriving museum, with regular exhibitions and artist residencies.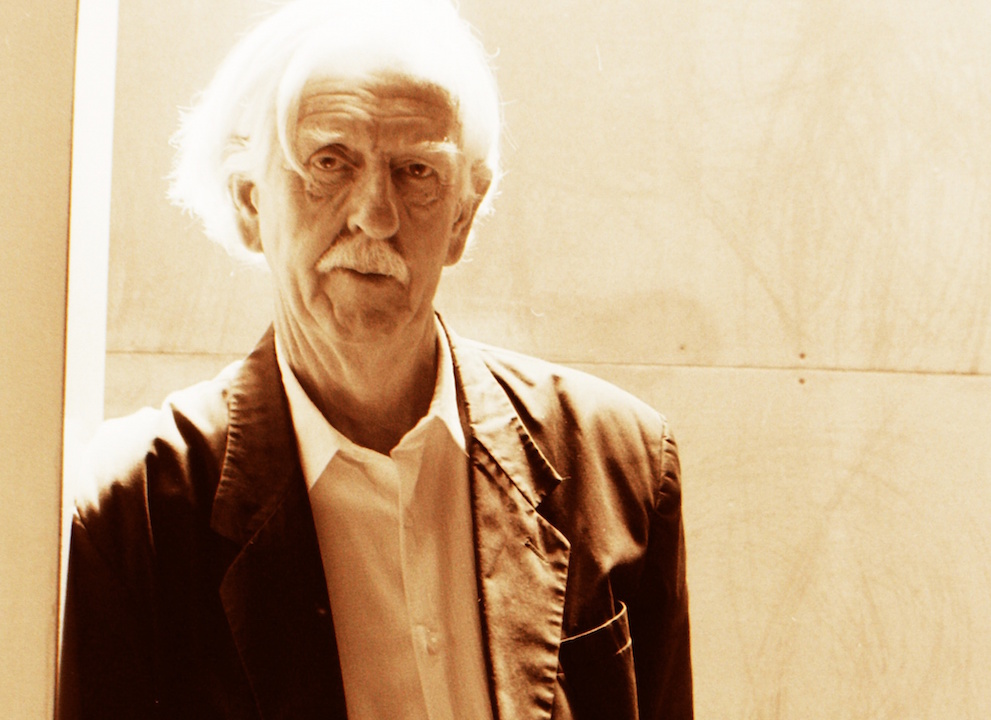 Born in Bellingham, Washington in 1930, Ireland moved to San Francisco at the age of 18, to study industrial design and printmaking at the California College of the Arts. After a stint in the army, he visited a number of countries before settling in South Africa to work as a safari guide, an occupation he loved—and only left when he ran out of money.
Ireland's father offered him a free return fare to the States in exchange for working at his insurance company. But after years of labor, Ireland decided to return to his creative roots at age 40, obtaining a graduate degree at the San Francisco Institute of Art. His professors treated Ireland more like a peer than a student, and he was immediately welcomed into their crew after his graduation in 1975.
That same year, Ireland moved into the home on Capp Street, which had previously belonged to an accordion vendor named Paul Greub. When Ireland arrived shortly after finalizing the sale, Greub had yet to move out—and had also failed to mention a senior tenant still living on the top floor.
The two succeeded in moving Greub's things, but not before his enormous safe tumbled down the stairs, leaving deep gashes in the central hall and floorboards. At first irritated by the damage, Ireland quickly recovered, and chose instead to commemorate the event with engraved plaques. (Though Greub and the tenant ultimately moved out, Ireland eventually became friends with the latter man, even throwing a 95th birthday party for him.)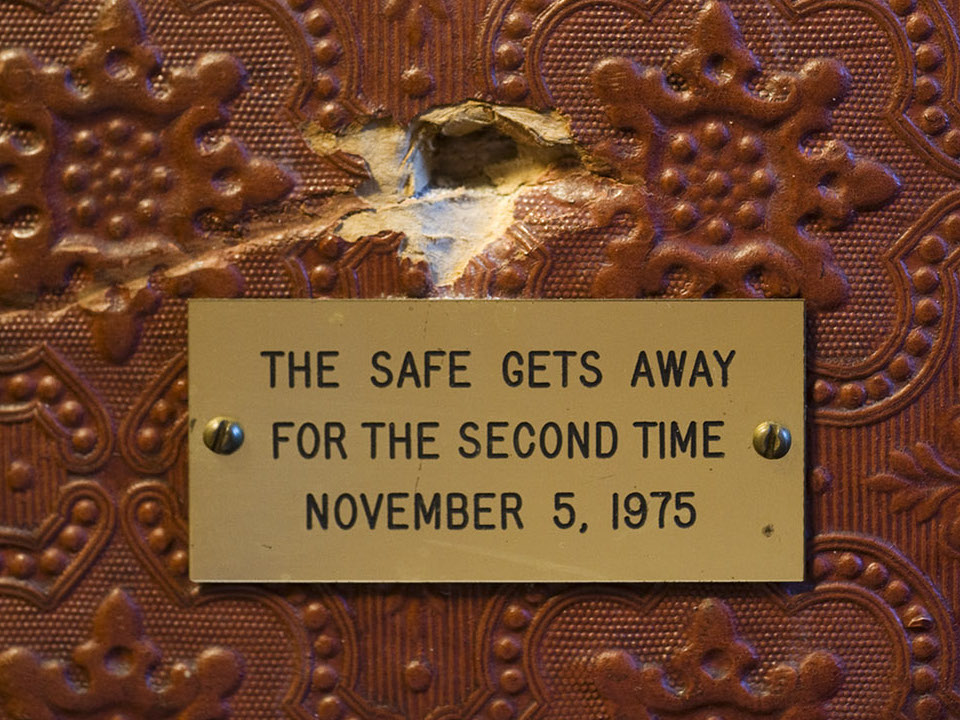 The plaques are just one of the many ways in which the house serves as a depiction of Ireland's personality. Pieces like a preserved slice of birthday cake can be found alongside collections of perfectly circular cement balls, which Ireland would spend hours creating by tossing them back and forth—a meditative process he found even more important than the final product.
Ireland had an appreciation for unaltered materials, stripping off decades of paint and wallpaper to reveal his home's original plaster walls, which he preserved with thick streaks of polyurethane. His philosophy extended to wood as well; he referred to untreated slabs of wood as "paintings," admiring their natural texture.
Ireland's work was often interactive to the point of distraction, and he would affix objects to surfaces in his home to shake up its dimensions, or draw attention to a desired aspect of the architecture. Even when he lived in the home, he often opened it up like a museum, allowing guests to wander the rooms and explore.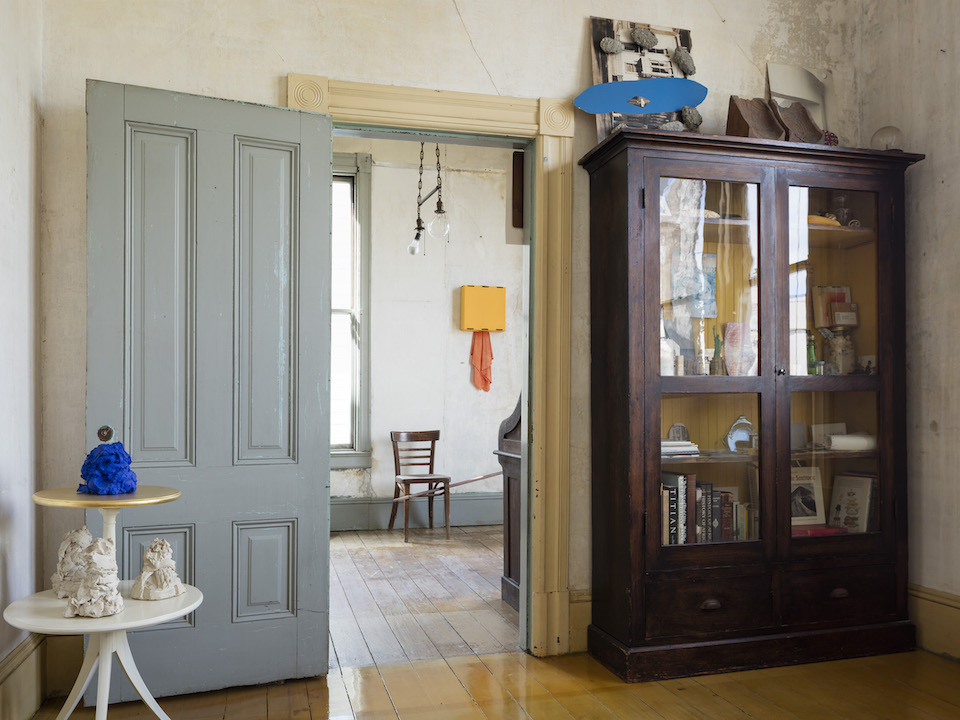 Although 500 Capp Street is the best glimpse into Ireland's world, signs of his legacy can also be found elsewhere. He designed and constructed the Rodeo Room and Eastwing center at Marin's Headlands Center for the Arts, and in Emeryville, an enormous black Ireland chair commissioned by IKEA still welcomes shoppers.

But the house is by far his greatest legacy, from the oblique cement creations Ireland called "torpedoes," which were intended to highlight the home's Victorian features, to a fire-throwing chandelier that casts shadows on the yellow polyurethane walls (which have since been coated in flame protectant).
Since its grand reopening in January 2016, the 500 Capp Street Foundation has offered tours of the house, keeping up Ireland's tradition of opening the doors to the community.
Every few months, the small white Victorian fills up for parties that radiate a warm glow onto the otherwise quiet corner. One can only hope that whiskey is still offered upon entering, as it was in the days when Ireland answered the door. 
Interested in touring the David Ireland House? Tours are offered Wednesday-Sunday at 11am, 2pm, and 4pm. Here's more information on planning a visit.