For the most part, BART delivers on its mission of providing reliable service, but with an aging system that's often strained to capacity, system-wide delays can disrupt even the best-laid plans.
Created after the 1989 Loma Prieta earthquake temporarily closed the Bay Bridge, the Oakland/Alameda ferry today carries about 910,000 passengers each year.  

Just five years ago, only 597,635 passengers used this route, but congested roads have led many travelers to try taking another way across the Bay.
"We always come over on my birthday," said Tony Douglas, an Antioch resident. "It's just the easy way in."
Traveling with his wife, Douglas spoke to Hoodline while sipping a Corona on a ferry that had just departed Jack London Square.
"We used to drive over, but we found this and started several years ago," said Douglas, "so now taking the ferry is a tradition." After driving in from Antioch, Douglas parked at the 7-story garage located across from the terminal at 101 Washington St.
With validation, ferry passengers receive 12 free hours of parking.
After disembarking in San Francisco, Douglas said they planned to walk along the Embarcadero to Pier 39 for dinner at Crab House, his favorite restaurant in the city. The drive from Antioch to Jack London Square took about 30 minutes, and the Bay crossing adds 25 more.
Without traffic, Douglas' drive from Antioch to San Francisco would take about least an hour and 15 minutes; factoring in time for parking, that could easily extend to 90 minutes, he said. "Today, we can enjoy a nice glass of wine or beer, and we don't have to worry about driving."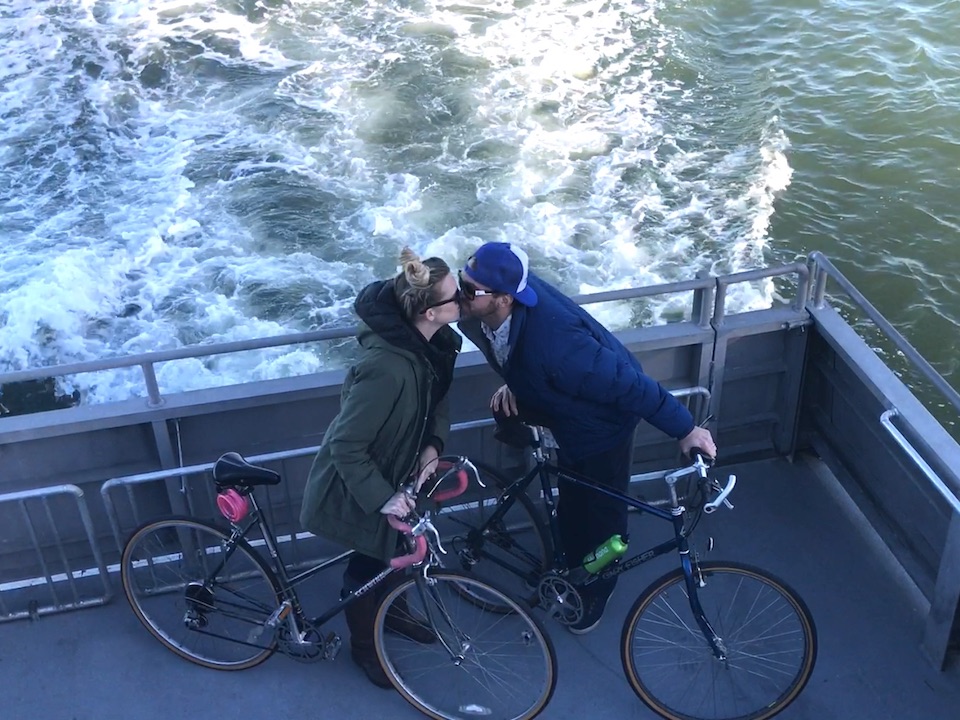 During rush hour, the ferry stops at Alameda Main Street, which adds 10 minutes; in the afternoons, it's a straight shot across the Bay.
For obvious reasons, BART prohibits food and drink, but the San Francisco Bay Ferry encourages it — passengers can fortify themselves for the journey with spirits, beer and wine, along with salty snacks. 
There's plenty of seating indoors, along with tables and wifi for those who'd rather work than take in the views. Gawkers will appreciate the outdoor seating on the afterdeck, but passengers are advised to hold onto their hats, as these catamarans cruise at speeds ranging from 25 to 35 knots (28.7 to 40 miles per hour).
Passengers pay a cash fare of $6.60, but the price drops to $5 when using a Clipper card; like BART, San Francisco Bay Ferry is bike-friendly. 
"This is much nicer," said a woman who said she was visiting the Bay Area from Germany. "We came over on the subway but thought we would take the boat to return," she said, watching Oakland grow smaller on the horizon.
"It's much more beautiful," she said.