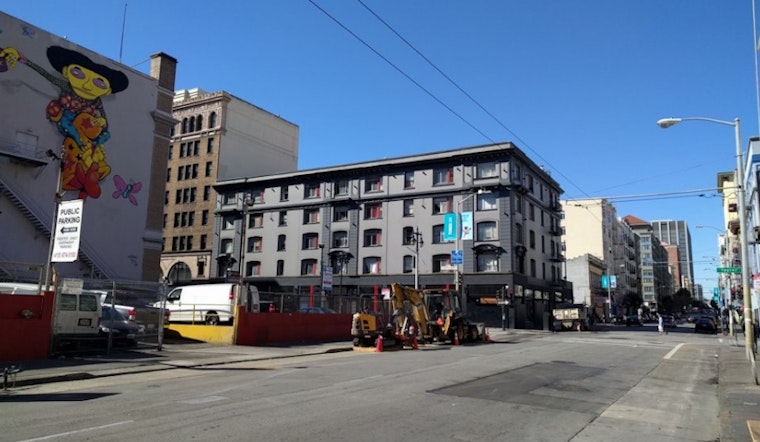 Published on April 28, 2017
One month ago, when SFMTA first proposed scaling down a parking-protected bike lane on Turk Street in the Tenderloin into a painted one, the revised proposal led to widespread backlash from residents, advocacy groups, and District 6 Supervisor Jane Kim, who represents the area. 
Now, in response to the outcry, city transit authorities will continue studying options for installing parking-protected bike lanes as part of the Turk Street Safety Project, whose goal is to to improve safety for pedestrians and bicyclists along Turk between Market and Gough streets. 
Turk Street is one of the the streets in San Francisco's High Injury Network, which—despite only being 12 percent of city streets—make up 70 percent of all traffic collisions in the city. The project is part of the city's overall Vision Zero initiative aimed at eliminating traffic deaths in San Francisco. 
Initially, SFMTA's proposals for the area had included a parking-protected bike lane along the left side of the one-way stretch, heading west.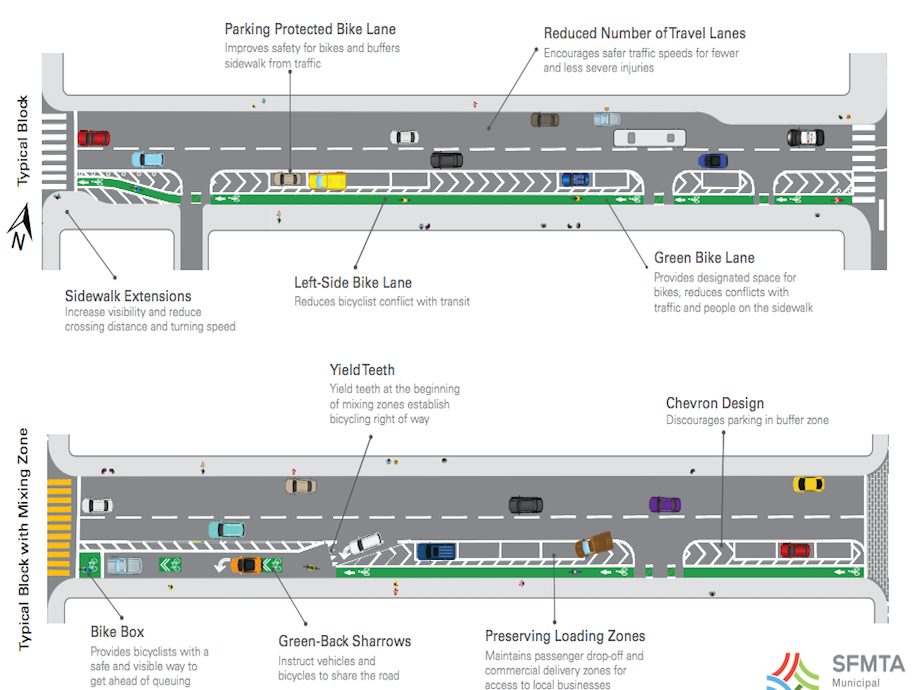 However, according to SFMTA, the Fire Department raised concerns over the parking-protected bike lane. Combined with the overhead power lines for city buses along that route, the parking-protected lane would make the street too narrow for emergency responders to access all buildings on the street.  

That led to the buffered bike lane proposal at a March 31st SFMTA Engineering Planning meeting. 
"Staff proposed a road diet and buffered bikeway on Turk," SFMTA spokesperson Ben Jose told us, "as a near-term safety improvement that could be installed quickly."

According to Chris Cassidy, spokesperson for the San Francisco Bike Coalition (SFBC), the engineering meetings are typically held very far along in the planning process, and are more technical that other SFMTA planning meetings,.
They rarely see any organized community opposition, said Cassidy. But when SFMTA's plans to exclude the physically-protected lane from its proposal became clear, the Turk Street bike lane became the first bike-dedicated lanes SFBC has voiced complete opposition to in its 46-year history.
SFBC's opposition is two-fold: not only does the proposal fail to adequately protect bicyclists on Turk Street, it also replicates a seemingly failed strategy that was implemented just one block south on Golden Gate Avenue.
Depending on the time of day, the painted bike lane along Golden Gate is frequently blocked by vehicles double-parked along the side of the road or auto traffic trying to leave the city.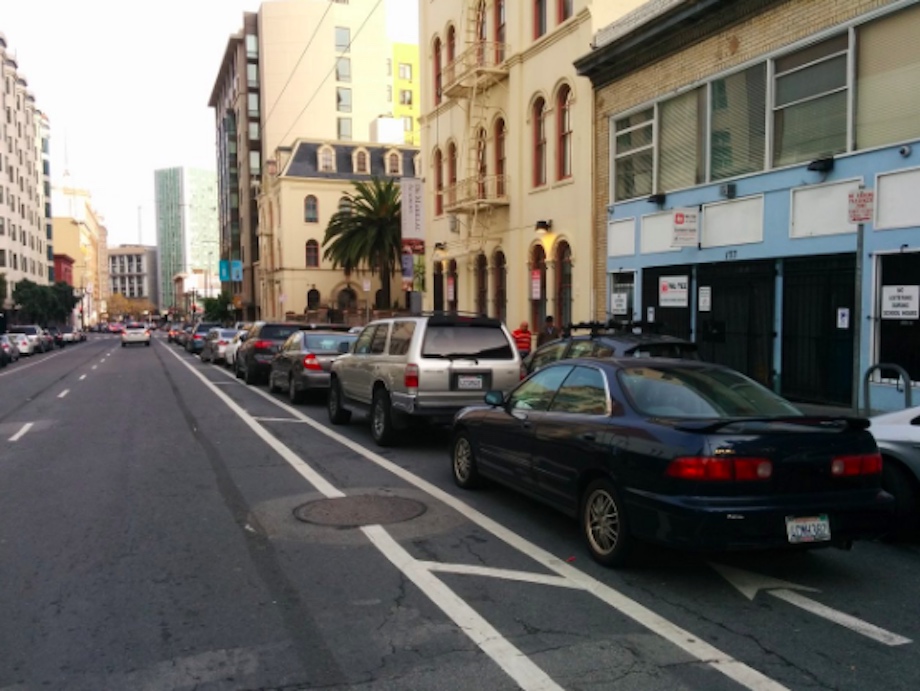 Sup. Kim has joined the SFBC in its opposition of SFMTA's scaled-back plans. 
"[Kim] wanted to ensure that cyclists and motorists are safe," spokesperson Ivy Lee told us. "Buffered bike lanes are simply not as safe for anyone using the road because there's driver confusion, double-parking, and other factors that result in heightened risk of collisions and injuries."
Their concerns have led SFMTA to launch another study to identify ways to implement a protected bike lane along that stretch, as initially proposed. 
"The additional study," Lee said, "is partly driven by Supervisor Kim's desire to also ensure that the Fire Department is able to navigate the street in an emergent situation and not have to contend with any additional possible delay."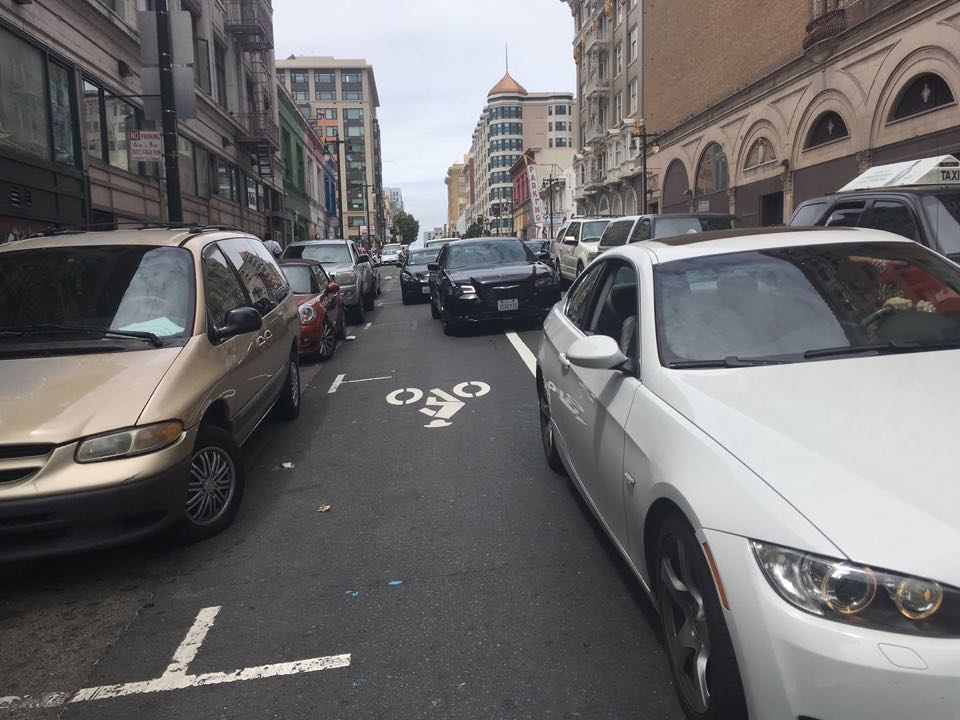 The Turk Street Safety project also includes a lane reduction to slow traffic, high-visibility crosswalks, traffic signal upgrades to incorporate signal timing that reduces speeding, painted safety zones and new prohibitions on turning right on red. 

Once SFMTA completes the study of options for installing a protected bike lane while still preserving emergency access, it will take any resulting recommendations to the SFMTA board for consideration, Jose told us.
"We are not sure what the recommendations will be yet, but intend to present them to the board by summer 2017," he added.