West Oakland's Mandela Parkway may seem like an unconventional place for a neon lighting shop, but then again, everything about owner Benjamin James and his business, Cool Neon Funhouse Creations, is unique.
In Vegas for Marco's big night tomorrow. #tcl #coolneon pic.twitter.com/DhKR8r4Gfe

— benjamin james (@coolneon) April 4, 2016
"There is no other store like this in the world," James said. "A significant amount of the product line here is designed in house by myself and my buddies."
James had his first encounter with neon at Burning Man in 1998 in the form of an animated horse moved by a bicycle rider. His camp was enthralled and immediately determined to build a school of neon glowing fish the following year.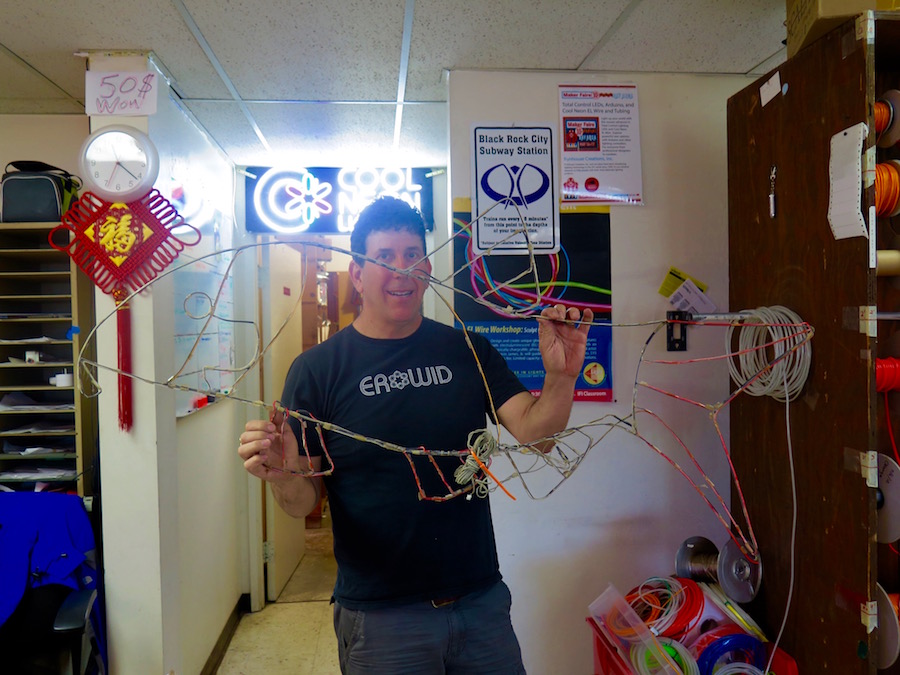 Since neon wasn't commercially available, James used the resale license for his silk screen business to try to place an order. Still, the manufacturer was skeptical, so James made a huge commitment.
Although he only needed 56 units to illuminate his school of fish, he ended up ordering 1,000. To move the remainder, he developed a pre-e-commerce method for other burners to place orders, and his neon was a big hit at the next Burn.
"All these people came up with such gratitude that I was sort of hooked," James said. "I quit taking silk screen shirt jobs and have been doing nothing but lighting full-time since then."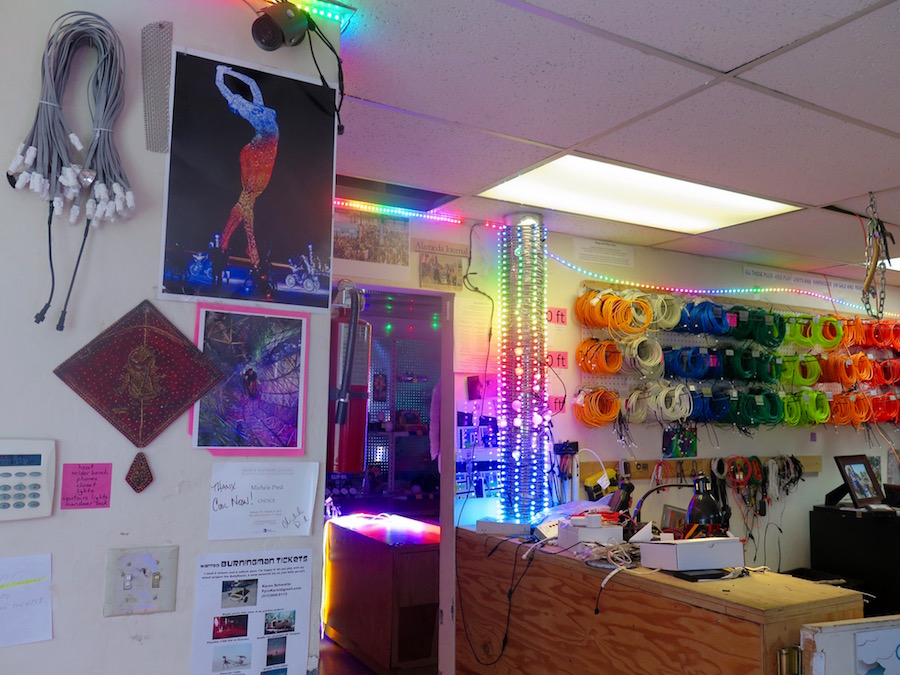 Burning Man creations are still a huge part of the business. Artist Marco Cochrane's 'Truth Is Beauty' sculpture, which debuted on the Playa in 2013 and now stands permanently in San Leandro, required around 3,000 lights.
"What we do here is people come in and say, 'I have a vision, I have a project that's never been done,'" said James, who's attended every Burning Man since 1995; his young children have gone every year since they were born.
Still, the festival is far from all of his business. James and his team create anything and everything imaginable from bedroom signs, costumes and bike lighting to Hollywood billboards, Oakland churches and whole buildings in Brazil.
What is the most unusual piece they've done?
"The majority of our projects," said Gian Giglio, who's worked at Funhouse Creations for more than 10 years.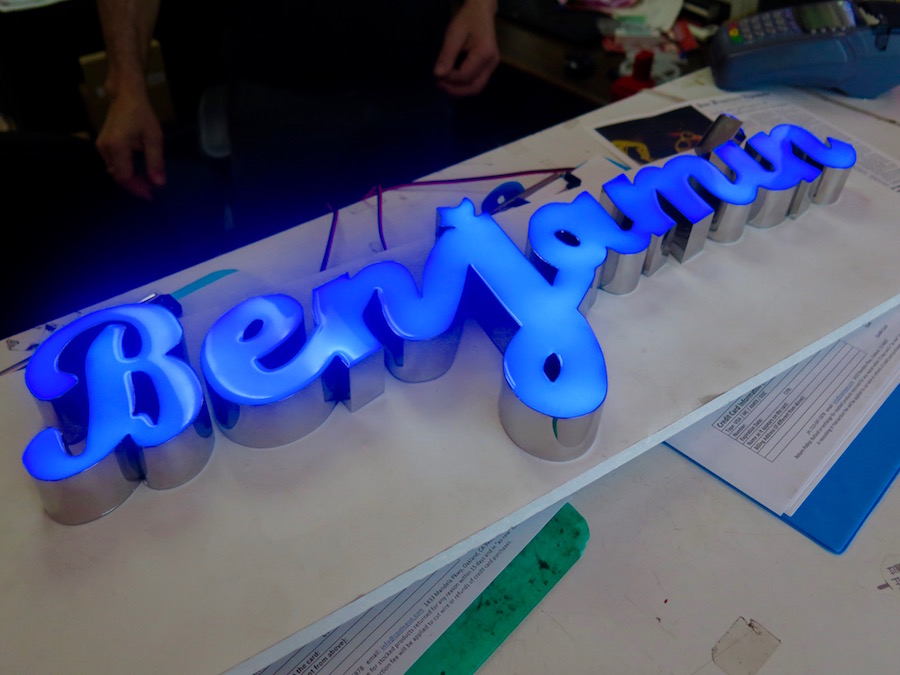 All the products and projects James has created - some techniques and technology unique to his store - have come out of fanatical experimentation and the tutelage of friends. James and his team have developed materials like "thin and bright" lighting (great for costumes) that can't be found anywhere else. Next on his short list is to master programming.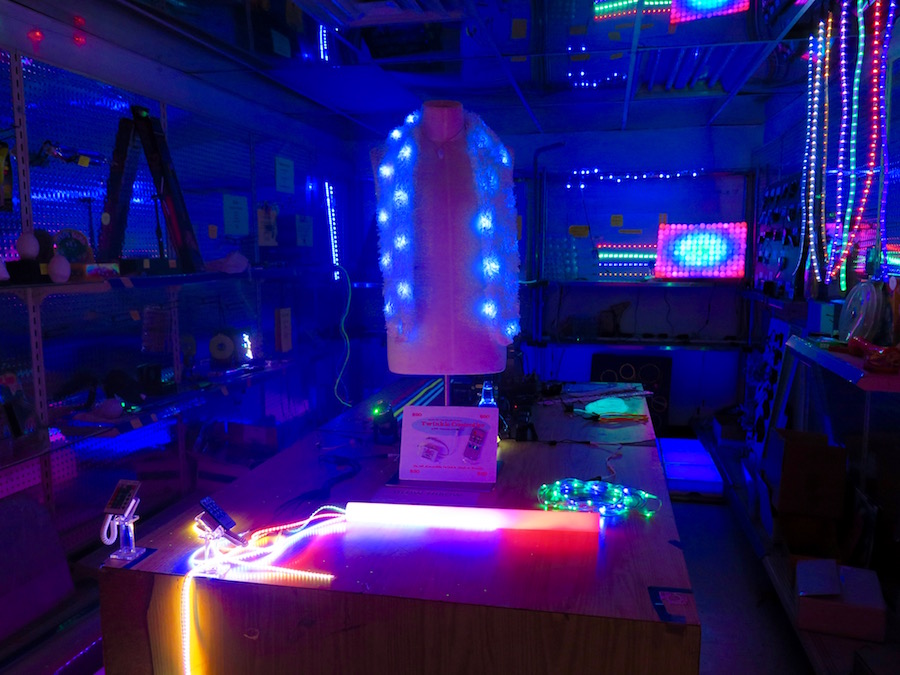 Community was the catalyst for the store's creation and has been at the center of the business ever since, so a brick-and-mortar store (complete with showroom) where people can come in and discuss and evolve their ideas doesn't seem so strange after all.
"Shipping constantly works great, but having a place where people can unspool their mind is very rewarding," James said.
For Giglio, the best part of the job is "easily the people," he said. "Everyone who calls and walks through our door is a unique, kooky, artistic person, someone I would want to be friends with or at least have a beer or more with, and it makes it a real pleasure."