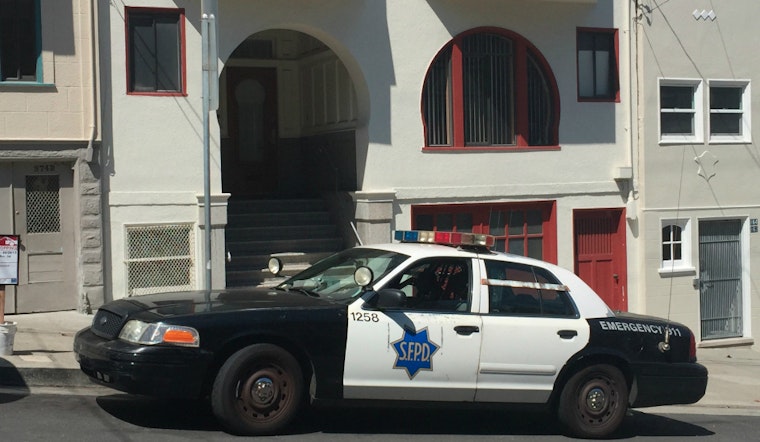 Published on April 08, 2017
April is here, which means it's time for another look at crime in District 3. Here's an overview of some of the incidents reported since our last roundup culled from SFPD daily reports. 
Suspect steals trays of food at knifepoint
On April 6th on the 600 block of Pine Street near Union Square, a robbery occurred just after 11am. A man, 57, was entering a restaurant when a male suspect in his 20s approached him and held a knife to his torso telling him not to move. The suspect then grabbed trays of food from a delivery vehicle nearby and fled on foot in an unknown direction. 
Backpack stollen from store, struggle ensues
A robbery occurred in North Beach at 11pm on April 3rd on the 200 block of Kearny Street when a suspect in his 20s entered an area business and absconded with a man's backpack. When the victim, 33, learned that his property was missing, he gave chase and ran after the suspect who got into a car and attempted to flee. The victim jumped into the vehicle and he struggled with the suspect for his belongings. Eventually, he exited the car and the suspect fled in the car westbound on Pine Street. 
Pedestrian hit by car in early morning hours
A man, 36, was crossing Broadway Street near the corner of Montgomery Street in Jackson Square on April 2nd at 2:28am when a vehicle struck him, causing serious injury. The victim was walking mid-block between Rowland Alley and Montgomery Street when the car driven by a 51-year-old man heading eastbound on Broadway Street struck the victim in the head with his passenger side mirror. The victim was transported to a hospital with life-threatening injuries and no arrests have been made. 
Hot prowl burglar nabs suitcase
Sometime between 7:30 – 8:30am on April 1st on the 300 Block of Grant Avenue near Union Square, a hot prowl burglary occurred leading to the loss of a woman's suitcase. The victim, 32, indicated that her boyfriend had previously left the apartment door unlocked. When she awoke in the morning, she noticed the item was missing. 
Silent bank robber flees with cash
A man in his 30s entered a bank in Chinatown on the 1100 block of Grant Avenue April 1st at 4:37pm and placed several plastic bags in front of tellers, two women ages 23 and 30. While the suspect did not speak to the victims, the tellers took cash from their drawers and placed it into the bags. The suspect then grabbed the loot and fled southbound on Grant Avenue. 
Playful sword fight ends badly 
On March 31st at 10:21am on the 900 block of Columbus Avenue in North Beach, a man was stabbed with a sword, causing injury. Two men, one 40 and the other unknown, were hanging out in an apartment together when they began wrestling and play-fighting with a sword. One of the men sustained stab wounds during the incident and was transported to a hospital in non-life threatening condition. Police said that an arrest has been made. 
Hot prowler sneaks though apartment window
Another hot prowl burglary occurred on March 29th, this time in Russian Hill on the 800 block of Filbert Street sometime between 1:00 – 7:00am. A woman, 30, went to sleep around 1:00m and then woke up at 7:00am and realized that her laptop was missing. She then noticed that a window in the back of the apartment was open and the screen was torn. She contacted a second victim, a man, 31, who was out of town at the time, and used "FaceTime" to determine which items of his were missing. In total, a laptop, passports and a belt were among the items missing.  
The next Central Station Community Meeting is Monday, May 1st 6:00 – 7:00pm at Grace Cathedral. (1100 California St., Dining Room, Plaza Level)