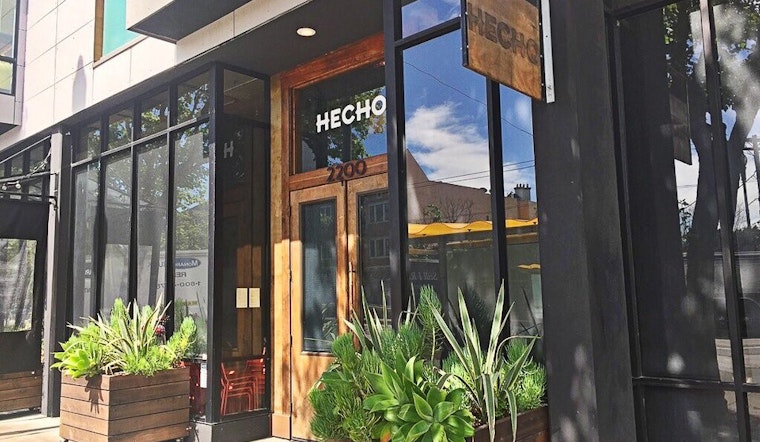 Published on April 12, 2017
After almost two and a half years of business, Hecho Cantina (2200 Market St.) will soon close its doors.
Here's what owners Jesse Woodward and Dana Gleim, who are also behind nearby sports bar Hi Tops, had to say:
"Yes, it's bittersweet, but Hecho is being sold and will cease operations within the next few months. We were approached with a great offer and felt it was the right time for us, given the challenges in the current SF restaurant climate.

We've had an amazing crew and patrons since the start, and have learned a ton. As sad as we are to move on, we're really looking forward to refocusing our attention on Hi Tops and future projects."  
Hecho has had a challenging run in the Castro. In August 2014, it opened under the name Bandidos, but after two weeks in business, it received harsh criticism over the moniker, which some felt was offensive to Hispanic people.
After changing its name to Hecho, the restaurant suffered a 2015 kitchen fire, which also damaged neighboring arcade bar Brewcade.
At the end of 2016, Woodward and Gleim decided to shift the struggling restaurant's concept, changing its name to Hecho Cantina and renovating from a sit-down restaurant into more of a bar concept with snacks. Unfortunately, the new focus still struggled to attract customers, leading to this week's closure. 
There's already a clue as to the new owners: Andale Management Group (AGM), owners of the fast-casual Andale chain of taquerias and of Russian Hill restaurant Mezcalito, has filed for a liquor license at the address. We reached out to them to learn more, but have yet to hear back. 
In the meantime, there's still time to say goodbye to Hecho. While Woodward and Gleim declined to share a closing date, diners can expect the restaurant to depart in the coming months.