If news of a Muni door flying off while the train was in transit scared you, take comfort in a recently-released city report that indicates that crime on Muni is at a five-year low.
The study found an average of 6.5 crimes reported per 100,000 miles of Muni service, but Streetsblog SF wrote in an op-ed that the criteria used could be misleading because the metric is based on vehicle miles, not passenger miles.
"An average of 32,380 fewer people got on Muni every day in February [2017] compared to a year ago," wrote Streetsblog contributing writer Andy Bosselman. "Any drop in crime could just be a byproduct of fewer people riding the system."
As SFWeekly reports, the crime data included in the city's analysis was sourced from SFPD reports and includes incidents that happened either on or around Muni vehicles.
In 2013, those criteria expanded to include not just reports on Muni buses, but any reported crimes around Muni bus lines. This subsequently doubled the number of reported crimes, but the recently-released report says that criminal activity is back to pre-2013 levels.
The city attributes the drop to "applying data-driven police deployment to high-crime Muni lines" and "targeted enforcement."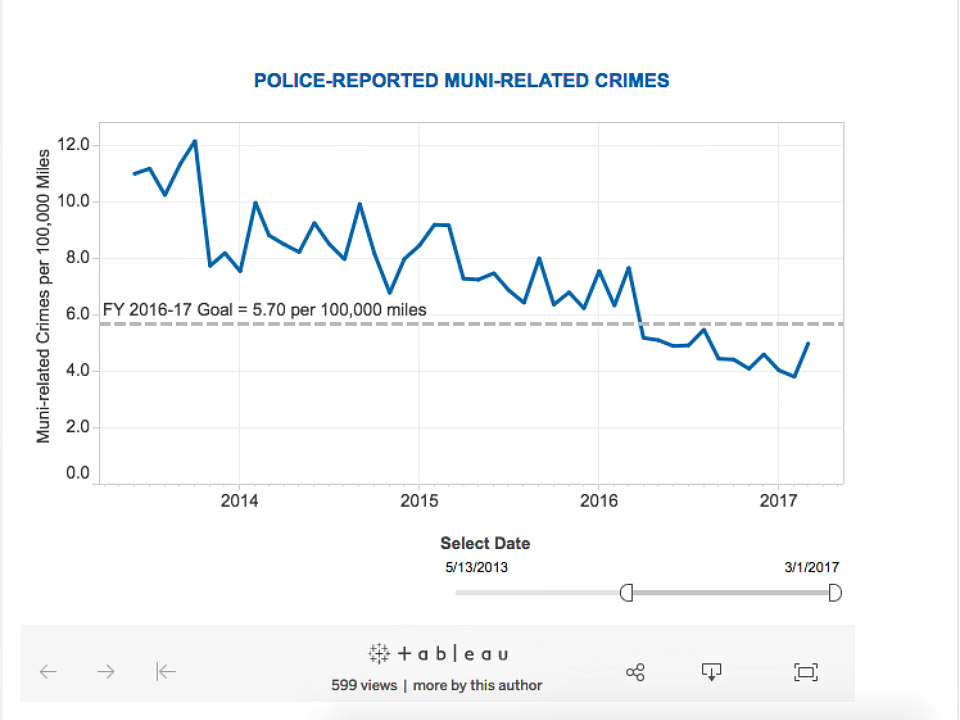 According to the report's analysis:
"The crime rate on Muni continued to decline following [a 2013] boost in police presence at stations and on vehicles. In addition, improved surveillance equipment and the efforts of the SFPD Muni Task Force have resulted in a nearly 100 percent apprehension rate for alleged crimes committed on Muni vehicles. Data-driven police deployment to high-crime Muni lines has and will continue to have a positive impact on Muni security."
Based on recent events—including
a woman being pulled off a bus
by a gang of teens who was beaten and robbed and
reports of a alleged serial "Muni groper"
—do you feel safer riding public transit?