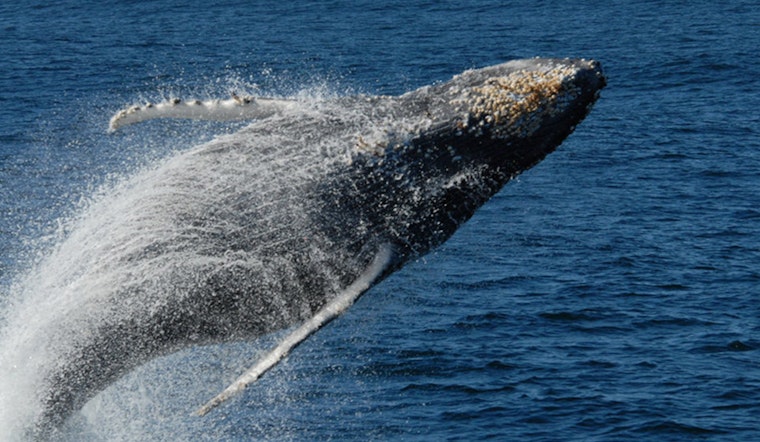 Published on May 26, 2017
This year, local whale watchers have been thrilled as the majestic marine mammals have been sighted across the Bay Area.
The easiest way to see the whales is to venture out by sea. But if you're more of a landlubber than a sailor, whales can be viewed on terra firma right here in San Francisco.
To spot different species of cetaceans, head over to Crissy Field, Land's End or Fort Point at the Golden Gate Bridge. If you prefer the beach, give Baker Beach or the northern end of Ocean Beach a try.
As whales don't make a splash off the SF coast all year long, Monterey Bay Whale Watch sightings give you an idea of who's currently around. 
"Whales come into the Golden Gate several times a year, they follow a school of sardines or anchovies or plankton that they are eating," California Department of Fish and Wildlife spokesperson Andrew Hughan explained. "They are in the migration and moving up and down the coast, so it's not surprising that they wander in once in a while."
Reddit users recently reported ten to 15 humpback whales "chilling in the bay right under the Golden Gate Bridge," while ABC7 was able to catch some of them during a recent Facebook Live. 
Spotted two whales inside San Francisco Bay (Horseshoe Bay, just east of Golden Gate Bridge). pic.twitter.com/fmpc3HnCrH

— John Kalucki (@jkalucki) May 18, 2017
"There have been scatterings of them in the Golden Gate Straits (bridge vicinity) over the past several years, but 2016 was the first year larger numbers congregated in large numbers and consistently," Greater Farallones National Marine Sanctuary spokesperson Mary Jane Schramm confirmed. 
The pattern held from late April into August last year; and it began this past April.
Humpbacks in north-central California waters have expanded their foraging range into the SF Bay and other close-inshore waters along the coast, Schramm told us.
"This may be a sign of a growing population's need to find more feeding opportunities," she said. Whales shift location with the movements of prey.

Schramm also adds that they ask anyone on the water—including paddlers—to keep a minimum distance of 300 feet. "Where these underwater foragers will surface is anyone's guess," she said. 
Unlike migrating gray whales' more predictable movements, feeding humpbacks can resurface anywhere without warning, which can result in injury to people on the water and to anyone trying to rescue them.
A couple whales are swimming around Golden Gate Bridge this morning!! pic.twitter.com/fpFaFCpRLT

— Alexis Smith (@AlexisABC7) May 17, 2017
Whales will also hang out near the Farallon Islands, which are part of their feeding grounds. The islands can only be approached by boat, but there are several options for taking a whale watching tour in the SF Bay Area.
According to the National Park Service, the Greater Farallones National Marine Sanctuary provides a 20-mile wide "highway" for the whales to cruise. Sometimes they can be seen nearer to shore, while other times they travel farther out to sea.
Whales can also be seen at Point Reyes, a good spot to view the gray whale. Chimney Rock and the Point Reyes Lighthouse offer an opportunity to take a glimpse at the whales there.
To prevent a large vessel ship strike, the shipping industry is advised to reduce speed to ten knots in the shipping lanes near the Golden Gate from May 1st through November 15th. "[These are] the times of year when endangered humpback and blue whales are here to feed," Schramm said.
She adds that there have been some issues with windsurfers and kite boarders, who have been witnessed "buzzing" whales repeatedly.
"We're currently working on more stepped up efforts to reach out to these sporting communities to educate and advise them of the consequences," she said.
All whales, dolphins, seals and sea lions are protected under the federal Marine Mammal Protection Act.
"If you observe them unobtrusively, you won't disturb them ... or distract them from detecting and avoiding oncoming ships," Schramm said. "Appreciate them, but show them respect, and you'll be rewarded by observing these magnificent animals and their natural behaviors."