On July 1, single-trip Muni fare rates will jump by 25 cents and monthly passes will go up by $3. According to the agency, fares must increase due to inflation, rising costs and to keep the transit system working efficiently and safely.
A similar fare hike went into effect on January 1, which means that come July, single-trip Muni fares will be 50 cents higher than they were in 2016 —up to $2.75 for those paying cash and as much as $2.50 for those using a Clipper card or the MuniMobile app.
The price of Muni's "A" monthly pass, which includes BART fares within the city, is rising from $91 to $94—an $8 jump from 2016. The "M" pass, which doesn't cover BART, will go up a couple of dollars to $75.
Seniors, youth (ages 5-18), and people who are mobility-challenged will see a 10-cent increase in cash fares, from $1.25 to $1.35, and those opting for Clipper card or the MuniMobile app will pay $1.25 come July 1, up a quarter from last year.
Between July 2016 and July 2017, those groups will have experienced a 52 percent increase in the cost of their monthly passes, from $25 to $38.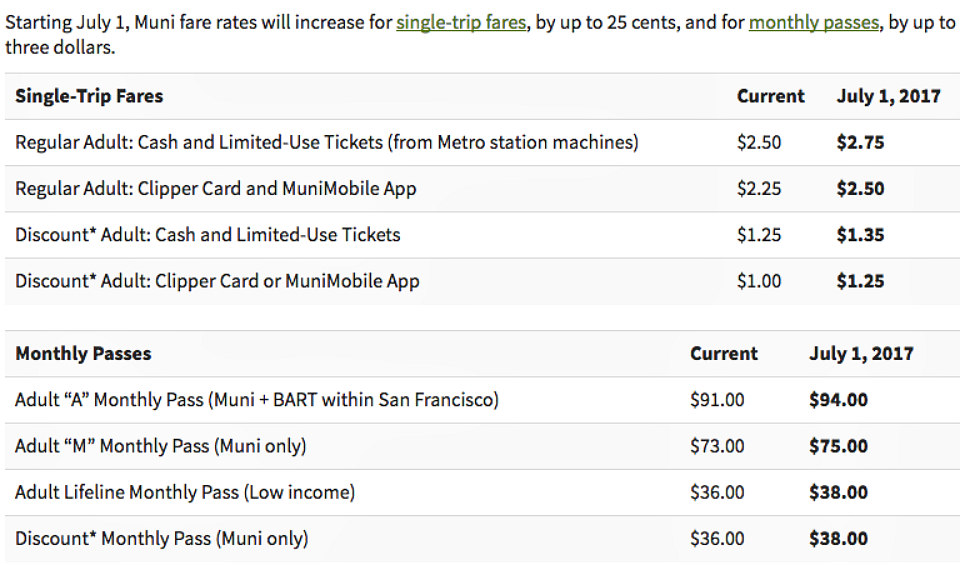 Fare rates are adjusted on an annual basis under SFMTA's Automatic Fare Indexing Policy and must be approved by the agency's board of directors as part of its fiscal year budget, but January's hike was an exception that allowed SFMTA to adjust its fare policies to include a 25-cent discount for single-trip Muni fares for riders paying with a Clipper card or the MuniMobile app.
According to SFMTA, fare revenues keep Muni running by allowing the agency to expand service, introduce new vehicles and establish red transit-only lanes. However, the agency announced last week it would redirect nearly $26 million in bond money to shovel-ready projects.
As we previously reported, millions earmarked for efforts to expand bus and train service, the Better Market Street project, and other pedestrian safety projects will instead be allocated to Muni facility improvements.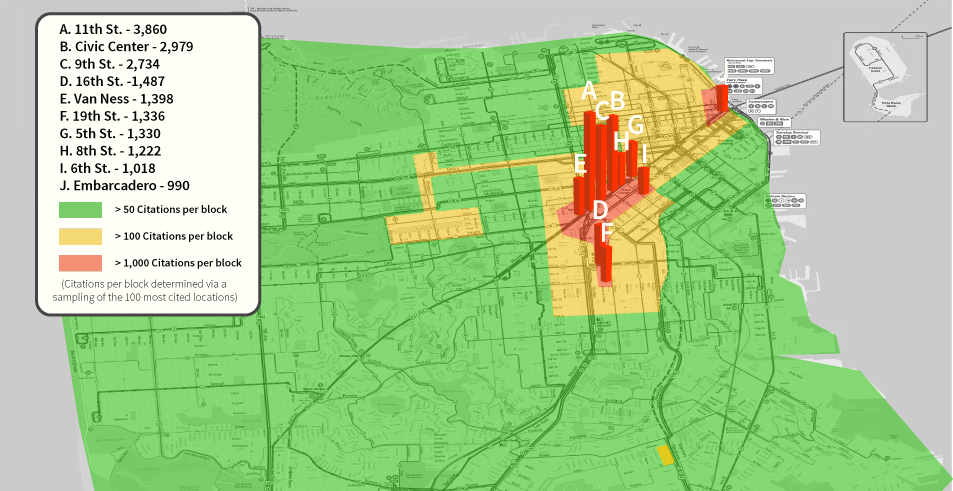 When asked what the agency is doing to curb fare evasion, SFMTA spokesperson Paul Rose said that based on recent surveys, evasion is on the decline and most riders are paying their fares.
"Contrary to concerns that all-door boarding would encourage fare evasion," wrote Rose in an email, "it turns out that the possibility of receiving a citation at any time makes us all more likely to pay."
Earlier this year, Hoodline found that nearly a third of citations were given out within half a mile of SFMTA's 1 South Van Ness Ave. headquarters.
Unlike Muni fare increases, parking meters in the city can be adjusted every three months and are based on demand, with rates ranging between 50 cents and $6.25 per hour depending on the time of day and the location.