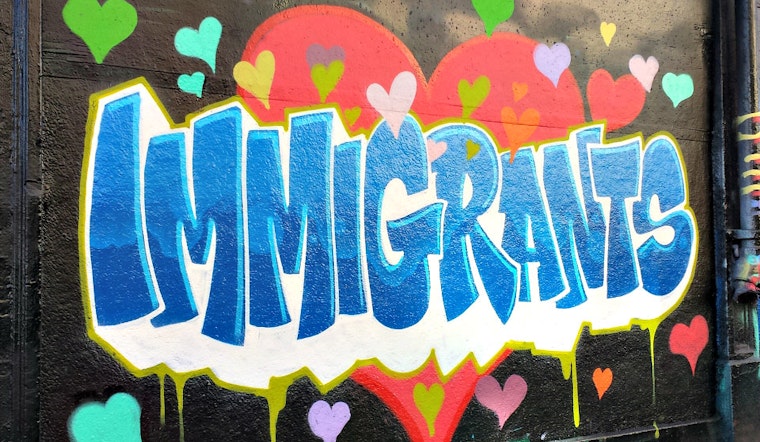 Published on May 01, 2017
Today is International Workers' Day, and a host of pro-worker, pro-immigrant and anti-Trump demonstrations are planned across the country.
The festivities will begin this morning at a rally out front of the Immigration and Customs Enforcement office (630 Sansome St.), and a May Day march for workers' and immigrants' rights will follow.

In addition to today's marches and rallies, a number of local businesses and restaurants will be shuttered, and many companies, including Facebook and Uber, have said that workers participating in today's strikes won't be penalized.

Restaurant owner Adriano Paganini decided to keep his 20 Bay-Area businesses closed today. Paganini moved to San Francisco from Italy two decades ago.
"The subject of immigration remains very personal to me," wrote Paganini, "and it hits home to many of us. I feel proud to be an immigrant who has successfully built a business that provides jobs for many people and places to eat for our neighbors."

Here's a list of SF businesses that we know will be closed for May Day:
Arizmendi Bakery (Valencia Street location)

Beretta
Belga
Cha Cha Cha (Mission location)

Delarosa (both locations)
El Techo
Souvla (all locations)

Lolinda
Starbelly
Super Duper (all locations)
Flores
The Bird
Uno Dos Tacos
Rainbow Grocery

Here are a list of May Day events in San Francisco:
Here's what's going on in Oakland today:
Are there any businesses closed or events scheduled for May Day that we missed? Let us know! Text us at (415) 200-3233 if you're in SF or at (510) 757-9959 if you're in Oakland. As always, feel free to tweet us @hoodline, email us at [email protected] or drop us a comment below.