Hip-hop star and now filmmaker Boots Riley has been spotted around Oakland lately shooting his new movie, Sorry to Bother You. For three days this week, the production has been in Uptown filming a protest scene.
During today's shoot, there were numerous actors in black wigs wearing T-shirts that said "shut it down," holding strike signs. Other actors were dressed as football players and riot police.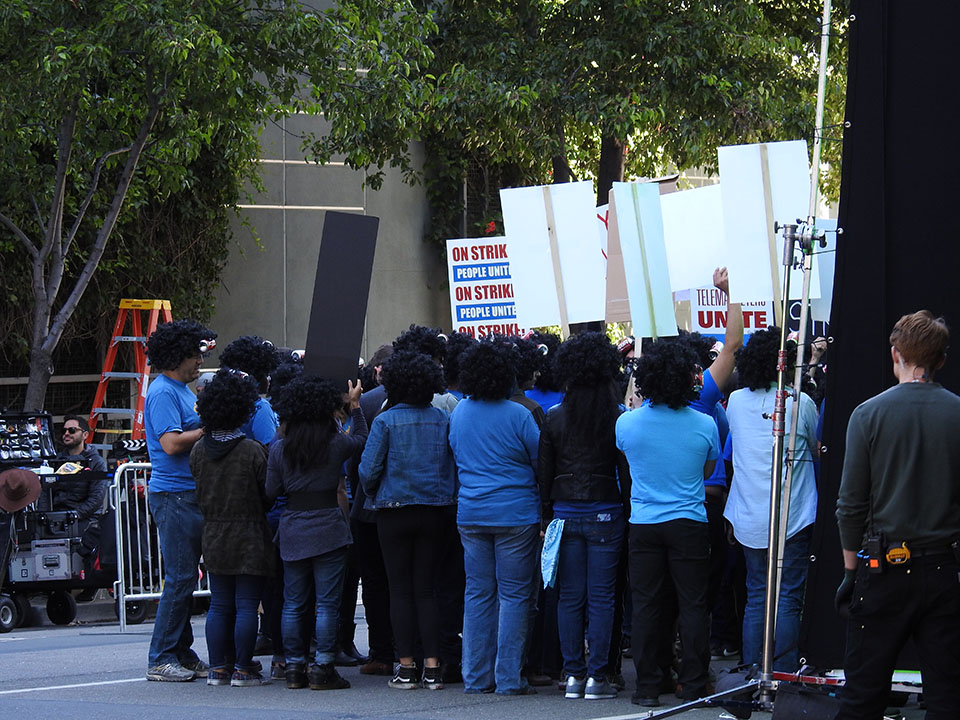 McSweeney's Quarterly Concern published a draft of the screenplay in 2014 that tells the story of Cassius Green, a young black man who is hired by a telemarketing firm. Green excels at his job once he finds a way to make his voice sound like it was overdubbed by a white actor.
But as he climbs the corporate ladder, he discovers a vast conspiracy to breed people with horses, creating a new species called the Equisapiens. Meanwhile, angry protests keep growing against WorryFree, a strange new company that offers free employment and housing for life. 
Riley grew up in Oakland and formed hip-hop group The Coup in the early 1990s. He's released six albums with the group since 1991 and also partnered with Rage Against the Machine guitarist Tom Morello for a side project, Street Sweeper Social Club.
The Coup's music is notable for its funky rhythms and Riley's political lyrics. A 2012 album was also titled "Sorry to Bother You" and its songs make reference to story points in the movie.
Riley was chosen for a screenwriters' lab with the Sundance Institute in 2015 to work on the script. He returned for the directors' lab in 2016, where he shot some scenes for the film. 
While Riley hasn't directed a film before, he directed the music video for the Coup song "Me And Jesus The Pimp In A '79 Granada Last Night" and studied film at San Francisco State University before pursuing a music career.
Film producer Charles D. King posted on Instagram on June 22 that Riley had begun filming in Oakland that day. Other producers on the project include Fruitvale Station producers Nina Yang Bongiovi and Forest Whittaker. 
The cast includes Lakeith Stanfield, Tessa Thompson, Steven Yeun, Armie Hammer, Jermaine Fowler, Omari Hardwick and Terry Crews.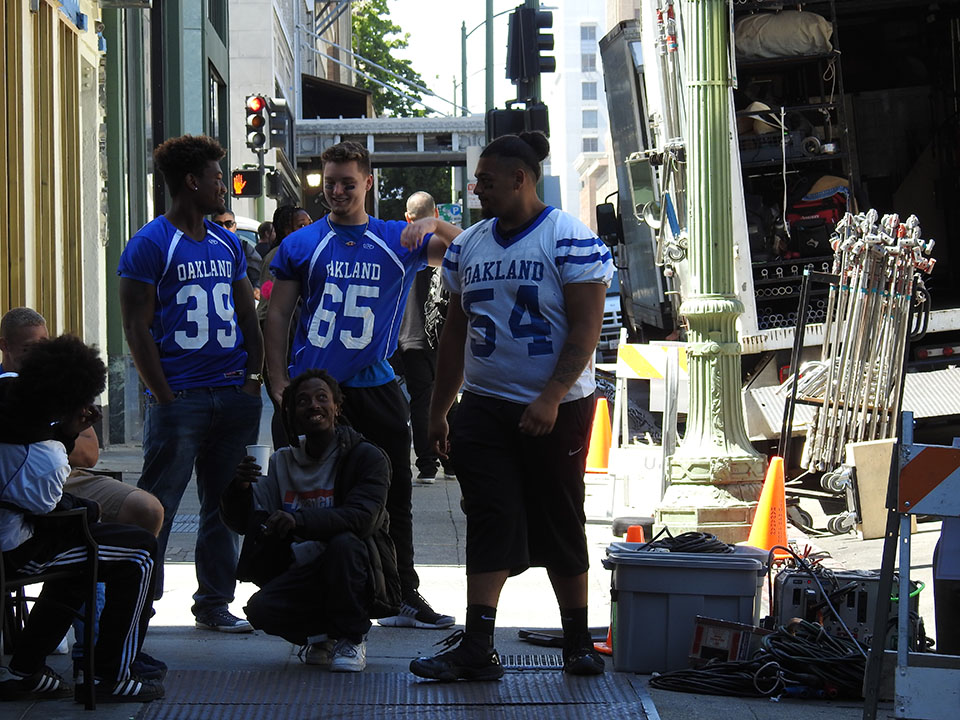 Riley has been seeking Oakland residents to appear as extras in various scenes, including the protest scenes and one at the Layover bar downtown.
Filming is expected to continue until July 28; to track the production's progress or find out about extra opportunities, follow it on Facebook.