After testing a plan that closed off a short segment of Octavia Boulevard to cars, SFMTA has analyzed the data it collected and is ready to move forward with recommendations.
The temporary closure to northbound traffic took place between March 31st and April 7th as part of the Octavia Boulevard Enhancement Project.
According to project manager Casey Hildreth, the transit agency "will definitely move the project forward" in one way or another. But whether a future closure might be temporary or permanent has yet to be determined.
Hildreth said SFMTA analyzed traffic on Laguna and Linden Streets because those are the "most obvious detour routes" for drivers.
Linden Street saw 1000 cars on the first day of the closure, compared to nearly 500 the day before. Normalized closure volume on the following days was about 150% of the existing conditions, which meant 250 more vehicles daily.
Laguna Street, on the other hand, saw about 1000 more cars on the first day, about 6000 cars in total. The normalized closure volume on the following days was 106% of the existing conditions, 325 additional daily vehicles.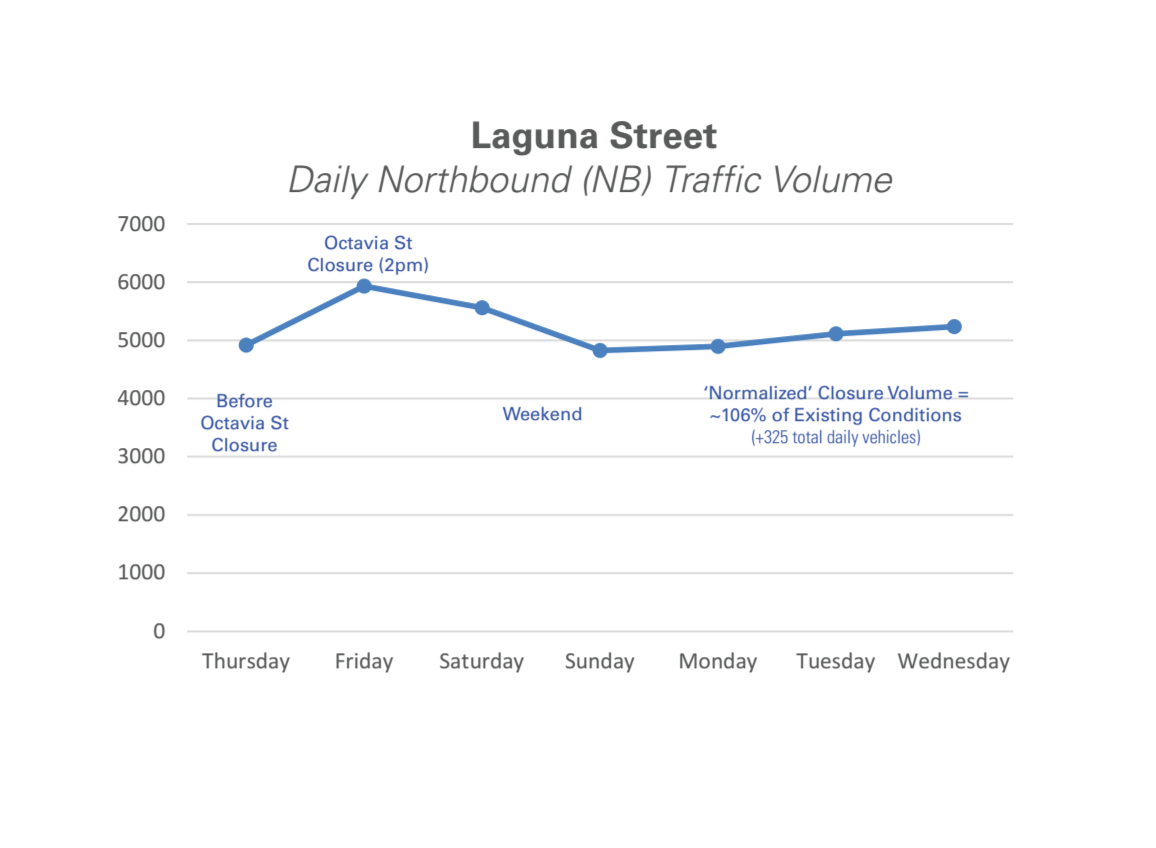 "The closure helped to unify the Proxy event space and Patricia's Green for pedestrians," Hildreth said. He added that the closure gave neighbors a chance to speak with their "feet or even with their hula hoops."
Generally, traffic overall did what SFMTA expected, and people adjusted their routes.
But Hildreth noted that there were exceptions: Uber and Lyft pick-ups, as well as deliveries in the area affected the traffic flow.
SFMTA plans to work out solutions together with Build Public, the nonprofit behind ongoing efforts to improve Linden Street living alley, as well as the Hayes Valley Neighborhood Association (HVNA).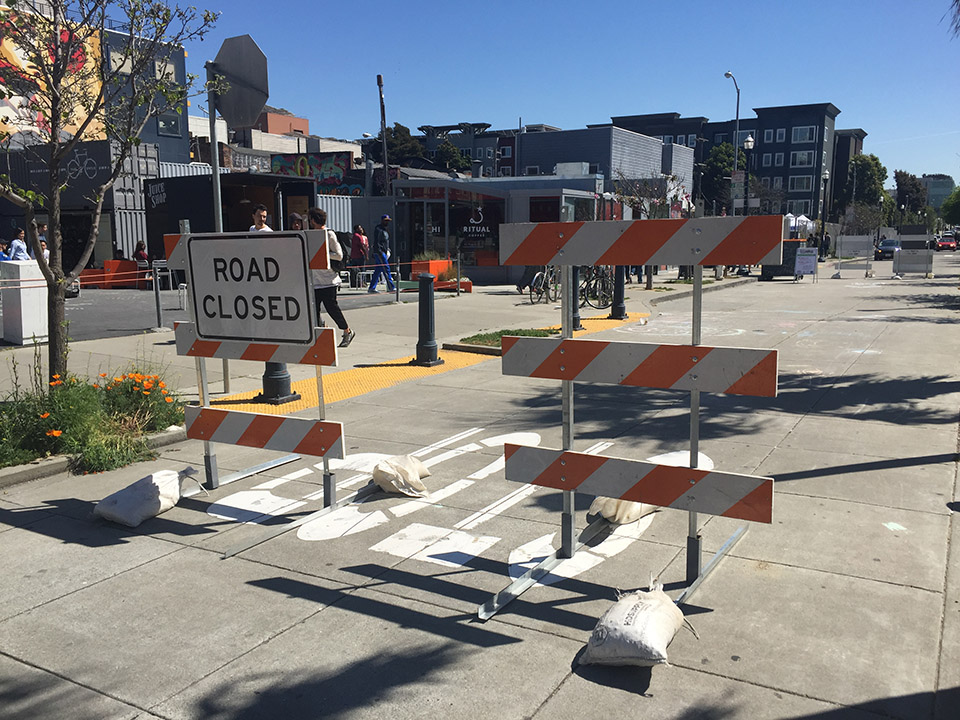 Build Public recently secured $189,000 in city funds and met with business and property owners to further discuss ideas.
Agency spokesperson Ben Jose said SFMTA wants to continue the dialogue with the local community.
Hayes Valley Neighborhood Association president Gail Baugh said her group still supports the original intention of sharing the road around Patricia's Green, but didn't foresee how pedestrians would interact with ride-hailing drivers, many of whom are unfamiliar with local side streets.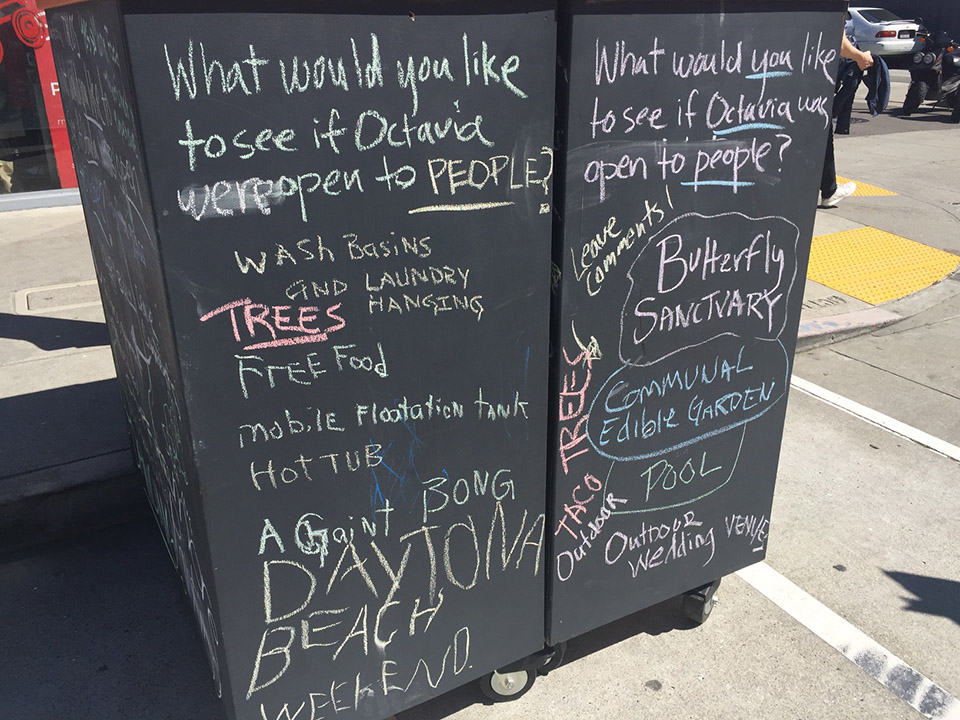 Hildreth said SFMTA wants to make sure they "understand the needs of emergency vehicles" at all times, and one question that remains open is what is going to be the best physical solution to close the segment.

If a permanent closure is put in place, tables may be added to the street to better connect the park with Proxy, but Hildreth said that "the community has to own it," as the city won't be able to maintain the tables on a daily basis.
Baugh said HVNA supports a longer trial period to monitor driver behavior. If a closure is to be properly measured, a space for ride-hailing pickup on Hayes and Fell Streets should be established to avoid traffic detouring eastbound on Linden Street, she suggested.
Jose said residents can expect email and project website updates, with the next email going out later today. Neighbors may subscribe to email updates on SFMTA's website.