With restaurants closing and new eateries coming in to replace the old, here is the latest intel on the food industry in San Francisco.
This week, we found two closures and three new businesses that are opening soon.
Opening
Russian Hill: Passion Peruana
993 North Point (at Polk Street)
We learned that Passion Peruana has moved into the space formerly occupied by Latin Grill until it closed earlier this year.
Latin Grill was a Cuban/Latin-American restaurant that offered tapas-style dishes in a casual setting. Fan favorites included arroz con pollo (chicken with rice), empanadas, arepa con queso freso (flatbread with cheese) and others.

According to tipster Al M., a worker confirmed that the space will be operated by the owners of Latin Grill. He added that the interior doesn't seem to have changed much and still has enough to accommodate 44 guests. 
Although there is currently a grand opening banner outside the eatery, the restaurant is reportedly closed due to permitting issues. 
"A resident who lives above was heading home and told me that he has seen activity from time to time, but never a formal sit-down opening," said Al. 
Other details on Passion Peruana are not available at the moment, but when we learn more, we'll let you know.
Closures
SoMa: Thoughts Style Cuisine Showroom
139 8th Street (at Minna Street)
In SoMa, Thoughts Style Cuisine Showroom, a trendy Thai and Italian fusion restaurant located on the corner of 8th and Minna streets, has closed. 
The space used to belong to a Brazilian eatery until Mu Chanma, the owner of the restaurant, converted it into an Asian fusion gallery. It opened in January of last year and shuttered before its two-year anniversary.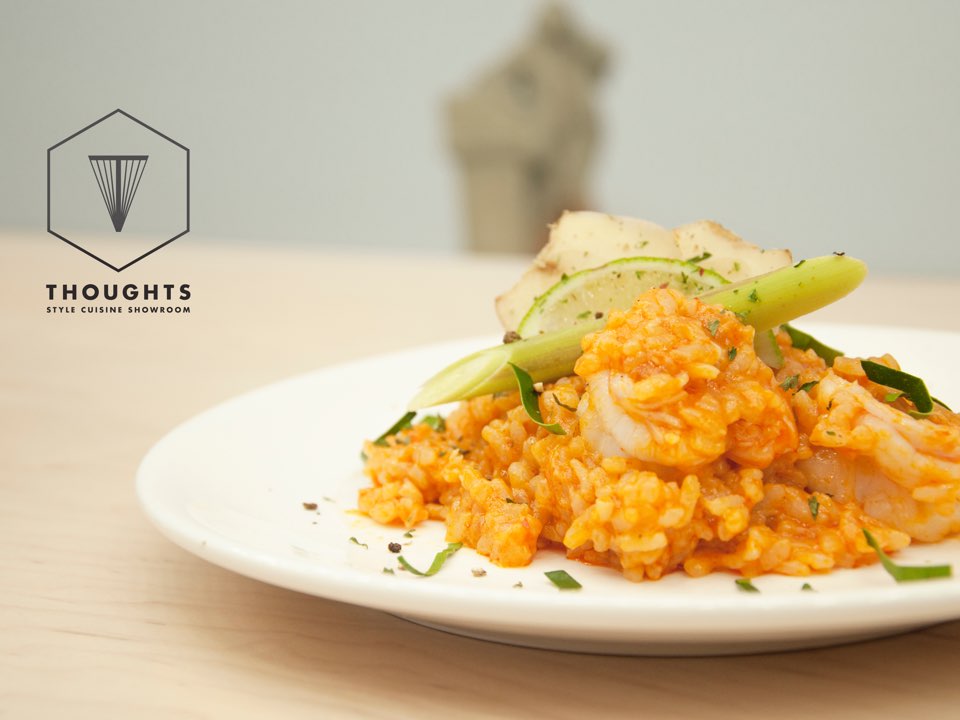 Before it closed for good, Thoughts Style Cuisine Showroom offered a menu with options that included mechanical noodles, tom yum kung risotto, Hong Kong porridge with twinsie donuts for breakfast, and more.
Lower Nob Hill: 398 Brasserie

398 Geary Street (at Mason Street)
Al alerted us to 398 Brasserie's closure in Lower Nob Hill. The upscale French restaurant, which opened in Hotel G in 2014, was known for European-American dishes and cocktails.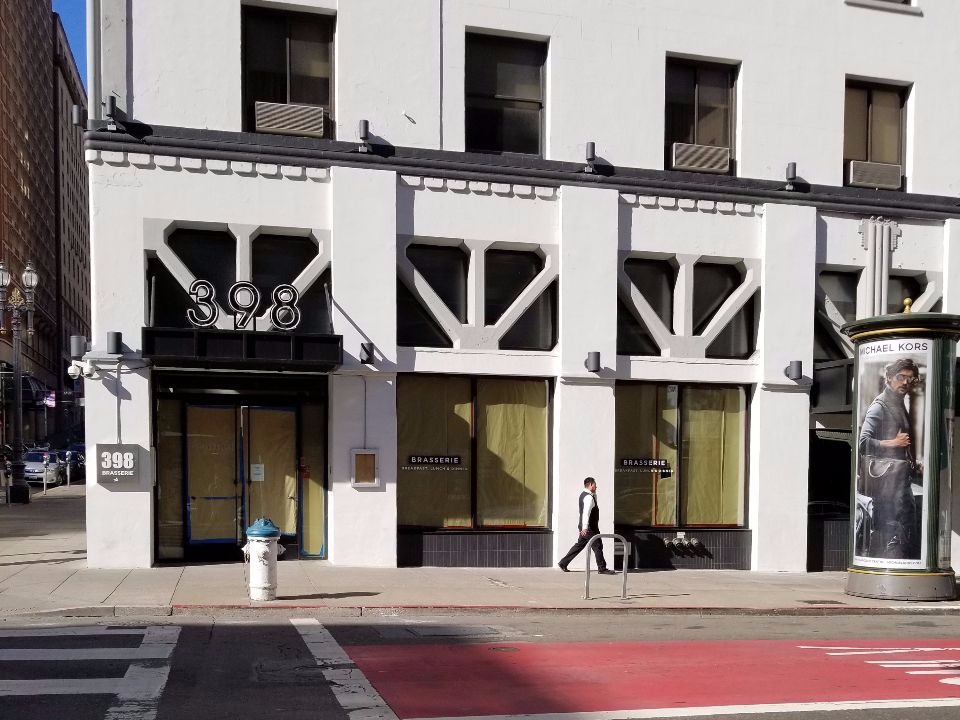 "I peeked through the paper-covered window and the inside is gutted. Exposed cement beam and dangling wire is all there is," said Al.  "A notice on door said that it's closed at this time, and there's no telling if they're planning to return or transition to another cuisine offering."
He also asked hotel employees if the business was closing for good, but they were pretty mum about the whole thing. 
Coming Soon

Lower Haight/Divisadero: Wholesome Bakery
1001 Page Street (at Divisadero Street)
On the border of Divisadero and the Lower Haight, Wholesome Bakery—a baked goods business established in 2009—is gearing up for the grand opening of its first brick-and-mortar shop in late October.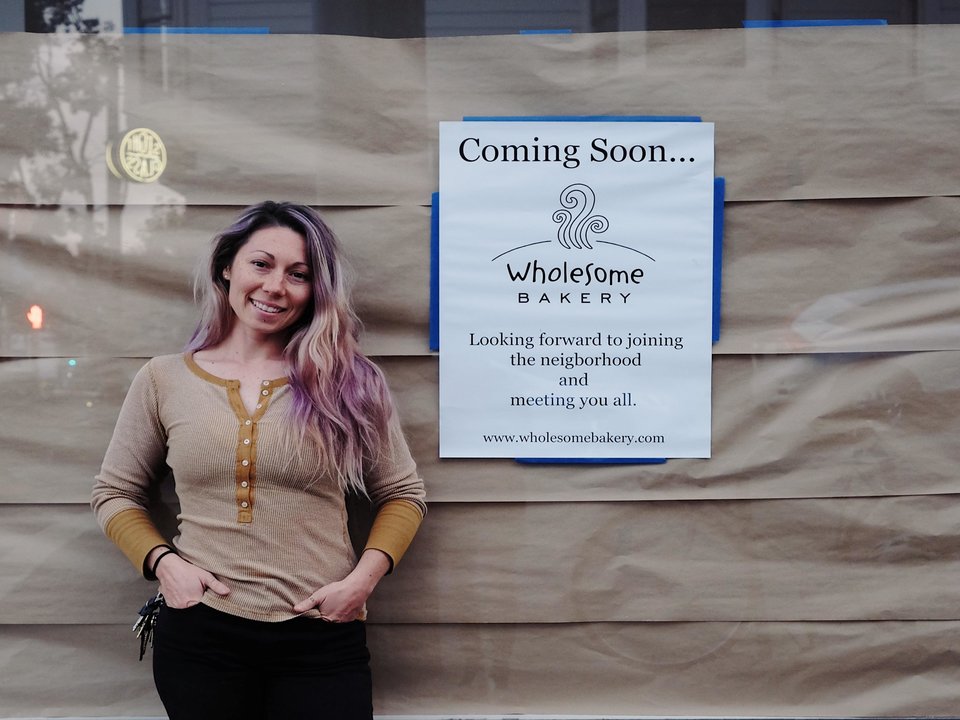 The female-owned and operated bakery has products available at more than 20 stores in the Bay Area including Bi-Rite, Haight Street Market and La Beau Market.
Starting next month, customers will be able to find treats like almond tea cake, cupcakes, cookie sandwiches, tarts, brownies and many more at its first brick-and-mortar shop. 
To learn more about Mandy Harper, the owner of Wholesome Bakery, read our full story.
Hayes Valley: Johnny Doughnuts
392 Fulton Street (at Gough Street)
Over in Hayes Valley, Al told us that Johnny Doughnuts, the popular San Rafael-based donut shop that started out as a food truck, is inching closer to its grand opening.
In February, we reported that the store—originally set to open back in 2016—would finish with construction by April of this year. Now, Al reported that the business is nearly ready to open for business.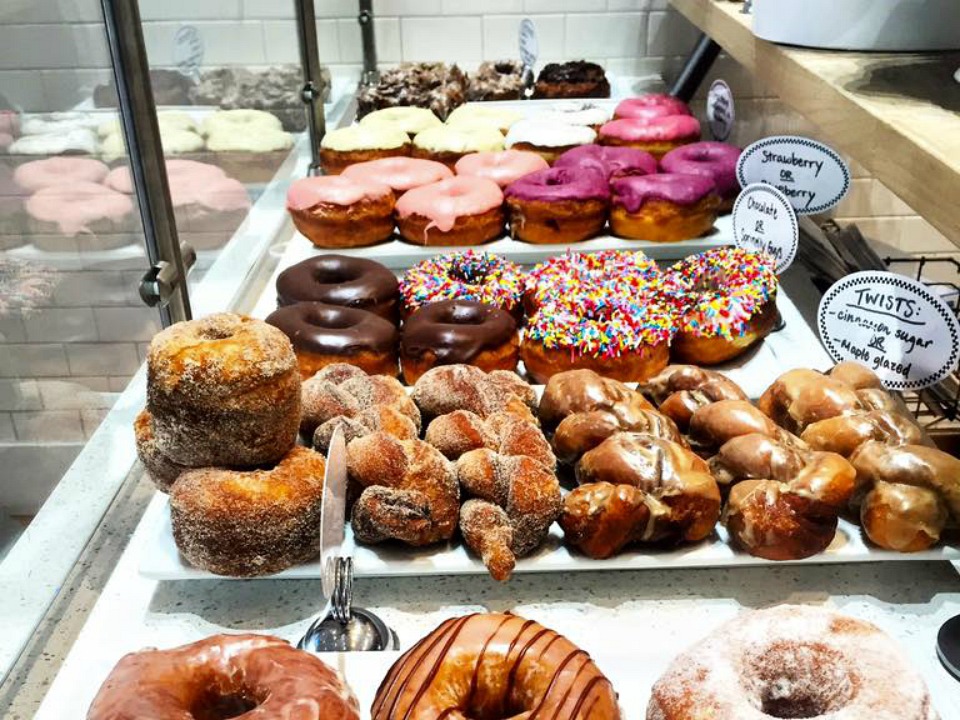 "Johnny Doughnuts is doing test runs this week and today, they're doing practice delivery runs for employees to know the area," said Al. "[But] as for the grand opening, there's no official date set yet because they're still in the process of getting a sign through inspections, according to [an employee] at their San Rafael shop."
Once inspections are completed, customers can expect to see baked goods like donuts, which come in 10 different flavors, bismarks (filled donuts), crodoughs (croissant and doughnut), caramel apple fritter and many more. 
In addition, Johnny Donuts, which will offer indoor and outdoor seating, will have a full coffee bar inside. 
Thanks to Albertino M. for the tips!
See something interesting while you're out and about? Text Hoodline and we'll try to learn more: 415-200-3233.