District 7 Supervisor Norman Yee yesterday revised a proposal to ban autonomous delivery robots from San Francisco sidewalks. Yee's new plan would require companies to obtain permits for using robots, limiting their use to light industrial areas.

As we reported in May, Yee introduced legislation to prohibit robots that  transport items for commercial purposes from using sidewalks. At the time, he said companies were testing delivery devices without any legal framework. Yesterday, he noted that the law sometimes lags behind emergent technologies.
"I'm introducing amendments that strike the balance to protect our public resource, local companies and supports innovation," Yee said, adding that sidewalks should always be prioritized for human use.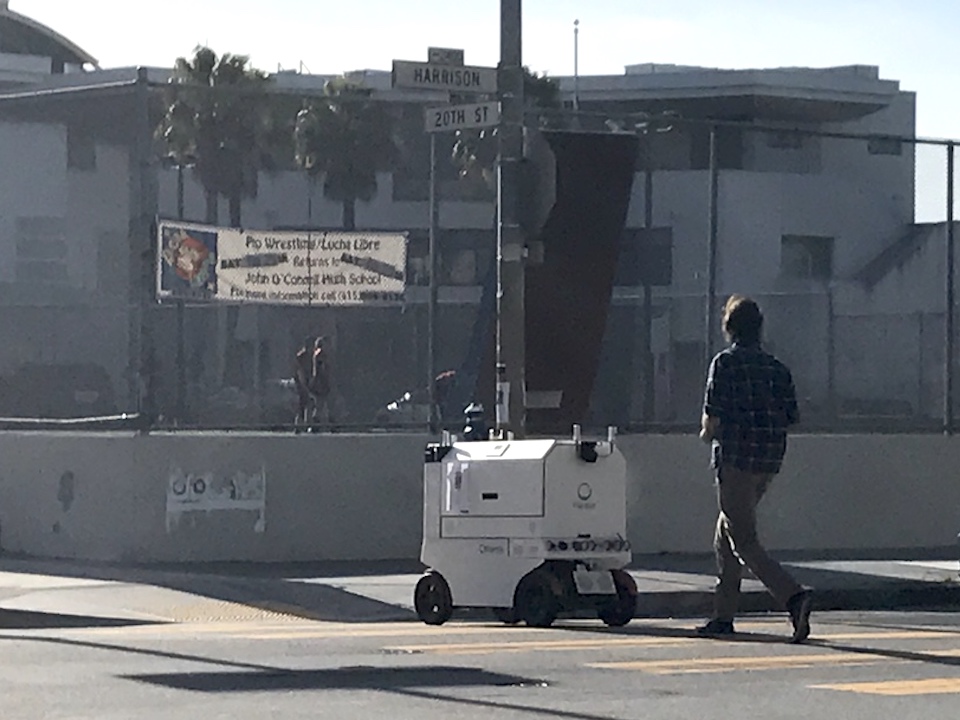 If his legislation passes, companies could apply for permits that allow them to do robotics testing, research and development in areas zoned for production, design and repair—most of which are located in eastern neighborhoods.
Under Yee's proposal, robots must be accompanied by a human no more than 15 feet away who can take control of the device. The city could ask companies for GPS location data, and robots would be prohibited from traveling faster than two miles per hour. Additionally, Yee wants to require a public notice process.
District 2 Supervisor Mark Farrell said the Board "should be embracing change and we should be looking for ways to incorporate that as a city." He said Yee's shift from a blanket ban to seeking a legal framework is a positive step.
Earlier this year, Potrero Hill-based startup Marble offered an option for customers placing an order with Yelp's Eat24 app to receive deliveries via robot courier. According to its website, the company is building a fleet that can reliably and securely transport goods.
"We are making this useful for many segments, including groceries, meals, pharmacy and medicines," Marble co-founder and CEO Matt Delaney told CNBC in April.
District 3 Supervisor Aaron Peskin said he wrote legislation banning Segways from using sidewalks in 2002, a move that reduced sidewalk congestion and promoted safety. "The most important thing is that we are getting ahead of the issue," he said.
Ahsha Safai, who represents District 11, said delivery robots are being used in other cities around the Bay Area, adding that that it's important to think about how technology is shaping around us: "We want to put some parameters on it."
Yee's amendments have been sent back to a Board committee for further consideration.