Not one, but two new features make their official debut tomorrow over the Castro:
First, the Castro Street Cam will enable anyone with an internet connection to check in on the neighborhood. The network, already live, offers two live streams of the 400 block of Castro Street.
The cameras were presented by Cliff's Variety, but are owned and operated by San Francisco Bay Times. Local 24-hour eatery Orphan Andy's is also a Castro Street Cam partner.
Two cameras installed above Cliff's Variety capture the intersection of 18th and Castro streets as well as Castro Street looking north; additional cameras are being installed this week at Orphan Andy's which will broadcast live happenings at Jane Warner Plaza and Harvey Milk Plaza.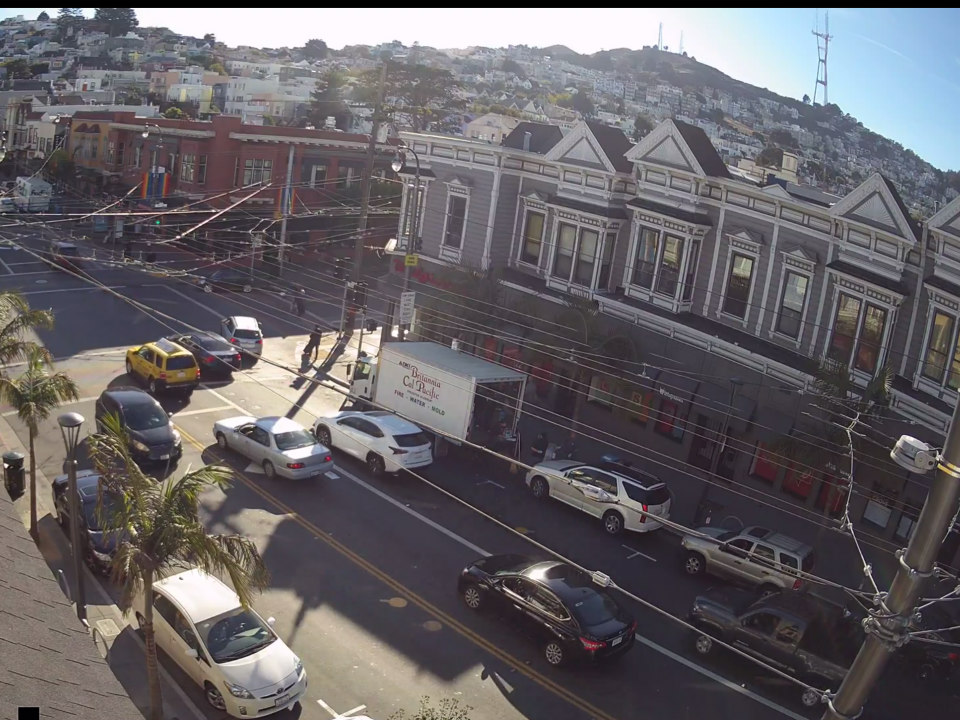 San Francisco Bay Times Publisher Dr. Betty Sullivan had the idea for a Castro Cam over a decade ago, she told Hoodline.
Sullivan moved to San Francisco from the deep south, where she says she'd felt isolated and alone. "I didn't know where the community was," she said.
Sullivan would watch television to see if anything regarding the LGBT community was being captured by national news.
"That's how I knew there was a community here," Sullivan said. "They would report Pride every year in June. That's how I knew I wasn't crazy."
The San Francisco Bay Times' publisher said partnering with Cliff's Variety and Orphan Andy's allowed her to take her dream of a neighborhood camera and turn it into a reality.
Sullivan acknowledged that there have been no community meetings on the installed Castro Cams, and that although work has been going "slow and steady," the team's been "very quiet until now."
According to a press release, "originators of Castro Street Cam aim to strengthen community by providing people the world over a chance to connect in a direct, unedited and real-time way with one of America's oldest gay neighborhoods."
Terry Asten Bennett, the general manager of Cliff's Variety, was quoted as saying "the heart of the Castro is where our community comes together to protest, to celebrate, to rejoice and to cry. Now, the Castro is just a click away."
When asked if she was concerned that some neighbors might perceive the cameras as Big Brother surveillance, Sullivan said that wasn't her intention and that the cameras are perfectly legal. Live streams also originate in historically gay enclaves like New York's Greenwich Village, Key West's Duval Street and in Palm Springs, she noted.
"My goal is to provide community service and to educate people who would want to know the Castro exists," Sullivan said.
Tomorrow's second Castro debutante will be "Harvey's Halo."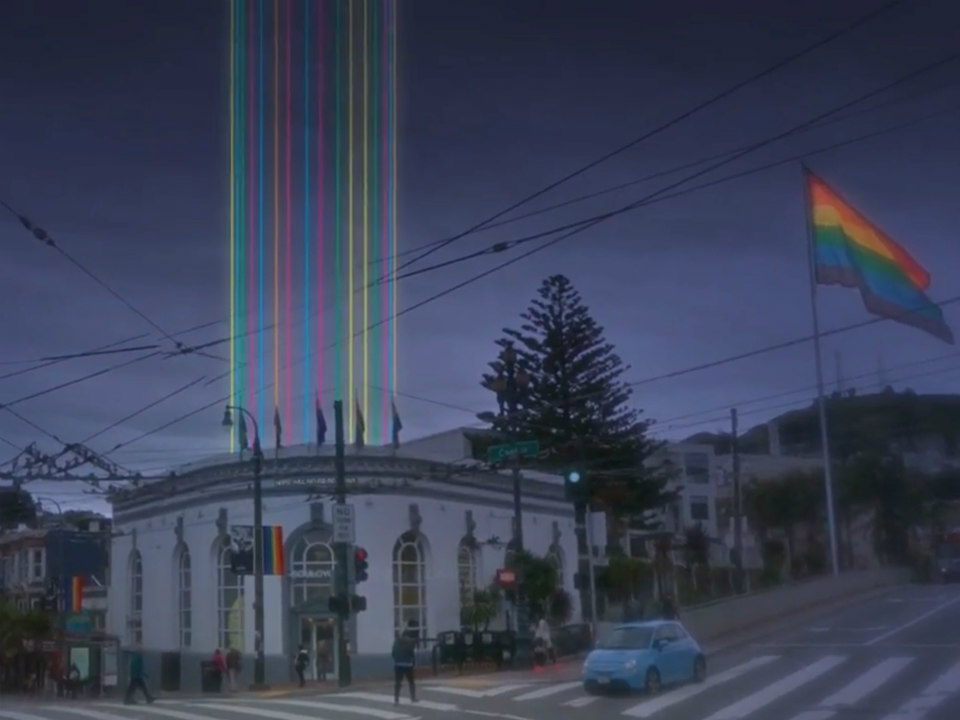 As we previously reported, the installation, created by Illuminate The Arts, celebrates the 40th anniversary of Harvey Milk's election to the SF Board of Supervisors as California's first openly gay elected official and the 20th anniversary of the neighborhood's iconic Rainbow Flag, designed by the late Gilbert Baker.
Fifteen colored beams and the neon message "Hope Will Never Be Silent" will be projected from the top of the SoulCycle building at Harvey Milk Plaza, where Castro and Market streets intersect. The installation will be visible from the Ferry Building.
Tomorrow's launch event, hosted by Friends of Harvey Milk Plaza, will be from 6-8pm, and the installation will only be on for a few weeks.
The commemorative light installation will join "The Seed," located just across Castro street in Jane Warner Plaza, in lighting up the neighborhood's nights.
If you can't make it tomorrow's lighting ceremony, catch it from the Castro Cam.