To commemorate World Toilet Day, San Francisco Public Works introduced the "Painted Lady" Pit Stop, a new mobile bathroom that pays homage to the city's architecture.
"We are testing innovative designs that are inviting and encourage people to use them," said Public Works director Mohammed Nuru in a statement. "At the end of the day, the Pit Stops bring relief and dignity to people in need of a bathroom and improve neighborhood livability."
The colorful commode debuted today at the corner of Haight Street and Buena Vista Avenue West in the Upper Haight, and will rotate among existing Pit Stop locations. 
The custom-made, solar-powered facility is championed by Public Works and local entrepreneur Nick Bovis of Tiny Potties and former owner of the now-closed Lefty O'Doul's.
"If you give someone a little dignity, you can remove a little humiliation from their life," Bovis said. "By creating a real-house bathroom and bringing it to people who don't have a home, you bring them a little dignity."
Public Works began the Pit Stop program in 2014 with three stops in the Tenderloin. Today, the agency operates 17 locations in eight neighborhoods throughout the city.
The program provides on-site staffing to keep facilities clean and safe and aims to address problems surrounding the improper use of sidewalks and doorways as toilets. 
According to the UN, an estimated 2.4 billion people worldwide live without a proper toilet.

Each Pit Stop is also equipped with safe needle disposal boxes and free doggie waste bags. It accounts for more than 300,000 "flushes" per year since its inception. 
The program incorporates a mix of portable toilets along with semi-permanent JCDecaux public facilities, and a staffed park bathroom in SoMa. The portable Pit Stops are transported to scheduled locations and are secured overnight off site.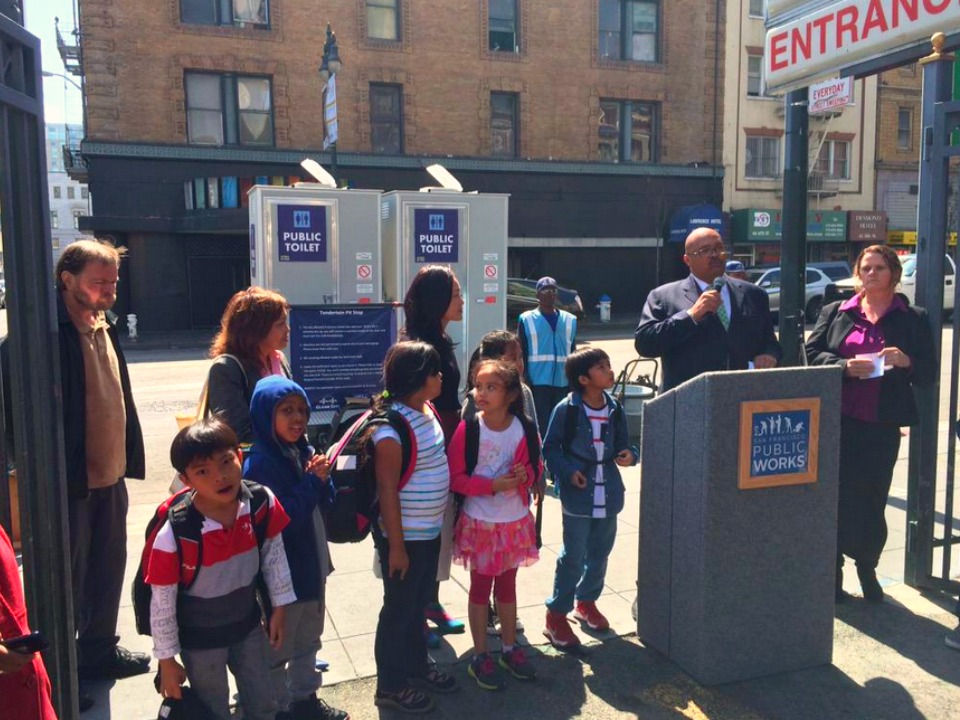 Public Works has also partnered with nonprofit Hunters Point Family to staff some of the Pit Stops with former prisoners, many of whom face barriers to employment upon release.  
"Hunters Point Family is proud and excited to partner with Public Works to transform the way we approach and address some of the most complex and challenging issues facing our urban centers," said Lena Miller, executive director of development for Hunters Point Family.
"The Pit Stop program represents the next level of social innovation by providing much-needed employment opportunities for former 'lifers.' They transform their communities, while they transform their own lives."
In addition to the new faux-Victorian privy, Public Works has updated its inventory of Pit Stop toilets with units that adhere to Americans with Disabilities Act accessibility guidelines.
San Francisco's Pit Stop program has inspired cities like Miami, Sacramento, and Denver to launch similar efforts. Last year, the program won a Bright Ideas in Government Award from the Ash Center for Democratic Governance and Innovation at Harvard Kennedy School.