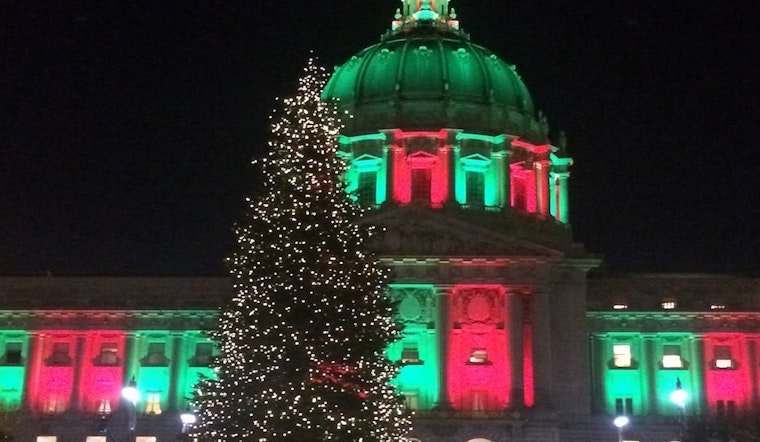 Published on November 30, 2017
At a series of upcoming pop-up markets featuring local artists and makers, visitors can support local vendors and do their holiday shopping in Civic Center. 
This Sunday, December 3rd, #StickyQuestions and The Poppies, a Pop-Up Shop are partnering to put on a holiday boutique at the Asian Art Museum, offering wares by Tenderloin and SoMa artists.
For those on a tight budget, the event offers arts-and-crafts stations hosted by Art Speak interns and booths from Academy of Art MFA students. The Tenderloin Museum is staffing a booth selling work by the museum's resident artists, as well as neighborhood-themed gear. 

On December 4th and December 11th, The San Francisco Arts Commission is hosting Holiday Markets in the War Memorial Veterans Building. 
All of the artists participating in the Veterans Building events are currently licensed through the Arts Commission, spokesperson Kate Patterson-Murphy told us.
The vendors will change each Monday, offering gift options like hand-sewn socks and frocks; leather belts, journals and wallets, glass and mosaic art, photography, and metalwork. Many will offer seasonal, holiday-focused items.
Makers were selected from among those licenses by the commission through an online lottery designed by Ryan Wold of Civic Studio, Patterson-Murphy said. 
The Mayor's Office of Economic and Workforce Development is sponsoring another market on Wednesday, December 6th in City Hall.

More than 50 San Francisco artists are participating in the City Hall holiday market, invited by payment company Square and the Board of Supervisors, said OEWD spokesperson Marianne Thompson. Each supervisor selected two or three vendors from their district, she said. 
The local vendors will offer crafts such as jewelry, candles, clothes, and ceramics. Holiday shoppers could pick up hand printed cards and gift wrap from vendors like Shotwell Paper Mill, and Dandy Lion Press, or grab gifts such as a hand-screenprinted T-shirt or tote bag from Studio Nico; a reversible backpack from Lady Alamo; artisanal chocolate from Socola or Basel B.; a wooden robot kit from atelier19; or a handcrafted cutting board made from unused scrap wood by Mac Cutting Boards. 
On December 7th, the Tenderloin Museum will host 10 local artists offering hand-tooled belts, vintage clothes, and other unique, hand-made gifts, as part of the neighborhood's First Thursday Art Walk. Fleet Wood, the Loin, and Vacation will all be exhibiting, along with many others, Tenderloin Museum spokesperson Katie Conry told us. The bazaar coincides with the opening of Holly Coley's Tender Life ceramic arts exhibit at the museum.
If you miss out on the holiday markets, you can still shop local in the Civic Center by visiting one or more BARTable vendors nearby.