Editor's note: reporter Matt Savener attended a naturalization ceremony yesterday in Oakland, where immigrants took an oath of allegiance and became new American citizens.
After a thread he posted on Twitter was packaged by the service as a Twitter Moment, we asked him to write about yesterday's event.
---
Once a month, Oakland's Paramount Theatre hosts two large ceremonies in which hundreds of immigrants become naturalized American citizens.
As this reporter attended yesterday's event in the Art Deco venue, a cellphone news alert indicated President Donald Trump had just referred to several nations as "shithole countries" during a high-level discussion on immigration policy with several members of Congress.

It was an extreme contrast.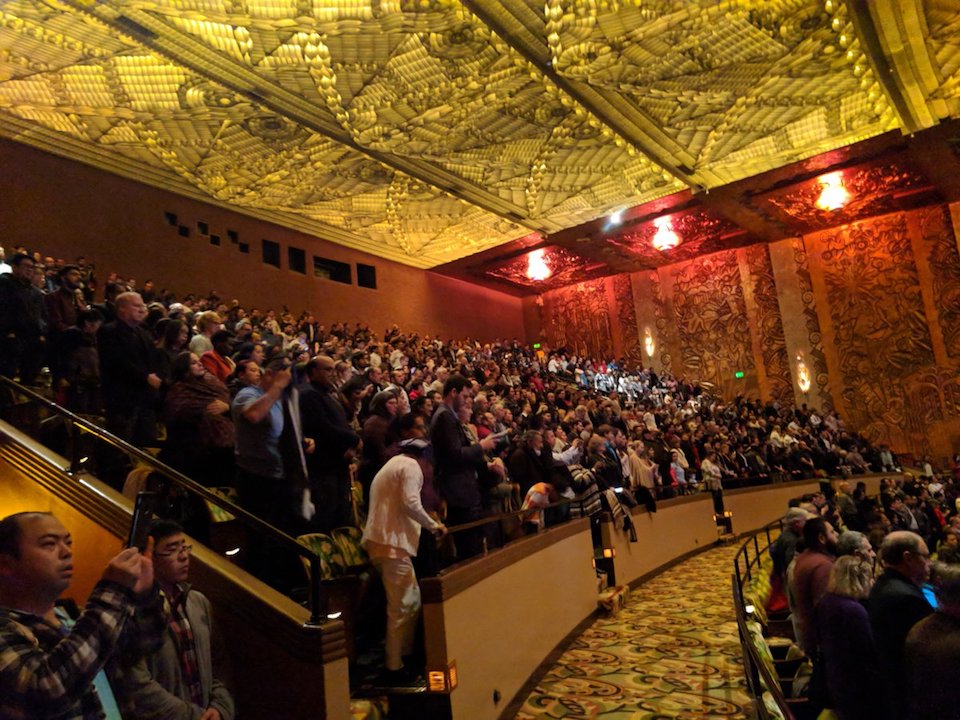 At yesterday's ceremony, 1,127 new citizens were naturalized, but family, friends and well-wishers packed the the 3,040-seat theater to its capacity.
After a screening of Dr. Martin Luther King's 1963 "I Have a Dream" speech, attendees viewed a short film depicting the history of immigration to the United States, starting in Ellis Island and ending in the present day.
As attendees sang the national anthem (to which everyone seemed to know the words), an official read the names of new citizens' countries of origin—91 nations in all, ranging from Afghanistan to Zimbabwe. China, Mexico, India, the Philippines and El Salvador were the top five represented.
Finally, all 1,127 immigrants stood, raised their hands, and in unison, swore an oath to renounce all other allegiances, support and defend the constitution of the United States of America, to take up arms in defense of their new country if necessary, and to perform work of national importance.
Sharon Rummery, a press officer for the US Citizenship and Immigration Services, said her agency naturalizes 2,000–2,400 new citizens each month between two ceremonies.
That number encompasses a territory of 12 counties from as far north as the Oregon border to as far south as San Mateo County, and includes San Francisco, as well as the East and North Bay. 
"We try to make it as special as we can for them," Rummery said. "It's important to us that we make their day important."
The events have hosted notable speakers, including then-Gov. Arnold Schwarzenegger (an Austrian immigrant) and California Secretary of State Alex Padilla (whose parents immigrated from Mexico). On Tuesday, Jeff Beich, former US Ambassador to Australia, and a current candidate for lieutenant governor, spoke.
Children of naturalized immigrants who are under 18 are automatically naturalized. Rummery said they get special ceremonies to celebrate their newfound citizenship as well—at Children's Fairyland.
"It's not just another day at work," she said.
The schedule for the naturalization ceremonies at the Paramount can be found on the theater's website.
Events are technically open to the public, but Rummery said that because the 3,000-seat theater is already so full from the new citizens and their friends of family, space has become an issue.