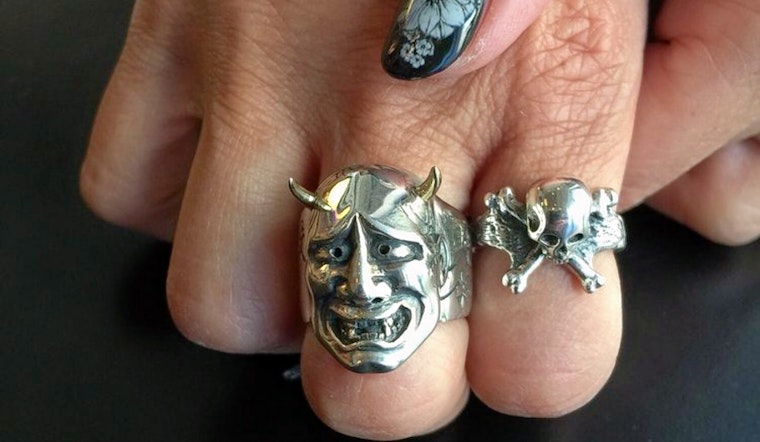 Published on May 18, 2018
A new spot to score jewelry and more has debuted in the neighborhood. Located at 710 St. Louis St. in the French Quarter, the newcomer is called The Great Frog.
"We're a second-generation, family-owned company and very proud of our British heritage. We've been producing handmade iconic, chunky silver jewellery out of our ominous black shop in central London for almost 45 years," The establishment's website said. 
In the French Quarter showroom, expect to find unique motorcycle and rock 'n' roll inspired pendants, rings, bracelets, key rings, wallet chains, and more. Notable clients of the business include Iggy Pop, Alice Cooper, Johnny Depp, David Beckham, Jay Z. and Lady Gaga to name a few. 
With a five-star rating out of two reviews on Yelp so far, The Great Frog has been warmly received by patrons.
"What a unique place to buy a ring, bracelet, or other jewelry that's something between biker, rock star, or demonic at some quite reasonable pricing," wrote Yelper Gary W. "We ended up making a purchase. It was a great experience and we felt there was a lot of value for the uniqueness you're getting — well priced."
Yelper Kathleen K. added, "We were walking along and I saw the sign for The Great Frog. It is a pop-up store and sells sterling silver jewelry made in London. They have a lot of biker-type jewelry with skulls and other decor."
Head on over to check it out: The Great Frog is open from 10:30 a.m.–6:30 p.m. on Monday, Tuesday, Wednesday, Friday and Saturday, 10:30 a.m.–7:30 p.m. on Thursday, and noon–6 p.m. on Sunday.