Three years ago, Manville Chan launched the Story of Ramen, a pop-up where diners take an active role in preparing their own meals.
Now, he's creating a permanent home for the venture in the Mission at the former George's BBQ space. (3231 24th St. between Cypress and Capp).
Chan, a trained chef from Yokohama's International Ramen School, told Hoodline that he'd planned to open on July 1, but the space is still undergoing minor renovations, like painting and installing new countertops.
Currently, the spot is on track to open by month's end.
"I used to live in the Mission, so I've always liked the neighborhood because there are a lot of innovative chefs in the area," said Chan. "I always feel like the Mission is the best place to find places to eat and it's close to all the transportation."
At Story of Ramen, diners learn to prepare their own noodles for a ramen course; most people sign up for a two-hour party, but Chan also offers four-hour events where attendees can assemble nearly an entire meal. 
Chan said he doesn't offer cooking classes or seated dinners, but a "cooking experience with a full dinner" where attendees learn to prepare noodles and receive an education about the dish's cultural origins. So far, he offers sessions in San Francisco and in Charlotte, NC.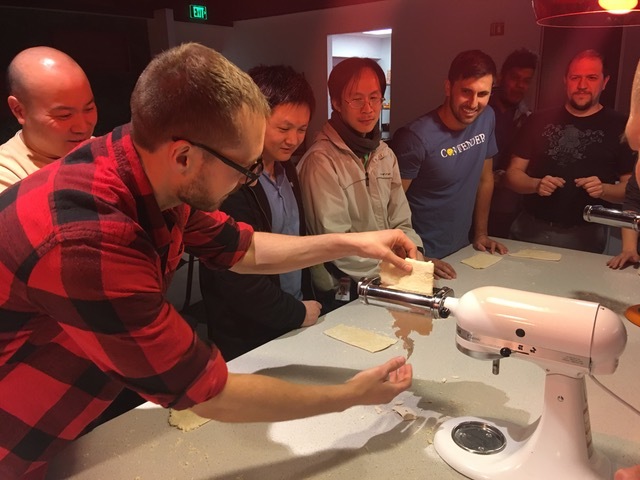 Story of Ramen serves dishes with pork or vegetarian broth, which Chan prepares prior to each event. After the space is up and running, he said he may add more options.
Class sizes range from eight to­ 30 people, and customers should book three to four weeks in advance through the website, but Chan said there are sometimes last-minute cancellations. The cost for one person to join a two-hour ramen party is $55, while the four-hour event goes for $115 per person.
Targeted to groups, Story of Ramen can be booked for gatherings like birthday and bachelorette parties, along with corporate team-building events. Chan said he's also hiring; visit the company's Facebook page for details and updates on its grand opening.