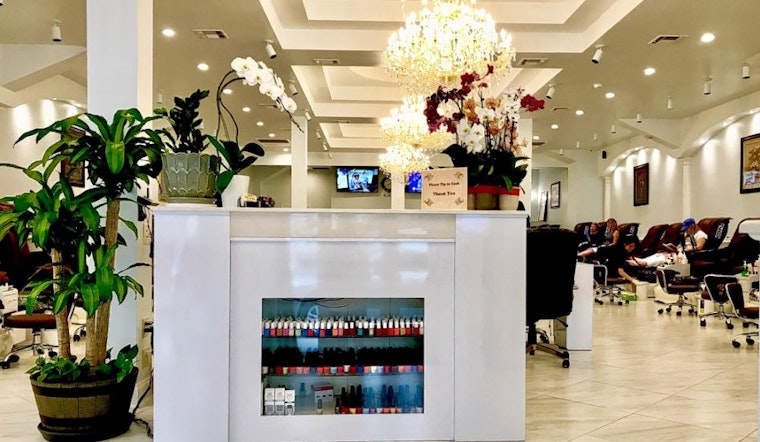 Published on July 13, 2018
Itching to explore the freshest new spots in Audubon? From a new nail salon to an Israeli eatery, read on for the newest destinations to open in this New Orleans neighborhood.
Cindy's Nails & Spa

6112 Magazine St.
Cindy's Nails & Spa is a nail salon. This is its second location.
The new salon offers services like pedicures, nail repair, paraffin wax treatments, acrylic nail removal, foot massages, waxing services, nail art, eyebrow services, hot oil treatments and more.
Yelp users are excited about Cindy's Nails & Spa, which currently holds 4.5-stars out of 11 reviews on the site.
Yelper Deneen T. wrote, "Cindy's new location is spotless, spacious and the service is incredible. ... So many chairs and extremely courteous service. It's just an extension of the already amazing service found at the first location. There are rewards and, so far, I haven't had to wait at all!"
Nanette M. added, "Cindy's is so clean and efficient; they try everything they can to get you in and out and make the experience pleasant. The shop is gorgeous and the technicians are lovely."
Cindy's Nails & Spa is open from 9 a.m.–7 p.m. on Monday-Saturday and 11 a.m.–6 p.m. on Sunday.
Boxing In The Park
6500 Magazine St.
Boxing in the Park is an outdoor boxing studio located in Audubon Park at a gazebo near Audubon Park Lagoon. (See specific directions here.)
The training regimen, lead by personal trainer Matt, mixes boxing routines with trail work, par courses, sprints, and mitt work.
Boxing in the Park's current rating of five stars out of two reviews on Yelp indicates positive attention from users.
Yelper Alexis H., who reviewed Boxing in the Park on June 6, wrote, "Boxing in the Park with Matt is an excellent way to get or stay in shape! Not only do you get to revel in the beauty of Audubon Park, but you also get the privilege of working out with Matt himself. Matt is accommodating, yet challenging at the same time — the perfect combo."
Maria D. noted, "I look forward to my workout every week at the park. Its so refreshing to spend some time among the beautiful trees after a long day stuck inside at work. The park is well shaded, and I never feel overheated, but work up a nice cleansing sweat while working out every body part."
Boxing in the Park is open by appointment only from 6 a.m.–7 p.m. on Monday-Saturday and 7 a.m.–noon on Sunday.
Saba
5757 Magazine St.
Saba is an Israeli restaurant that serves Mediterranean and Middle Eastern fare. The new restaurant is helmed by chef Alon Shaya, who is also behind the already well established Shaya.
The new spot offers brunch, lunch and dinner. Menu items include dishes like tabouleh (with crushed walnuts, avocado and Persian lime), Blue Crab hummus (wood-roasted corn, lemon butter and mint), the lamb kebab (with tahini and herbs) and the falafel sandwich (with tahini, pickled cabbage and Israeli salad). (See the full menus here.)
With a 4.5-star rating out of 54 reviews on Yelp, Saba has been getting positive attention.
Yelper Arielle N., who reviewed Saba on July 7, wrote, "Saba is in a great location on Magazine that's beautiful inside and out and is perfect for any brunch, casual lunch or fancy celebration dinner! Their blue crab hummus was absolutely delicious, and their menu options, such as the salatim, allow you to have a taste of everything!"
Yelper Senedra N. wrote, "Everything is delicious and complements each other well. The Blue Crab Hummus was captivating. I recommend the entire menu. Our waiter was fantastic. Very knowledgeable of the entire menu along with the wine pairings."
Saba is open from 11 a.m.–10 p.m. on Wednesday and Thursday, 11 a.m.–11 p.m. on Friday, 10 a.m.–11 p.m. on Saturday, and 10 a.m.–10 p.m. on Sunday. (It's closed on Monday and Tuesday.)