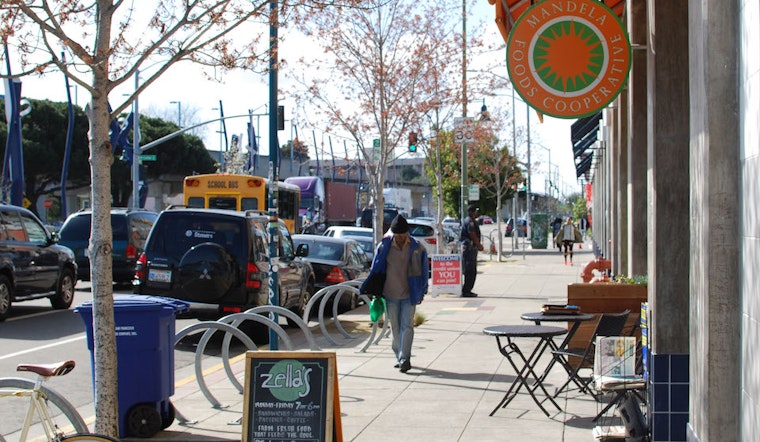 Published on July 26, 2018
The Mandela Grocery Cooperative in West Oakland has decided not to move into a larger space vacated by an adjoining 99 Cents Only store last year.
The 99 Cents Only store left the corner space at 1440 Seventh St. at Mandela Parkway in January 2017. The co-op, located next door at 1430 Seventh St., jumped at the opportunity, and a few months later landlord BRIDGE Housing confirmed that the co-op was expected to move in.
But the co-op had intended to share the space with at least two other businesses, including a pharmacy, according to Adrionna Fike, a worker-owner at Mandela. When those partners dropped out, the co-op worried about its ability to fill the bigger space alone.
"Rather than get into a bunch of debt, we've decided to use our resources to broaden our reach to other communities that need this for workers and customers," Fike said.
Affordable housing developer BRIDGE Housing, which owns the building, has been in discussions with a potential new tenant for the former 99 Cents Only store, BRIDGE spokesperson Lyn Hikida said in an email. She declined to name the tenant but said it "would bring benefit to the community."
Meanwhile, Mandela will work on remodeling its store, taking on new projects to engage with the surrounding community, and helping other cooperatives get started in neighborhoods that have limited access to groceries.
Fike said the co-op has been in discussions with groups in Vallejo, East Oakland and San Francisco's Bayview district about starting grocery cooperatives there.
Mandela is providing guidance to those groups, which would operate separately, but they could build partnerships to help each other out.
"The goal is that we're able to share in sourcing and procurement so we can all lower our pricing," Fike said. "Hopefully the next layer and the next step will be cooperative distribution."
They are also working on partnering with more local farmers to diversify their produce sourcing.
Some other projects are just getting going or in the works for launch soon. In July, the group launched a first Friday street fair outside the store, a collaboration with Designing Justice + Designing Spaces, with yoga and cooking demonstrations, an apothecary, a massage booth, and other vendors and events. 
The event has helped them make new connections with the community and other businesses, leading to new customers and new products to sell. The group is partnering with Zoo Labs to launch a podcast this fall. 
Mandela is still raising funds for its new plans, but donations will go toward remodeling the current store, expanding its selection and helping launch similar projects in other neighborhoods.