By
Hoodline
- Published on July 02, 2018.
Looking to satisfy your appetite for breakfast and brunch fare? Hoodline crunched the numbers to find the top breakfast and brunch restaurants around St. Paul, using both Yelp data and our own secret sauce to produce a ranked list.
1. Cafe Astoria
Topping the list is Cafe Astoria. Located at 180 Grand Ave. in West Seventh, the crêperie and cafe is the highest rated breakfast and brunch restaurant in St. Paul, boasting 4.5 stars out of 145 reviews on Yelp.
Expect caffeinated beverage options ranging from coffees and teas to espresso macchiatos and cappuccinos. Specialty drinks, like Leah's Happy Place with matcha, lavender and pistachio, and the Mexican Mocha, with cinnamon, chocolate and espresso are on offer, as are fruity smoothies.
Hungry? Offerings include smoothie bowls like the Manila Mango with Greek yogurt, peach, kiwi, granola and chia pudding; sweet and savory crepes; and oatmeal bowls like the Peachy Keen, complete with honey butter, kiwi and blueberry. Check out the full menu here. 
2. Moscow On The Hill
Moscow On The Hill, located at 371 Selby Ave., is another top choice, with Yelpers giving the Russian restaurant in the Cathedral Hill neighborhood four stars out of 317 reviews.
This offering serves up brunch, lunch and dinner fare and has an extensive libations menu. Try the smoked salmon Benedict, a beef tongue bagel or buttermilk pancakes for brunch; a chicken sandwich, beef stroganoff or handmade dumplings for lunch; and grilled salmon, wild rice cabbage rolls or pork steak for dinner.
Thirsty? Pair your fare with a signature martini, shot of vodka or house cocktail like the Marusya Gold, a mixture of cherry vodka and champagne. The full menu can be seen here.
3. Shish Mediterranean Grill & Café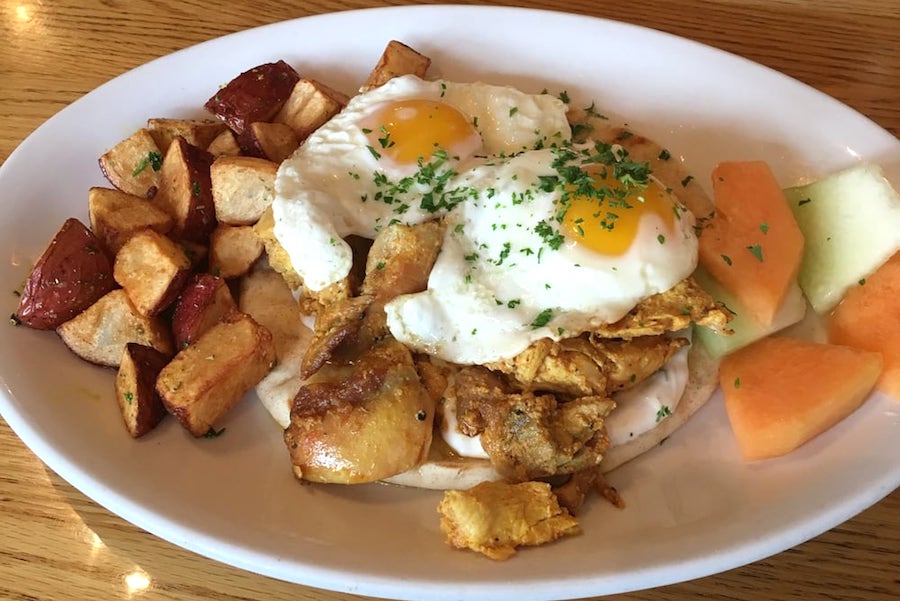 Shish Mediterranean Grill & Café in Mac-Groveland is another go-to, with four stars out of 297 Yelp reviews. Head over to 1668 Grand Ave. to see for yourself.
Owner Leo Judeh came to the United States to box in the 1996 Olympics, eventually settled in the Twin Cities area and is adamant on using never-frozen meats, according to the business' website.
The breakfast menu features a Mediterranean wrap with scrambled eggs, feta and olives; chicken shawarma and two braised eggs on toasted pita bread; and a Greek omelet. Breakfast is served daily, and burgers, kebabs, soups and salads round out this spot's menu.
4. Handsome Hog
Go downtown to check out the Handsome Hog, which has earned four stars out of 258 reviews on Yelp. You can find the cocktail bar and Southern spot, which offers barbecue, chicken and more, at 203 Sixth St. E.
This establishment has a number of menus, including brunch, lunch, dinner, midday and late night. Expect a number of carnivorous menu options like barbecue beef short ribs, chicken and waffles, and a meat bar. Thirsty? Libations on the drinks menu include cocktails, alcoholic slushies, bourbon flights, draught beer and wine.
5. Colossal Café
Finally, there's Colossal Café, a St. Anthony favorite with four stars out of 255 reviews. Stop by 2315 Como Ave. to hit up the traditional American eatery the next time you're in the mood for breakfast or brunch.
In August 2010, Carrie, John and Elizabeth Tinucci purchased the Colossal Cafe, which has three locations in the Minneapolis/St.Paul metropolitan area. On the menu, breakfast options include biscuits and gravy, pancakes, meat and vegetarian omelets and a breakfast burrito. For lunch, there's house-smoked trout, grilled cheese, a Cubano sandwich and Caesar salad. Take a look at the full menu here.