After months of community outreach and evaluation, plans to improve safety near freeway on-ramps and exit ramps at 10 SoMa intersections will be presented at a public meeting today. 
The San Francisco County Transportation Authority (SFCTA) says that some of the intersections being targeted for improvement were selected due to high collision rates. Others present opportunities for proactive safety improvements, such as new crosswalks.
The agency also says it is focusing on intersections that aren't already being addressed by other city projects or plans.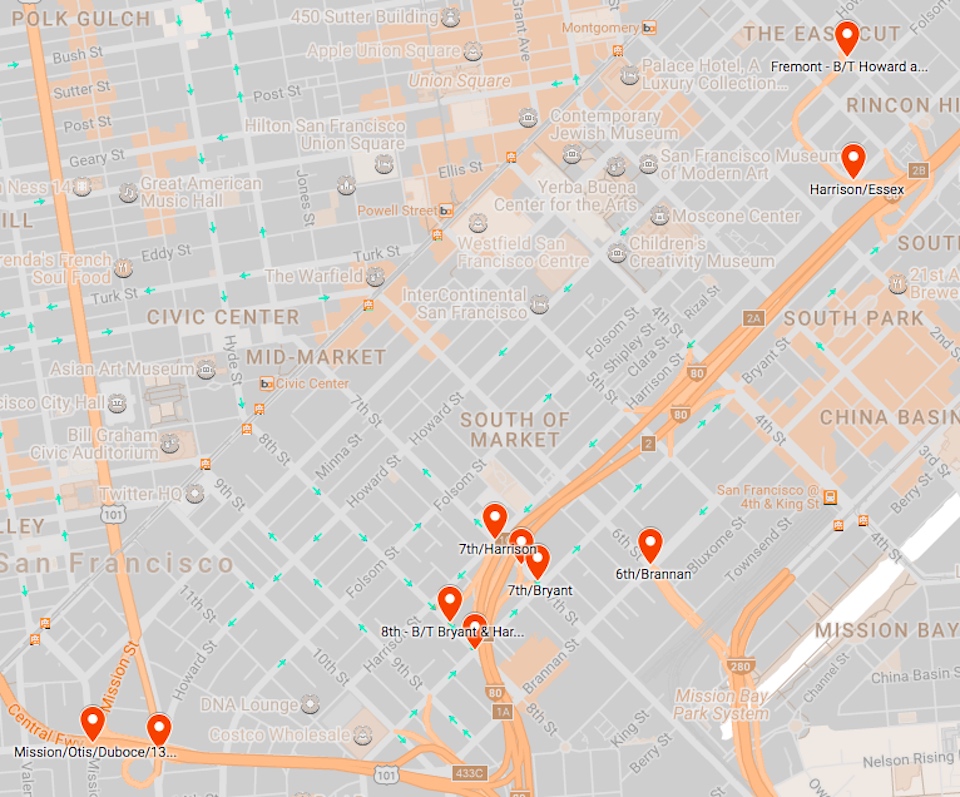 Combined, the 10 intersections have seen more than 135 collisions, including nine that resulted in severe injuries. All of the intersections are considered "high-injury" under the San Francisco Vision Zero guidelines, which aim to end traffic fatalities on San Francisco streets by 2014.
Each of the streets and intersections present unique problems, but the main issues the SFCTA hopes to address include high vehicle volumes and speeds, long pedestrian crossing distances, closed crosswalks, and vehicle queuing at freeway on-ramps that blocks crosswalks.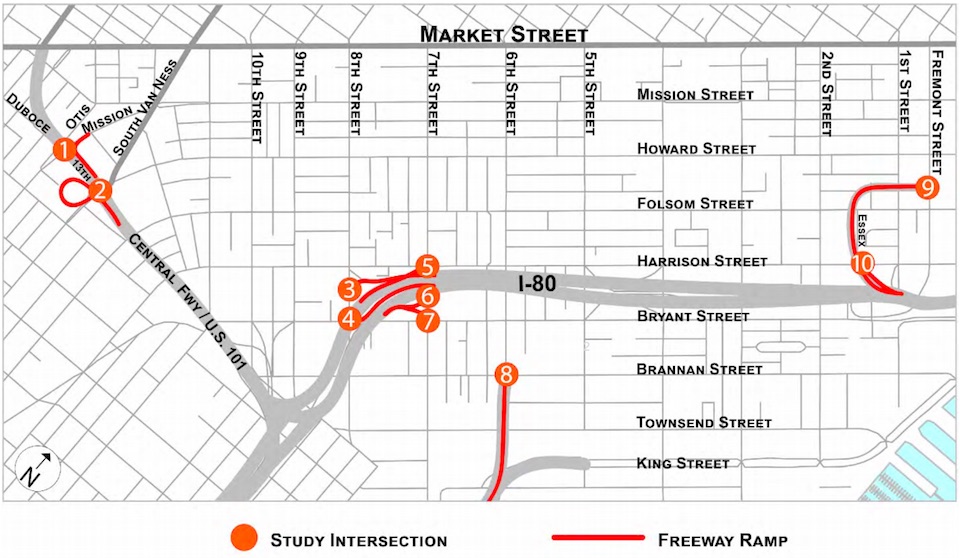 SFCTA will use a "toolbox" of potential safety improvements for the various intersections, including:
Bulb-outs at curbs, to shorten the pedestrian/bicycle crossing distance and increase visibility
Protected left turns, to reduce conflicts between vehicles and pedestrians 
Advance stop lines, to reduce crosswalk encroachment by drivers
Leading walk signals, to give pedestrians a head start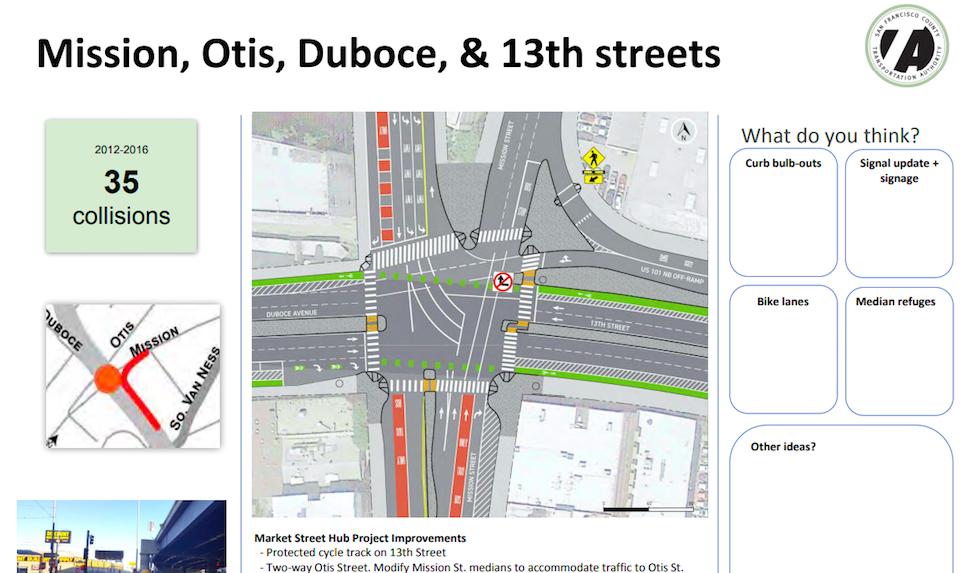 The agency has studied 15 intersections in two ramp intersection studies. The first study launched in 2016, and made recommendations for five priority intersections.
The SFCTA is now working with the SFMTA to complete the second study, which addresses 10 additional intersections as part of the city's efforts towards the Vision Zero goal.
For those curious about the contributions of the two agencies, the SFCTA "plans, funds and supports delivery of transportation improvements in San Francisco and ensure[s] regional coordination and input of San Francisco's priorities" with broader regional transportation planning, SFCTA spokesperson Eric Young told us.
The SFMTA, meanwhile, manages "all ground transportation in the city, with oversight over Muni public transit, as well as bicycling, paratransit, parking, traffic, walking, and taxis."
The two agencies coordinate on studies for transportation and public infrastructure planning, and help create spending plans for a variety of public funds earmarked for transportation improvements, Young said.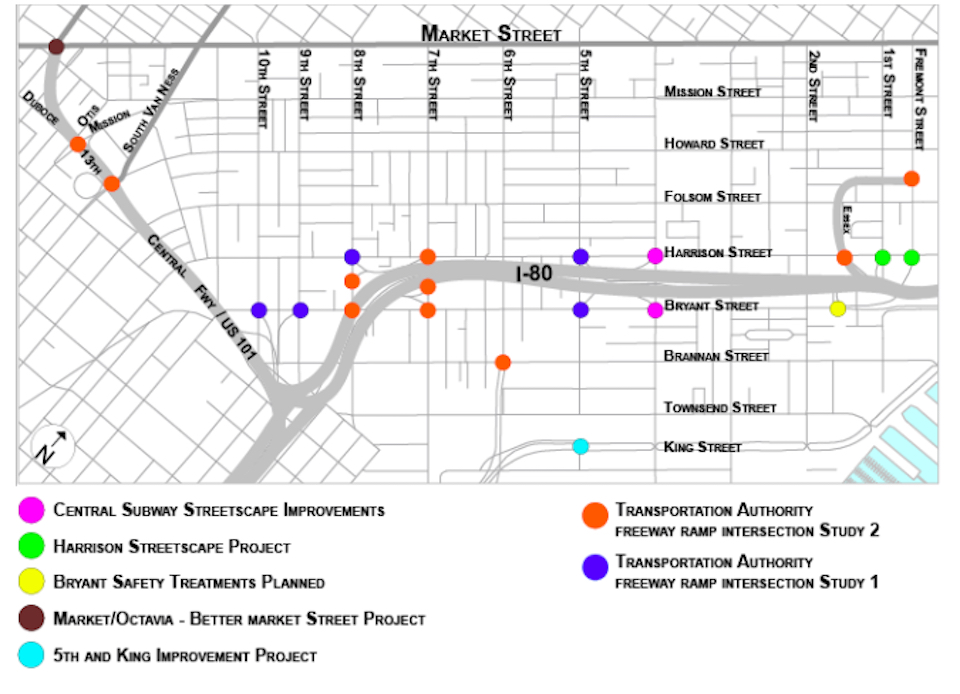 The funding for the SoMa freeway ramp intersection study will come from a grant from CalTrans and the city's half-cent sales tax that goes toward transportation planning. 
If you're interested in learning about SFCTA's plans for the 10 intersections identified in this second study phase, they'll be presenting and discussing them with the SFMTA from 5:30 p.m. to 7:30 p.m. tonight, at the Bayanihan Center at 1010 Mission St. (near 6th).