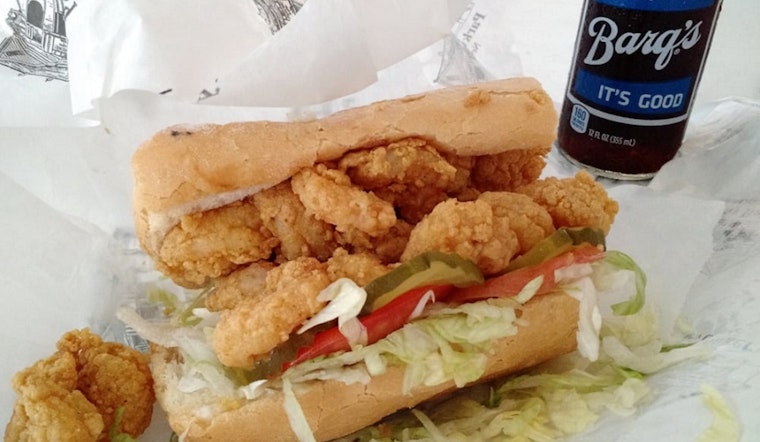 Published on July 18, 2018
Visiting Bayou St. John or just looking to better appreciate what it has to offer? Get to know this New Orleans neighborhood by browsing its most popular local businesses, from a landmark po'boy spot to a spiritual candle shop, and everything in between.
Hoodline crunched the numbers to find the top places to visit in Bayou St. John, using both Yelp data and our own secret sauce to produce a ranked list of neighborhood businesses. Read on for the results.
1. Parkway Bakery & Tavern
Topping the list is Parkway Bakery & Tavern, a spot to score po'boys, seafood, beer, cocktails and more. Located at 538 Hagan Ave., it's the most popular business in the neighborhood, boasting 4.5 stars out of 1,446 reviews on Yelp. It's a landmark eatery that's been in business since 1911.
If you're there for a sandwich, you'll see options like the Parkway Surf and Turf (roast beef and Gulf shrimp smothered in gravy), the 1929 Potato (the original po'boy, made with golden brown potatoes and covered in roast beef gravy) and the Golden Fried Catfish. Round out your meal with a root beer and a po'boy ice cream sandwich. (See the full menu here.)
Mahad G., who reviewed the spot on June 23, wrote, "This is one of the best po'boys that I have ever had. There is a reason that this is a classic and President Obama made it a point to come here back in the day. I got a large shrimp po'boy, which was honestly more food than I needed, but it was just so good."
2. Pal's Lounge
Next up is cocktail bar Pal's Lounge, situated at 949 N. Rendon St. With 4.5 stars out of 87 reviews on Yelp, it's proven to be a local favorite.
The full service bar has alcohol of all kinds, including signature cocktails like the Vivian Ward (3rd Ward Gin, wildberry puree, basil, lemon and cava), the Dr. Zaius (Monkey Shoulder Scotch, Averna Amaro, Baska Snaps, chickory pecan bitters and lemon twist) and the Jalisco Cooler (El Jimador Blanco, cucumber liqueur, pineapple, cilantro, lime and jalapeño). (See the drink menu here.)
It has weekly food pop-ups, offering fare such as pasta, tacos, burgers and more. (See the schedule here.)
Brent B. said, "Such a cool hole-in-the-wall neighborhood bar. Had such a cool down-to-earth feel and all types of people are patrons. The drinks are made well and relatively inexpensive. Best part of this place is that there is food (chili cheese nachos, etc.) for the patrons — free of charge!"
3. Lola's
Upscale tapas bar and Spanish spot Lola's is another top choice. Yelpers give the business, located at 3312 Esplanade Ave., four stars out of 255 reviews. 
On the menu, you'll see dishes like the meat paella (Arborio rice with chicken, pork, sausage and vegetables seasoned with garlic, saffron and herbs), the mariscos soup (shrimp, calamari, scallops and vegetables) and the ceviche. Finish off your meal with a flan or chuflan. (See the full menu here.)
Brittany G. noted, "Every small plate and paella I've had has been delicious. Their sangria is good too! I recommend getting the grilled calamari, garlic shrimp, ceviche and the combo paella to share!"
4. Terranova's Supermarket
Terranova's Supermarket, a grocery store and meat shop, is another much-loved neighborhood go-to, with five stars out of 19 Yelp reviews. Head over to 3308 Esplanade Ave. to see for yourself. 
The market has been in business since 1925 and makes its Italian-style sausage on-site at its meat counter. The small grocer also carries a selection of other products.
Jerry L. wrote, "This is a longtime small gem corner store in New Orleans, perhaps serving the best hogshead cheese in the metropolitan area. Their hot and Italian sausage is top ranked."
5. F&F Botanica Spiritual Supply
Check out F&F Botanica Spiritual Supply, which has earned five stars out of 20 reviews on Yelp. You can find the candle and spiritual shop at 801 N. Broad St.
The shop sells candles, herbs, spices, curios, charms, incense, oils, soaps and more.
Alice L. said, "This is the best place to buy prayer candles and any other type of voodoo, santeria, occult or spirituality supplies that you may need. They have everything at extremely reasonable prices."