By
Hoodline
- Published on August 14, 2018.
In search of a new favorite yoga spot? You're in luck: we've found three Philadelphia studios that opened their doors this year. Here are a few new places to try the next time you're searching for a place to practice yoga near you. 
YOGA HIVE Philly
1914 E. Passyunk Ave., East Passyunk
YOGA HIVE Philly offers programs for all skill levels, as well as options for single classes, multi-class packages, monthly and annual passes and private sessions.
Special events include its GLO-GA: Glow in the Dark yoga, where you practice under neon and black lights with glow-in-the-dark body paints; BYO-Dog DOGA sessions that let you bring your dog to class while putting them through some simple stretches; and Equestrian Yoga, in which you go through a routine on horseback (the horse is provided).
With a four-star rating out of four reviews, YOGA HIVE Philly is off to a good start. 
Yelper Kelly L., who reviewed the studio on Aug. 2, wrote, "Cute space, great prices, awesome instructors, fun events — what more could you want in a yoga studio? The location is perfect for me and great for them because they are the only one of their kind in South Philly. If you're thinking about trying a class — do it!"
Jason I. noted, "This studio gives both a workout and the calming feel I look for in a yoga class. I highly recommend this yoga studio as one of the best power​ yoga studios in Philadelphia."
YOGA HIVE Philly is open from 6 a.m.–10 p.m. daily.
Lumos Yoga & Barre
2001 Green St., Fairmount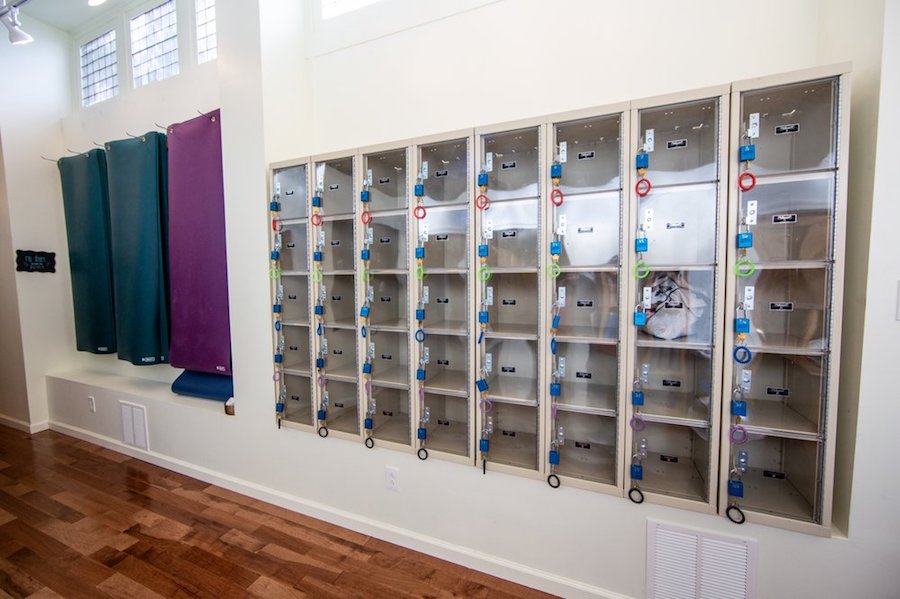 Lumos Yoga & Barre is located in the Art Museum District and offers yoga classes such as Lumos Flow, an athletic vinyasa class set to music for all levels; Sculpt Jawn, which combines yoga with hand weights, cardio calisthenics and dance; and Chair Yoga, where participants use the aid of a chair while posing. 
Classes in barre, which has its origins in ballet, are also on offer and require no dance experience. Check out the studio's schedule of classes here.
With a five-star rating out of six reviews on Yelp, Lumos Yoga & Barre has been getting positive attention.
Yelper Kandia L., who was the first to review it on June 2, wrote, "Lumos Yoga & Barre is an incredible studio in Fairmount! It's an extremely welcoming and inclusive environment that promotes wellness for everyone. They offer a variety of classes for all levels. I took my first barre class today and loved it! The yoga classes are phenomenal."
Jenni B. noted, "The space is absolutely beautiful, the people are friendly and I love the option of barre and yoga — it's nice to mix it up!"
Lumos Yoga & Barre is open from 7 a.m.–8 p.m. on Monday and Wednesday, 6 a.m.–8:30 p.m. on Tuesday and Thursday, 6 a.m.–6:30 p.m. on Friday, 8:30 a.m.–noon on Saturday, and 8:30–11 a.m. and 3:30–7:30 p.m. on Sunday.
The Rabbit Hole
1733 Spring Garden St., Floor 2, Spring Garden
The Rabbit Hole is a meditation center and yoga spot that opened to the public early this year. Besides classes at the studio, it also puts together multiple four-day international retreats each year.
The studio is a passion project from its owner, who created her own studio and brand after years of yoga practice and stints working in ashrams in India and Nepal, the business writes on its website. 
Classes are available for all skill levels, including power flow, sound healing and sound bowl meditation, hatha yoga and more. 
So far, the Rabbit Hole has just two reviews on Yelp, which gives it a 4.5-star rating.
Yelper Maggie G. wrote, "Love the vibe in this space — it's completely warm, welcoming and peaceful. This studio is an awesome addition to the neighborhood!"
Nicole M. noted, "I am fairly new to yoga and did the flowga class both times. It's a vinyasa type class so it maintains a good flowing consistency, but not too much."
The Rabbit Hole is open from 6 a.m.–8:30 p.m. daily.