By
Hoodline
- Published on August 14, 2018.
Looking for a fine Italian meal near you?
Hoodline crunched the numbers to find the best high-end Italian restaurants around Denver, using both Yelp data and our own secret sauce to produce a ranked list of where to venture when you'd like a memorable night out.
1. Panzano
Topping the list is Panzano. Located at 909 17th St. downtown, it is the highest rated upscale Italian restaurant in Denver, boasting 4.5 stars out of 859 reviews on Yelp.
On the menu, look for dishes like the Anatra Candito Gnocchi (duck confit gnocchi, confit cipollini, baby carrot, green peas and ricotta salata), the Capesante (scallops, leek fonduta, Swiss chard, asparagus, peas, primavera salad and nasturtium emulsion) and the Braciola (bone-in pork chop, green pea puree, ricotta-coffee ravioli, apple-limone mostarda and apple gastrique). (See the full menu here.)
Yelper Olya A., who reviewed it on June 4, said, "One of my favorite restaurants! Food is delicious, drinks are amazing and the atmosphere is classy, but, at the same time, cool with modern music. For appetizers, Brussels sprouts are absolutely a must!"
2. Tavernetta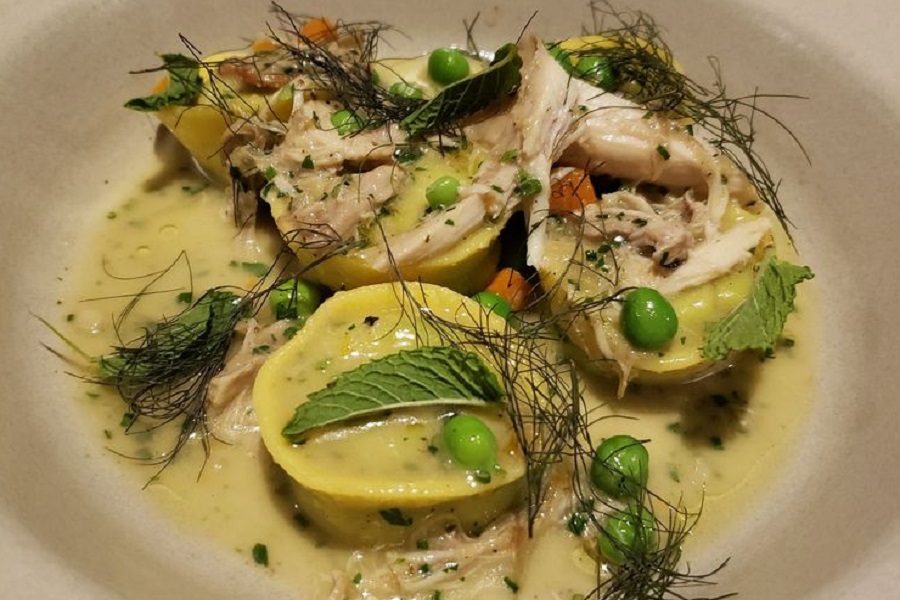 Next up is LoDo's Tavernetta, situated at 1889 16th St. With 4.5 stars out of 155 reviews on Yelp, the upscale Italian spot has proven to be a local favorite for those looking to indulge.
The restaurant offers dishes such as the Tagliatelle (Maine lobster, Calabrian chile, preserved tomato and celery), the Quaglia (roasted quail, farro, chickpeas, prosciutto and olives) and the Pollo Girarrosto (rotisserie chicken, potatoes and greens). (See the menu here.)
Yelper reviewer Helen O. wrote, "Love the restaurant in its entirety. Beautiful layout, great service, very knowledgeable staff and amazing food. The gnocchi and carpaccio were amazing. So was the lobster pasta. All of the dishes were rich in flavor and so well-balanced. The bread that comes with the carpaccio was also perfect."
3. Barolo Grill
Congress Park's Barolo Grill, located at 3030 E. Sixth Ave., is another top choice, with Yelpers giving the fancy wine bar and Italian spot four stars out of 244 reviews. 
On the menu, look for the Risotto con Zafferano (slow-cooked acquerello carnaroli rice with saffron cream, pancetta, black truffle and banana crisp), the Rana Pescatrice (monkfish, olive tapenade, saffron potato, fennel and seafood-tomato brodo) or the Bistecca al Barolo (grilled beef tenderloin, frico caldo, roasted king trumpet mushroom, asparagus and summer truffle). (See the full menu here.)
Jonathan K., who visited on June 16, said, "Creative food that is very well executed.  I really like that the menu is constantly changing and refining. The wine list is extensive and their knowledge is amazing."
4. Quality Italian
Quality Italian, a steakhouse and cocktail bar in Cherry Creek, is another pricey go-to, with four stars out of 201 Yelp reviews. Head over to 241 Columbine St. to see for yourself. 
The steaks are prepared Italian-style with black Marsala, Gorgonzola and horseradish or truffle butter. You can score a filet mignon, a New York strip or a bone-in rib steak. It also serves housemade pasta and other classic Italian dishes. (Check out the full menu here.)
Yelper Abigail L. wrote, "One of the best dining experiences I've had in Colorado. Atmosphere and service were top notch. Lasagna for two was something I'll dream about. Fantastic twist on a tried and true classic. Overall, a wonderful experience."
5. Palizo Italiano

Last but not least, there's Palizo Italiano, a Platt Park favorite with 4.5 stars out of 55 reviews. Stop by 1472 S. Pearl St. to hit up the wine bar and Italian spot next time you're in the mood to celebrate. 
On the menu, you'll spot dishes like the Pasta San Marzano (sliced garlic, basil and Parmesan cheese), the Linguini Carfiofi (artichoke hearts, julienne zucchini, tomato, red onion, garlic, anchovies, grana and extra virgin olive oil) and the Lobster Agnolotti (saffron cream sauce, cipollini onion, spinach and crispy prosciutto). (See the full menu here.)
Mo H., who reviewed it on May 9, said, "The best Italian in Denver. No bells, whistles or contrived combinations, just gorgeous, simple dishes. The San Marzano pasta was beautiful and simple."