Comics and graphic novels can transport a reader to worlds where superhuman strength and tales of romance and fantasy prevail. And in some instances, where evil even conquers good. Across America, comic book stores serve as a beacon for fans of these rare worlds and as inclusive community gathering spaces.   
To break it down to the best in the nation, Hoodline crunched the numbers to find the top 50 comic book shops around the country, using Yelp data and our own special sauce* to produce a data-driven breakdown of where comics reign supreme across the U.S.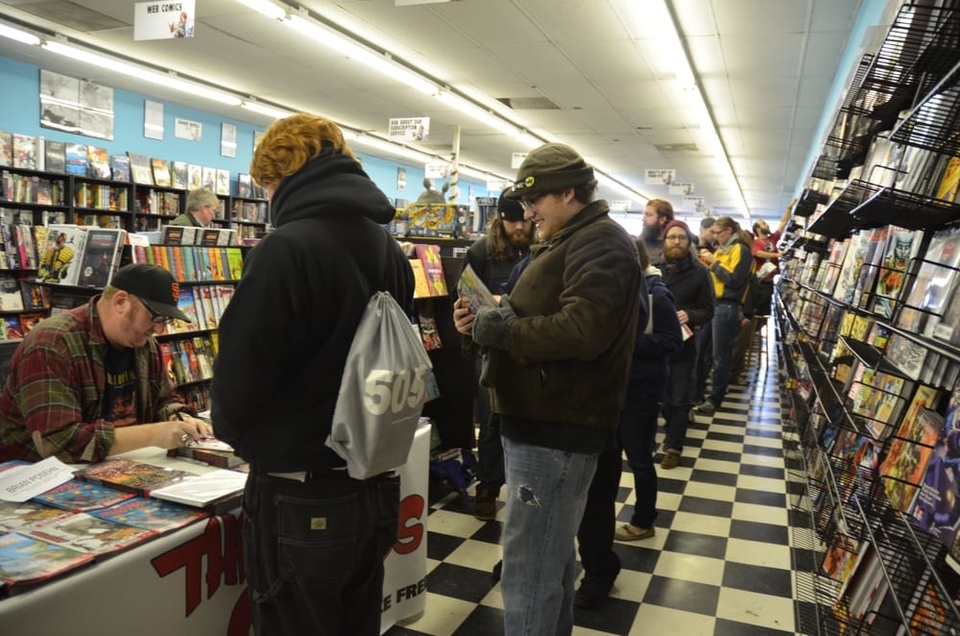 Topping the list is Maryland's Third Eye Comics, located at 209 Chinquapin Round Road, Suite 200, in Annapolis. With an impressive five stars out of 132 reviews on Yelp, the shop has made an impression with its extensive selection of comics, toys, tabletop games, magic cards and more. Third Eye Comics, which has expanded to include additional outposts in Lexington Park, Maryland, and Richmond, Virginia, also features an array of monthly events like author signings, release parties and store sales. The shop will buy your unwanted comics for cash or store credit, too. 
Worried that you'll miss the next issue of your favorite series? The store offers a free monthly subscription box service and will hold your copies at the store before they sell out. 
In second place is Austin's Tribe Comics & Games with a solid 4.5 stars out of 89 reviews. Located in the South Lamar District at 3005 S. Lamar Blvd., Suite D-113, this 10-year-old graphic novel and games shop specializes in comics, board games, role-playing games and miniatures. There are special events, regular sales and a Tribe Ladies' Comic Group, which meets regularly for Dungeons and Dragons, among other table games.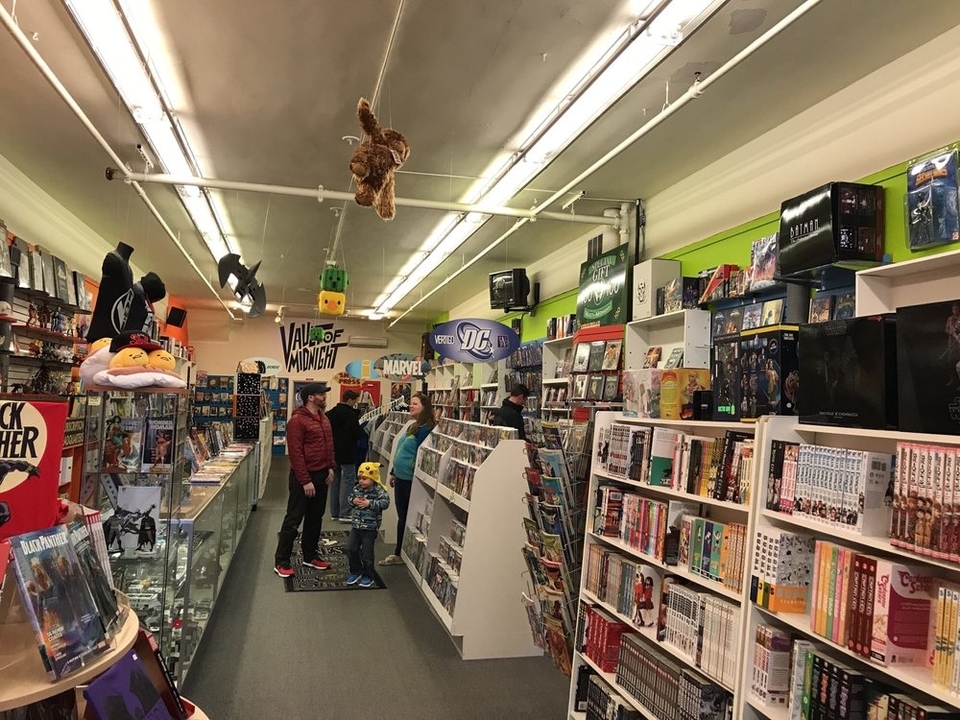 The third-place spot goes to Vault of Midnight Comic Books and Stuff in Ann Arbor, Michigan, which boasts 4.5 stars out of 102 reviews. Located downtown at 219 S Main St., this spot features merch, book of the month clubs, appraisals and buying, game nights, author signings and more. If you can't make it to Ann Arbor, the shop has spots in Grand Rapids and Detroit, too. 
When it comes to the popularity of comics across the country, Yelp data show that businesses tagged with the "comic book" category are largely clustered around urban metros on the East and West coasts, with Texas, Illinois, Florida, Indiana, Ohio and Michigan also seeing notable numbers of graphic novel-focused retailers.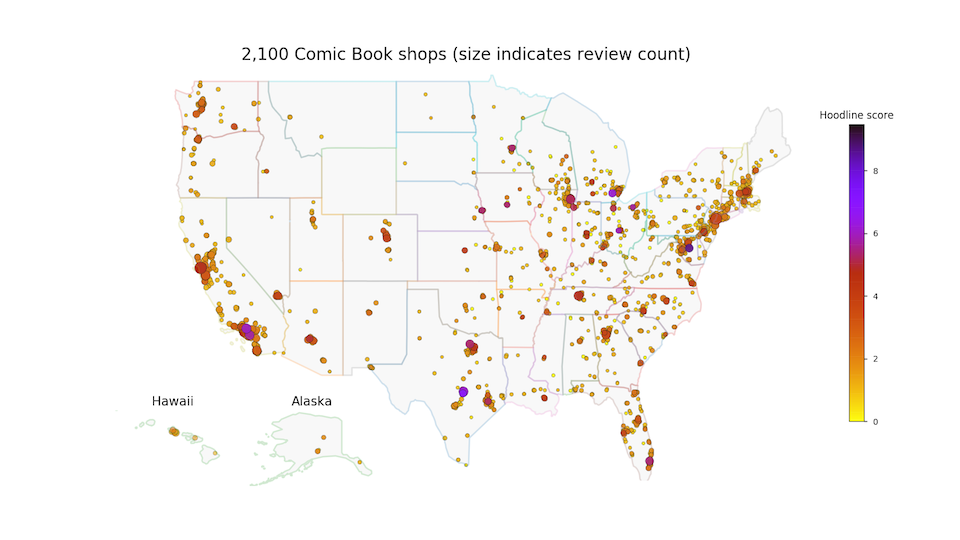 As for relative popularity across the nation, measured by average ratings for a given category, Yelp data indicate the Dakotas, Montana, Wyoming, Minnesota and Wisconsin may not be home to the biggest comic book fans, comparatively speaking.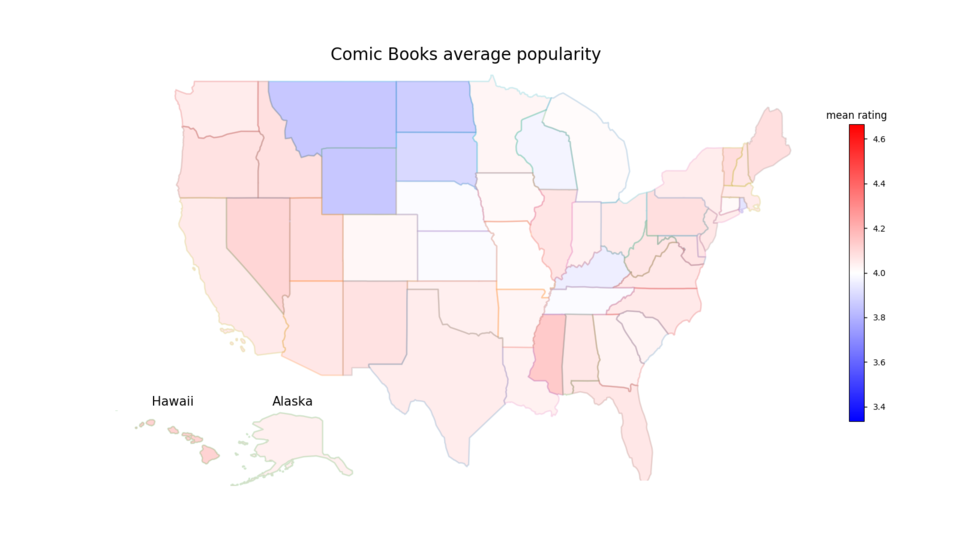 When it comes to how prevalent comic book businesses are, state by state, New Hampshire shows the strongest ratio of comic book stores compared to all other categories, with Maine, Indiana, Delaware and Massachusetts the runners-up. So, New Hampshire should be your top stop if you want a diversity of comic book options to choose from.
Want to know where to find the best selection of comic books the country has to offer? Here's the rundown of the 50 American comic book stores to knock off your bucket list:
---
* To determine "best" businesses, Hoodline took into account the business's Yelp rating and the significance of that rating proportional to the number of reviews, as well as regional variations, to ensure that states with a stronger pattern of reviews don't have an unfair advantage over states that tend to review businesses less frequently.