After two years of planning and construction, the living alley project on Hayes Valley's Linden Street is nearing completion. 
Eight small sidewalk gardens were put in place on the south sidewalk in early September, and new benches are currently being installed, along with 16 overhead lanterns on strings.
As we reported last year, Place Lab (formerly Build Public) secured $189,000 in city funds to make improvements to the alleyway along the 300 block of Linden Street.
SF Planning defines living alleys as "urban living rooms" that prioritize pedestrians and bicyclists, while keeping the street open to cars.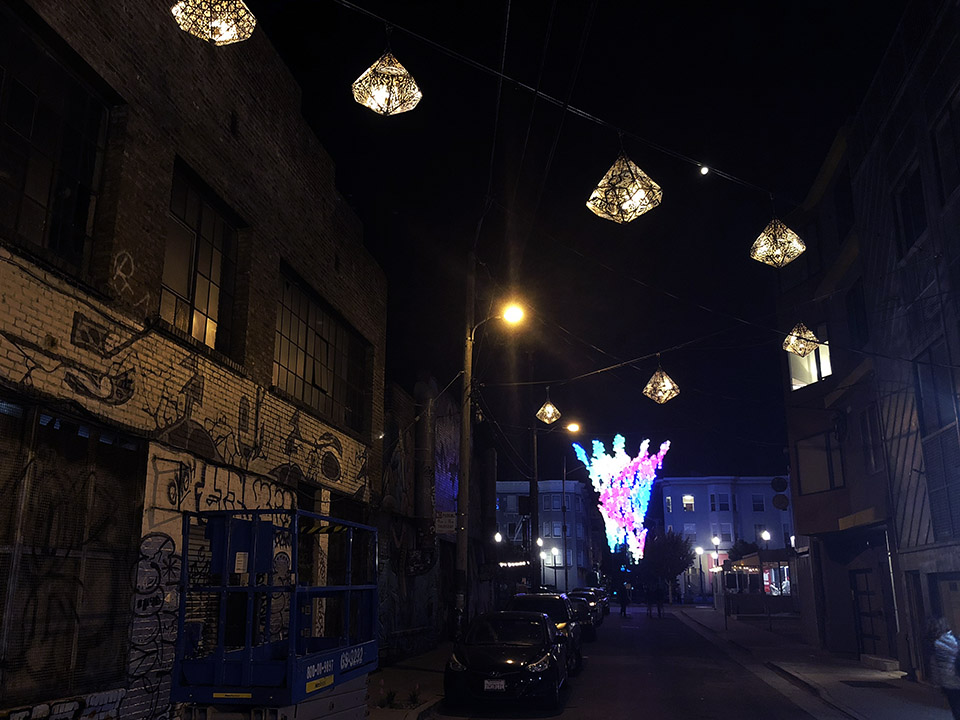 The improvements are being put in place through a variety of local partnerships. 
Friends of the Urban Forest helped install the gardens; the new benches were designed by the Office of Cheryl Barton and are being set up by Rarefield Design/Build; and the lanterns come from Yelena Filipchuk and Serge Beaulieu of sculpture and arts collective HYBYCOZO, which is also behind the geometric light sculptures on neighboring Patricia's Green.
Toral Patel, Place Lab's associate director of stewardship and planning, told Hoodline that the city will continue to provide baseline services to the block, while the Friends of Linden Alley will be responsible for the maintenance of the new improvements.
According to Place Lab's website, the Friends of Linden Alley is a group of stakeholders "committed to the long-term stewardship of the alley," including representatives from new businesses on the alley like Optical Underground and Clare V. The group is expected to be fiscally sponsored by the San Francisco Parks Alliance.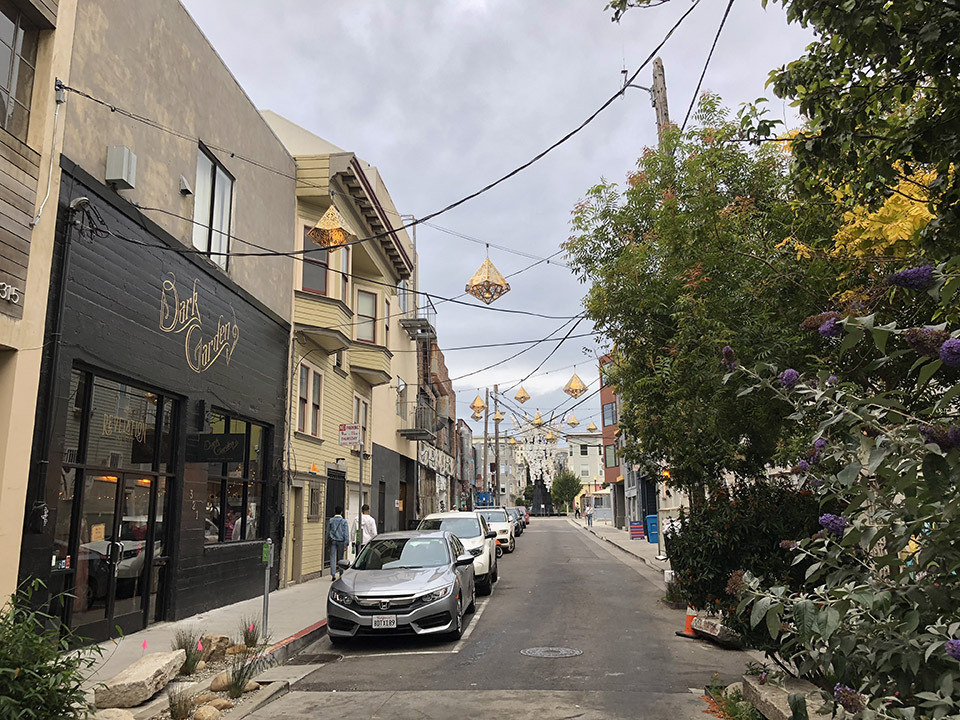 SF Planning kicked off the Market Octavia Living Alleys project in 2013, in the hope that coalitions of Hayes Valley residents, businesses and nonprofits would work together to spearhead small-scale alleyway improvement projects throughout theneighborhood.
The agency launched a toolkit to help local business owners and residents better understand the initiative, and a $1 million Community Challenge Grants fund to help fund proposals—up to $200,000 per alley. Another living alley, on neighboring Lily Street, is currently in the works as well.
Next Friday, October 12, the Friends of Linden Alley will host a block party and lighting celebration from 4-7 p.m., with free food, drinks and activities. At 5:30 p.m., District 5 Supervisor Vallie Brown is expected to turn on the newly installed lanterns.
"Everyone is welcome," Patel said.