"When I think of what the face of Oakland used to be, I see this mural with all these faces on it: black folks, brown folks, indigenous folks, white folks, Asian folks, working-class people and resistors and artists," says Cat Brooks, a leading Oakland mayoral candidate in the upcoming high-stakes general election, which takes place November 6.
"When I think of what the face of Oakland is right now," she continues, "I see the paint all wet and someone blurring it all out."
Brooks is seated at a table in the main room of her office headquarters as she conjures up a hauntingly poetic image of faces and identities melting away. Pushing back against the landslide of gentrification in Oakland has been one of the central issues of her campaign, along with a call for greater transparency and accountability in city government and for sweeping reform of the Oakland Police Department.
As a cofounder of the Anti Police-Terror Project, an organization that seeks to eradicate "police terror" predominantly in communities of color, Brooks has been a longstanding and vocal critic of the OPD, which has been under federal receivership for 15 years. Brooks calls for more community-controlled oversight of law enforcement and has criticized the incumbent, Mayor Libby Schaaf, and her administration for complicity in the corruption at the OPD through its management of the police commission.
"We need people in the city council and in the mayor's office that aren't part of the blue wall of silence," said Brooks. "That is a critical first step to getting accountability."
According to a recent poll of likely voters, released by the Oakland Chamber of Commerce, Brooks and Pamela Price are tied with 17 percent of the vote, while Schaaf leads the two by a 20-point margin. With less than two weeks to go before the election, another 17 percent of the Oakland electorate remains undecided — which, the East Bay Express notes, may indicate a desire for change. It is Brooks' prerogative to win over those voters in the coming days.
While campaigning, Brooks emits a mix of urgency and charisma. Although she would eventually follow in the footsteps of her mother, an activist and community organizer who worked to bring attention to domestic violence among a variety of other social issues, Brooks initially harbored a love for theater and the arts, which has clearly stayed with her.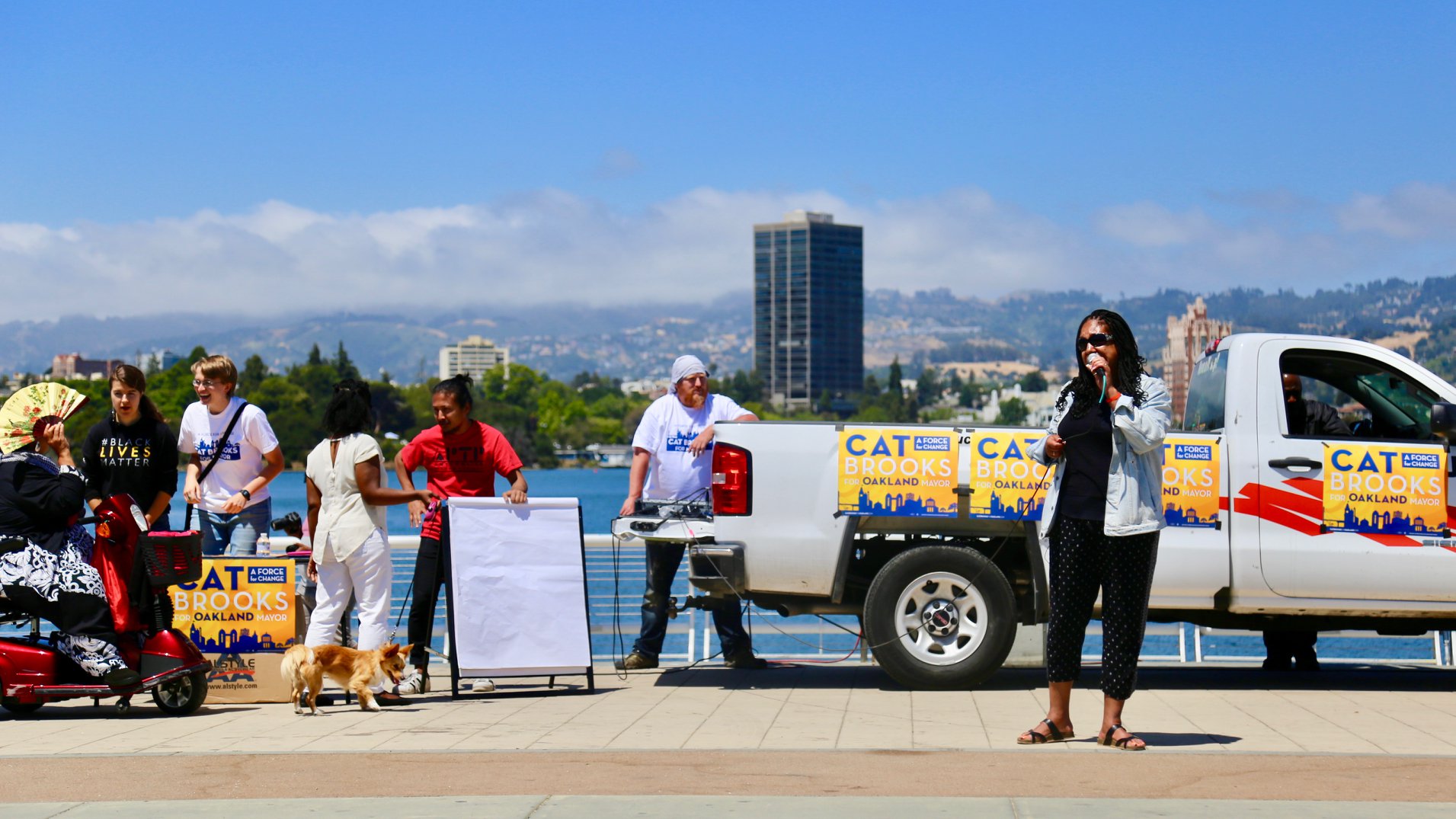 Earlier this month, at a panel at St. Mary's Center in West Oakland, the moderator asked each candidate to explain their position on Proposition 10, a statewide ballot measure that would grant cities the power to put price limits on rented single-family homes, condominiums, and new apartment buildings. When it came to her turn to answer, Brooks stood up from the table.
"The rent is what?" she boomed into the microphone and then held it out to the audience.
"Too high!" the audience yelled.
"The rent is what?" she yelled again.
"Too damn high!" they yelled back.
"Yes, I support Proposition 10," Brooks said vehemently. "And I am the only candidate who has made that a central issue in my campaign. When Prop 10 passes," continued Brooks, "we will pass the most progressive rent control policy in the state – because that's the Oakland way."
But not everyone is behind the ballot measure. Critics of Prop 10 argue that the statewide measure would send a message to real estate developers that California is an unfriendly place to do business, which could slow down the development of housing and make matters worse.
When questioned about the potential drawbacks of Prop 10, Brooks seems unfazed. "No, I don't think it will have any negative consequences at all. It doesn't stop you from making a profit on your property. All it's going to do is allow rents to have some more safe protections and that's good for everybody."
Whether or not Prop 10 passes, Oakland's next mayor will face the city's homelessness crisis. Earlier this year, United Nations Rapporteur on Adequate Housing Leilani Farha inspected the homeless encampments in Oakland and described some of the conditions as "systemic cruelty."
Brooks has other words for it. "I call it criminal," she says. "The fact that people can push out people who are paying $600 or $700 a month for rent and then jack the rent up to $5,000 a month should be criminal."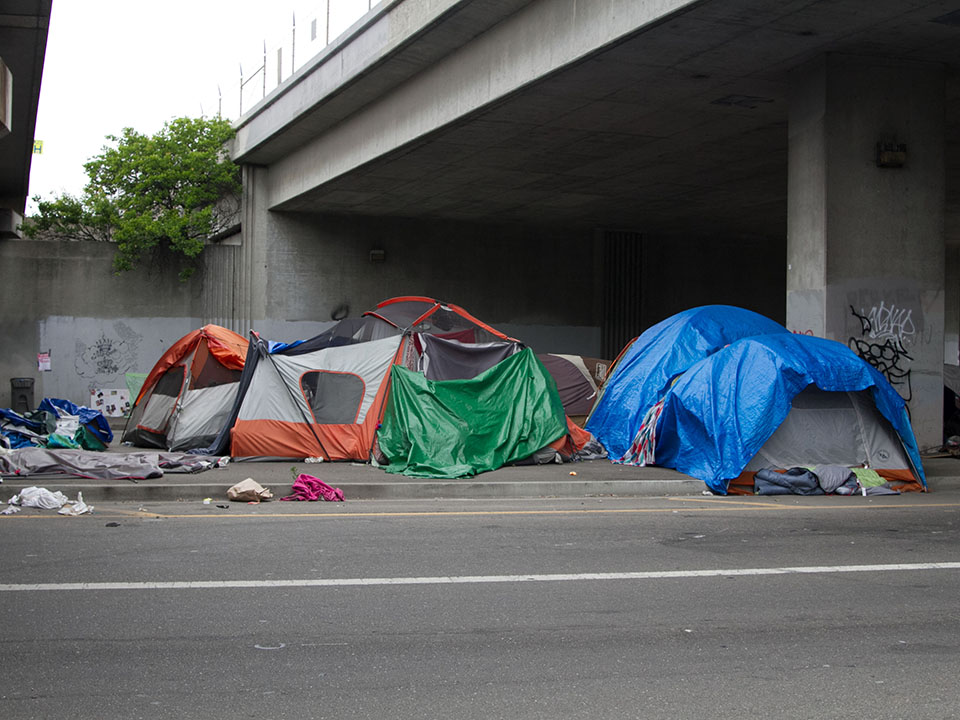 Brooks offers a host of other policies to curb homelessness. Like most politicians who find themselves on the left side of the political spectrum, these policies involve higher taxes.
"If you want to put a shovel in the ground in Oakland, you need to be paying us to be able to house the Oaklanders that were already here," says Brooks. "We are one of the only few cities in the state of California that doesn't demand impact fees, community benefit agreements, and inclusionary zoning. We got a crisis on our hands, and we need to employ every single mechanism that we can to solve that crisis."
Brooks also has an eye on places waste and excess lie. "There are city-owned buildings that are sitting empty. We need to purchase them and put showers and bathrooms in them," she says. "And we need to demand that all this new housing that people are building is done equitably and that 50 percent is for low-income workforce housing. We need to use our public land for public good."
As she takes a deep breath and dabs the corner of her eyes, a frenzy of volunteers are whooshing around Brooks in the main room of the office headquarters. They are preparing brochures and other materials for an afternoon of doorbell ringing and canvassing. On the other side of the room, a group of young people seated along a table are phone banking to gain support from local citizens. Brooks looks around at everyone.
"Ultimately, I'm running because I don't want to become San Francisco 2.0," says Brooks. "I'm running because I want to help stop what's happening to Oakland."
"We're either going to evolve again into the Oakland that everybody loves or it's going to be very rich and elitist, a bedroom community that loses all the buzz and brand and beauty that made Oakland Oakland. That's the direction we are headed under the current administration," she concluded.