This fall, Faye's Coffee and Video (3614 18th St., at Guerrero) will celebrate its 20th birthday — an impressive achievement in an era in which video stores have become nearly obsolete. 
More than 150 video stores have closed their doors in San Francisco in the past three decades, according to the Chronicle. Their ranks have included nationally renowned spots like the Inner Sunset's Le Video, whose 100,000-title collection is now part of an Alamo Drafthouse in Raleigh, North Carolina.
Yet Faye's, which stocks more than 10,000 titles in its tiny space, has managed to hold on. It's one of only three video stores remaining in San Francisco. 
Once a specialty grocery store, Faye's shifted to a video and coffee format in 1998 with the arrival of competitor Bi-Rite Market, located just down the block.
According to co-owner Mike McConnell, who's worked at Faye's since 2002, the revamped business got its start by acquiring the library of a shuttering video store at 14th and Guerrero. 
The name of the store dates back even further. "In the '60s, it was a dry cleaner owned by the Faye family," said co-owner Justin Lawrence. "When it was sold to an employee, everyone assumed she was Faye and called her Faye. It's been Faye's ever since. It's a legacy name."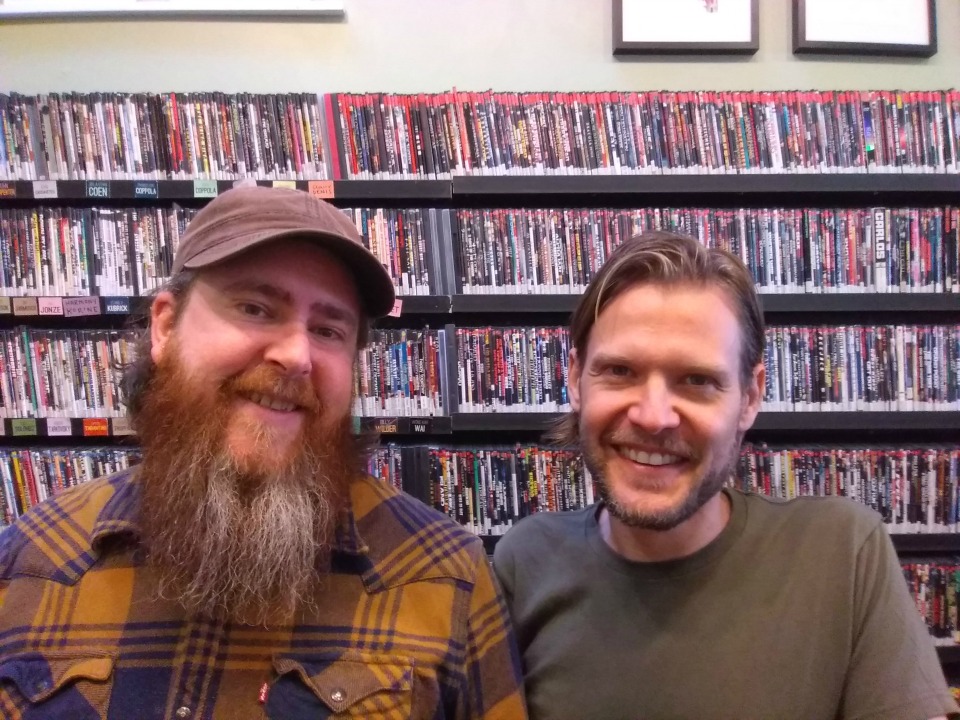 In an era of Netflix, Hulu, and streaming rentals, Faye's stays afloat with coffee sales, which McConnell explains comprise the bulk of its revenue. Many of the video store's remaining regulars are the kind of hardcore film buffs who need more than what Netflix and its ilk can offer.
Netflix, Lawrence said, usually has 2,200 titles available for viewing at any given time. "But we have 10,000 titles, we have cult films," he said. "You won't find John Waters' Female Trouble on Netflix."
As Lawrence chatted with Hoodline during our Sunday-morning visit, a man named Scott came in to return his movie. He and Lawrence greeted each other by their first names.
"He comes in a couple of times a week," said Lawrence. "He loves us, and we love chatting with him about movies."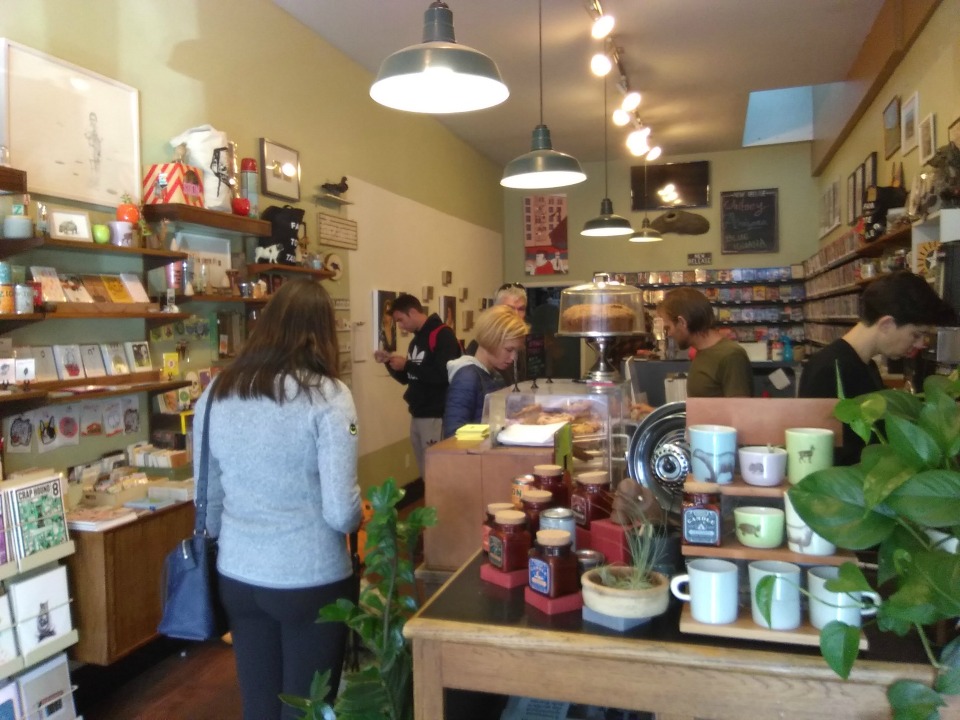 In addition to streaming, Lawrence said there are some uniquely San Francisco factors that have dampened the video business at Faye's and its two remaining competitors, Noe Valley's Video Wave and the nearby Alamo Drafthouse's Lost Weekend Video. 
"With rents so high, people don't have communal living rooms where they can watch movies," said Lawrence. "[And] computers don't come with disc drives anymore, so you can't watch by yourself."
Yet the movie rental portion of the business has managed to hang on, earning enough for the duo to continue to stock new titles.
"People who are into movies are going to find us," Lawrence said. "We have a core group of dedicated movie people, but it's definitely decreasing in numbers as the demographics in San Francisco change. It's hard to entice the new generation that didn't go to video stores on Friday nights."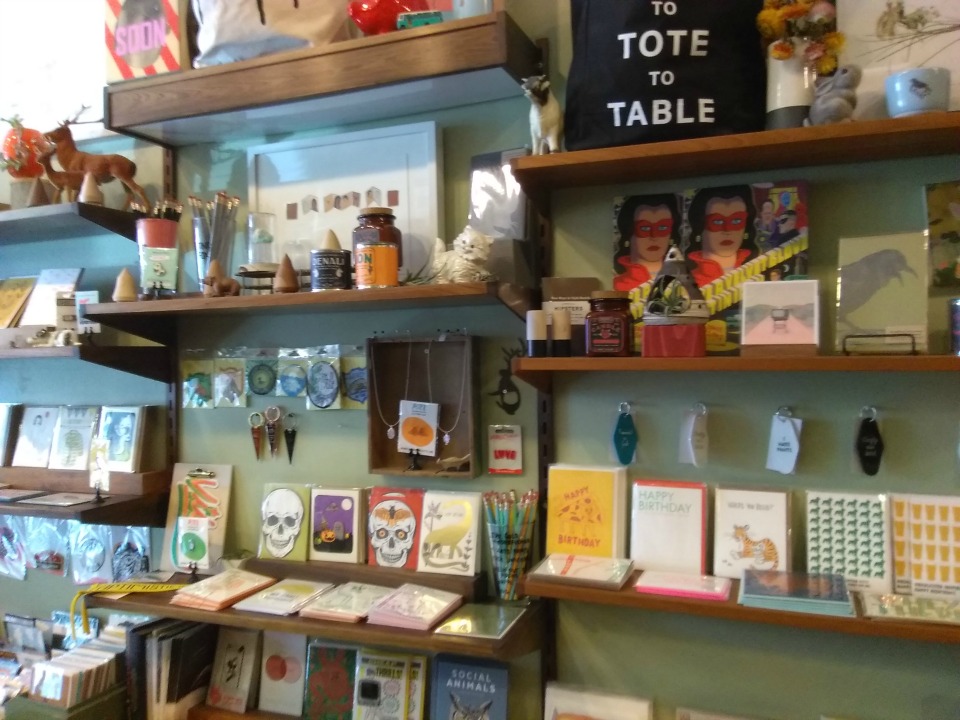 Most of the shop's other visitors are stopping by for a cup of java, made with beans roasted especially for Faye's by Emeryville's Mclaughlin Coffee, or to pick up a card or present from its on-site gift shop.
"During the week, we get the neighborhood people who have long-term residences in the area," said McConnell, as well as students from Mission High. On Sundays, attendees of the nearby churches flood the space.
"We're constantly reordering stuff [for the gift shop]," added McConnell. "It's good to see that people are still buying cards."
The space also hosts a small art gallery in which local artists can display their work.
"We do well with art," said Lawrence. "We're a good point of entry to start collecting art. People who stop in for coffee will see a show and say 'I want that piece' — they want to give it a forever home."
Lawrence also noted that all of the shop's employees are from across the LGBTQ and gender non-binary spectrum. A rainbow flag hangs prominently in the store's front window.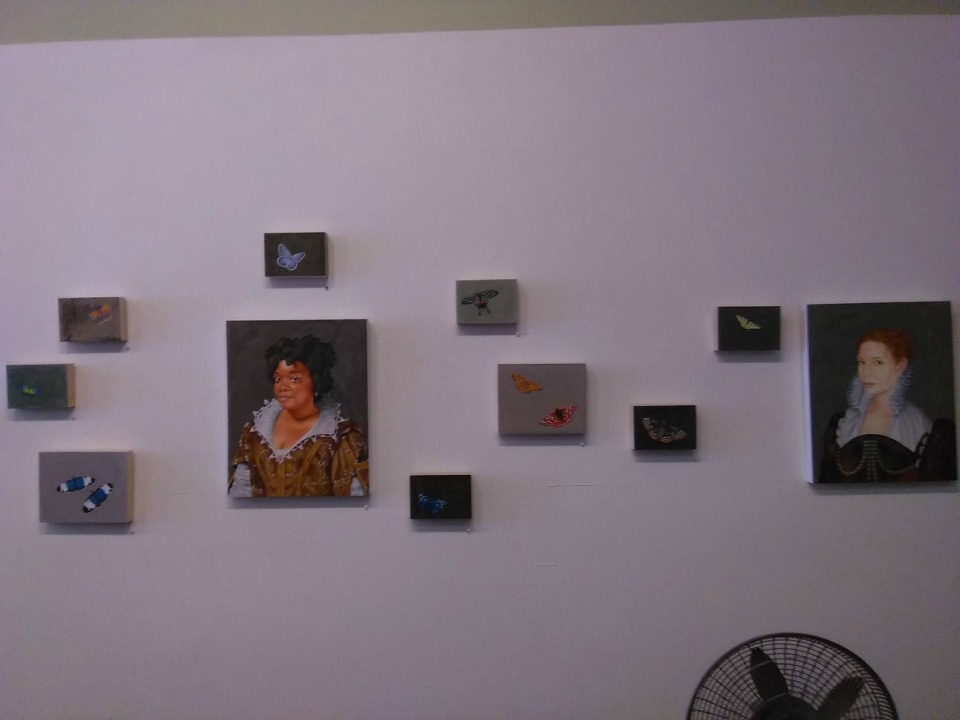 As customers continued to line up for their Sunday-morning coffees, McConnell ducked behind the counter to help make sure that everyone was served quickly.
"We get told all the time that we have the best iced coffee," Lawrence said. "But [people] don't tell anyone, because they don't want to wait in line."
"We tell them to tell at least two friends, so we can stick around for another 20 years. People seem to really like us and we always like it when we get to introduce people to our secret spot."
Faye's Coffee is open from Sunday-Thursday from 7 a.m.-6:30 p.m., and on Fridays and Saturdays from 7 a.m.-8:30 p.m.