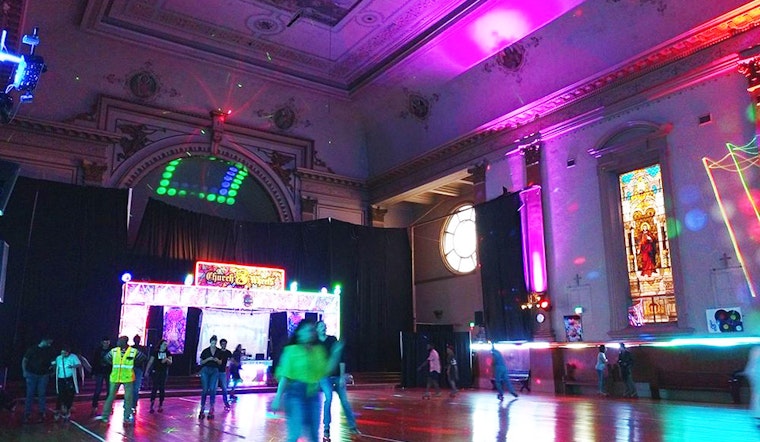 Published on November 05, 2018
Tomorrow, the Church of 8 Wheels on 554 Fillmore St. (at Fell) will celebrate five years in business. The roller rink is housed inside the former Sacred Heart Catholic Church, which held its final mass in 2004.
"Five years ago, at this time, I was asking for permission," founder David G. Miles, Jr. told us. Known as the "Godfather of Skating," he says the past half-decade has been like a party that never ended.
Every Friday and Saturday night, skaters of all ages lace up at the church as a live DJ spins funk and disco. Miles believes the neighborhood, which once housed a massive skating rink just two blocks south, can feel the energy. He loves to see locals rediscover the magic of roller skating, "let loose and dress up," he said.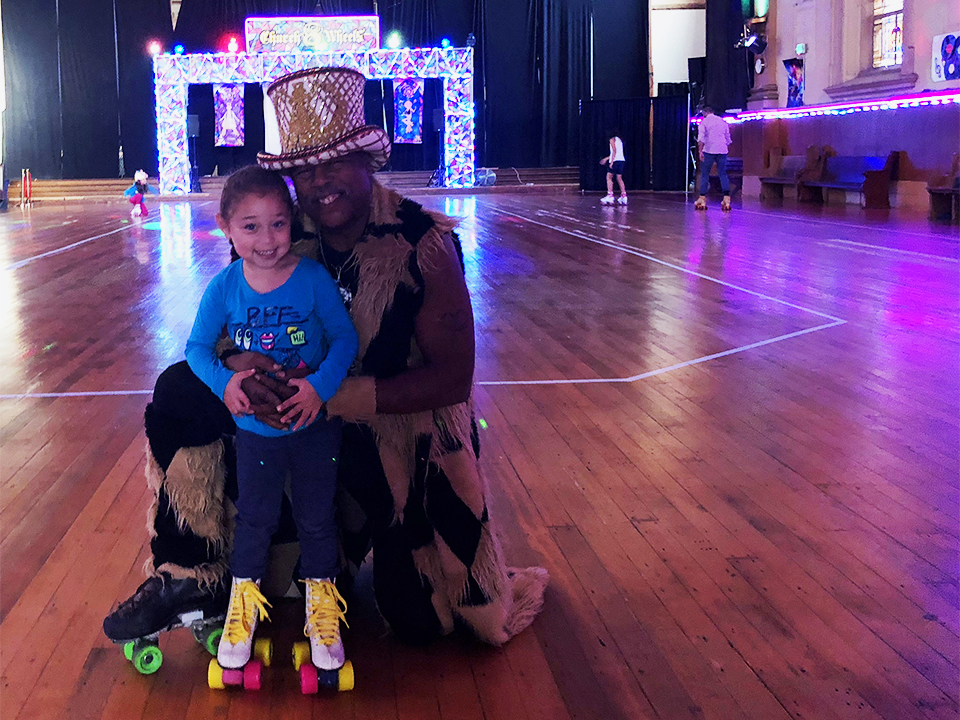 After moving to San Francisco from Kansas City in 1979, the "Godfather of Skating" has spent decades earning his moniker. He coordinated the Golden Gate Park Skate Patrol, which formed in 1979 to keep an eye on skaters in the park, and has been an executive director of the California Outdoor Rollerskating Association. He's also brought the Black Rock Roller Disco to Burning Man for almost 20 years.
In addition to running Church of 8 Wheels, he's currently in the midst of planning a four-day celebration of the 40th anniversary of the Golden Gate Park skating scene, slated for next July. The park's vibrant skating community is centered around the Skatin' Place, near 6th Avenue and John F. Kennedy Drive.
Miles says the Church of 8 Wheels has given that community a weather-resistant space to thrive. On weekends, a team of five or so staff members help him take admission, dole out skate rentals and "spread rolligious energy," he explains.
Miles says the rink aims to treat every skater as equal, from novices to experts. There aren't hand railings, so skaters are motivated to figure out how to use their wheels. If someone needs a break, they can rest on one of the benches lined up alongside the church's walls.
Since no alcohol is allowed in the church, Miles says visitors often come to kick off their evening before heading to a bar.
"Parking is less of an issue now, since Uber and Lyft exist," he said.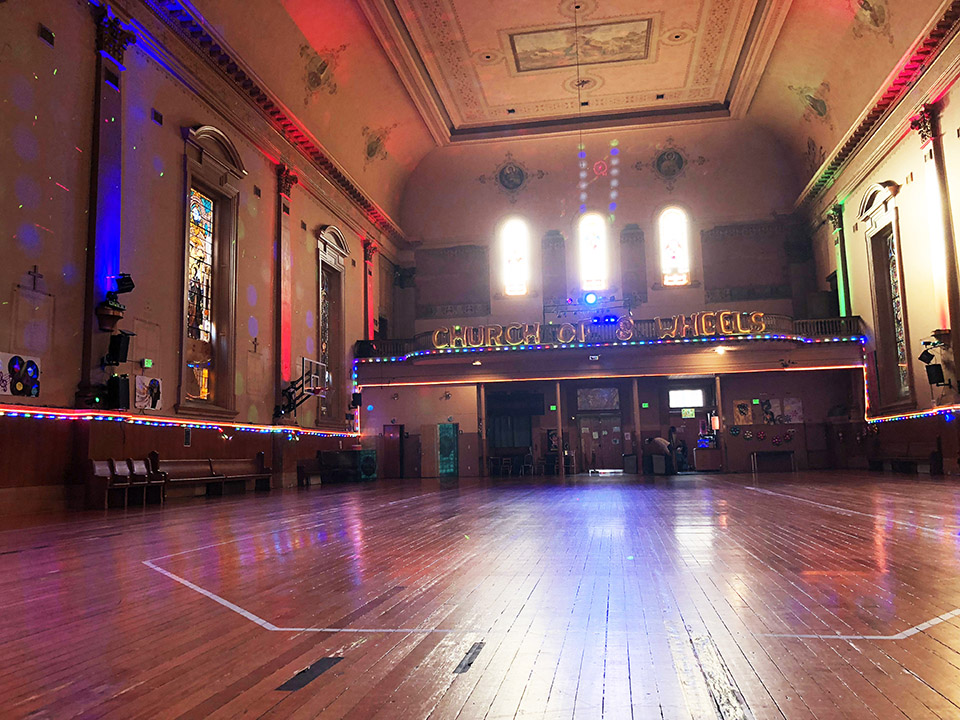 Two years ago, the Church of 8 Wheels got an upgrade from property owner The Pollard Group. Its tile floors were replaced with a polished wooden rink, and an overhead netting was removed, making the ceiling murals visible.
But according to city records, the Pollard Group also has plans to convert the church into residential units, a plan that's tentatively been in the works since 2015.
Miles says he hopes he can stay as long as possible, but if the plans go through, he has his eye on a possible new venue for the skating rink: a 17,000-square-foot airplane hangar in the Presidio.
"I don't quit," he said, laughing.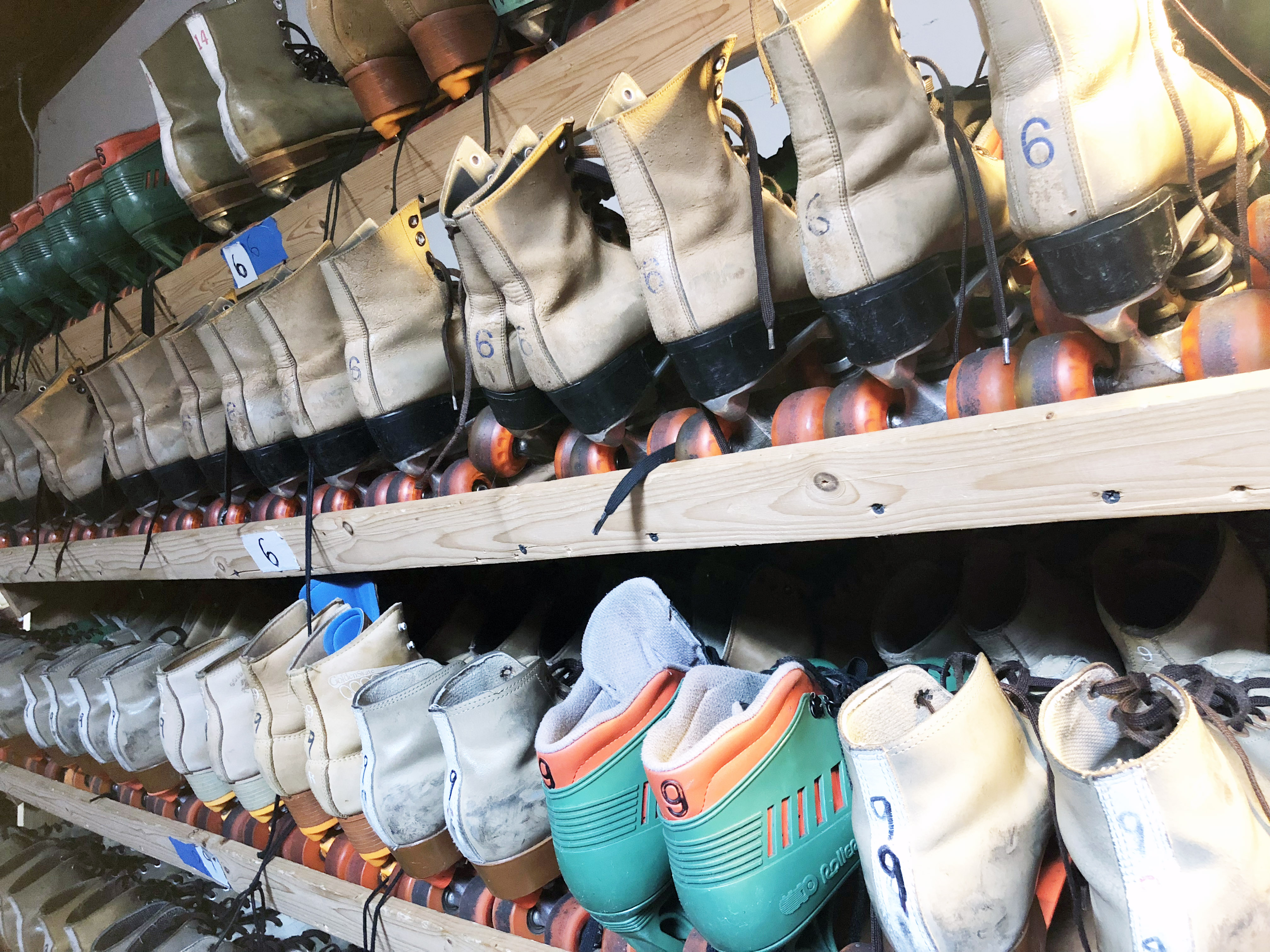 Until then, he's focused on creating a positive place for skaters, often greeting the first admission of the day by ringing the church's bell.
"It's a bit like coming into Willy Wonka's chocolate factory," he said.
---
The Church of 8 Wheels will host a five-year anniversary party tomorrow from 7 to 10 p.m. Admission is $10, with skate rentals for $5. For those with an eye on the midterm election results, the rink will broadcast them live. 
Regular skating hours are Fridays from 5-7 p.m. (all ages) and 8 p.m.-12 a.m. (adults only). On Saturdays, the church offers a family session from 3-5 p.m. and an adult session from 7-11 p.m.