By
Hoodline
- Published on January 17, 2019.
Social media — especially the immediate, back-and-forth conversations of Twitter — can reflect the issues most on peoples' minds. For Philadelphia, that included the Golden Globes, the NFL playoffs, and the president.
Hoodline sifted through a week's worth of the city's loud and chaotic stream of tweets and figured out what really has you talking (or rather, typing). 
But first, the numbers. Twitter users whose profiles place them in Philadelphia generated 1,569,087 tweets and retweets between Jan. 7 and Jan. 13. Daily tweets ranged from a high of 271,991 on Jan. 7 down to 189,983 on Jan. 12.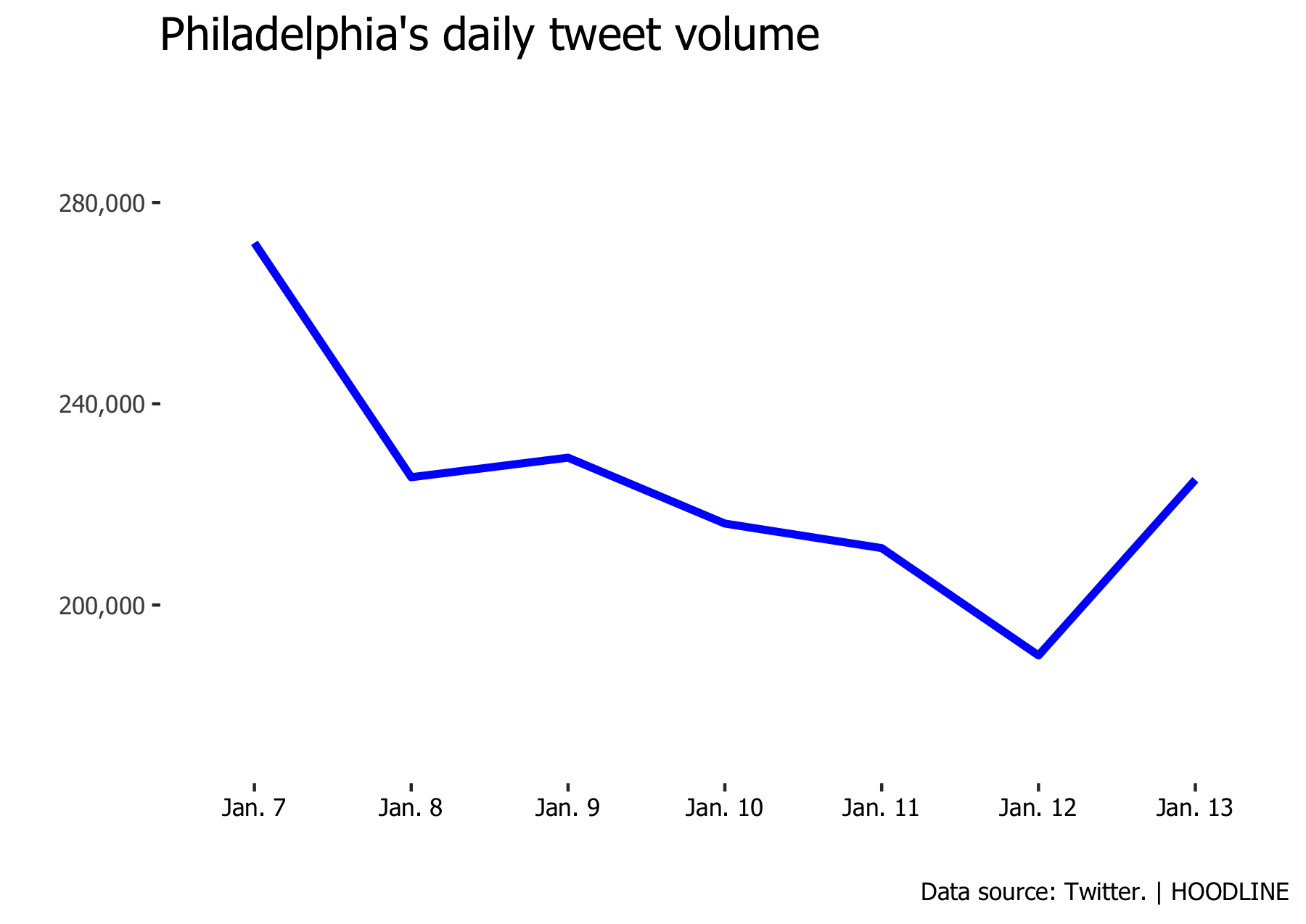 Part of the chatter was locals taking part in national trending conversations, based on Twitter's list of trending terms and tags for the week. Two of those in particular drew the attention of Philadelphia's tweeters: #TrumpAddress and #GoldenGlobes.
In response to President Trump's national television address on the border, journalist @MrErnestOwens tweeted:
I woke up still confused that Trump is trying to sell this wall to the American people as being something that will address a "humanitarian crisis" as opposed to starting one. #TrumpAddress

— Ernest Owens (@MrErnestOwens) January 9, 2019
The Golden Globes honored actor and comedian Carol Burnett with a special achievement award, prompting @CarrieRickey to tweet:
#CarolBurnett, receiving the award in her name for achievement in television in TV comedy at #GoldenGlobes was the keenest of movie critics on her variety show. The best.

— Carrie Rickey (@CarrieRickey) January 7, 2019
The city also saw dozens of hashtags arise locally during the week. Most of them didn't gain much traction (that's typical), but two that did were #FlyEaglesFly (11,900 local tweets), #GospelMusic (1,700 local tweets) and #Sixers (669 local tweets).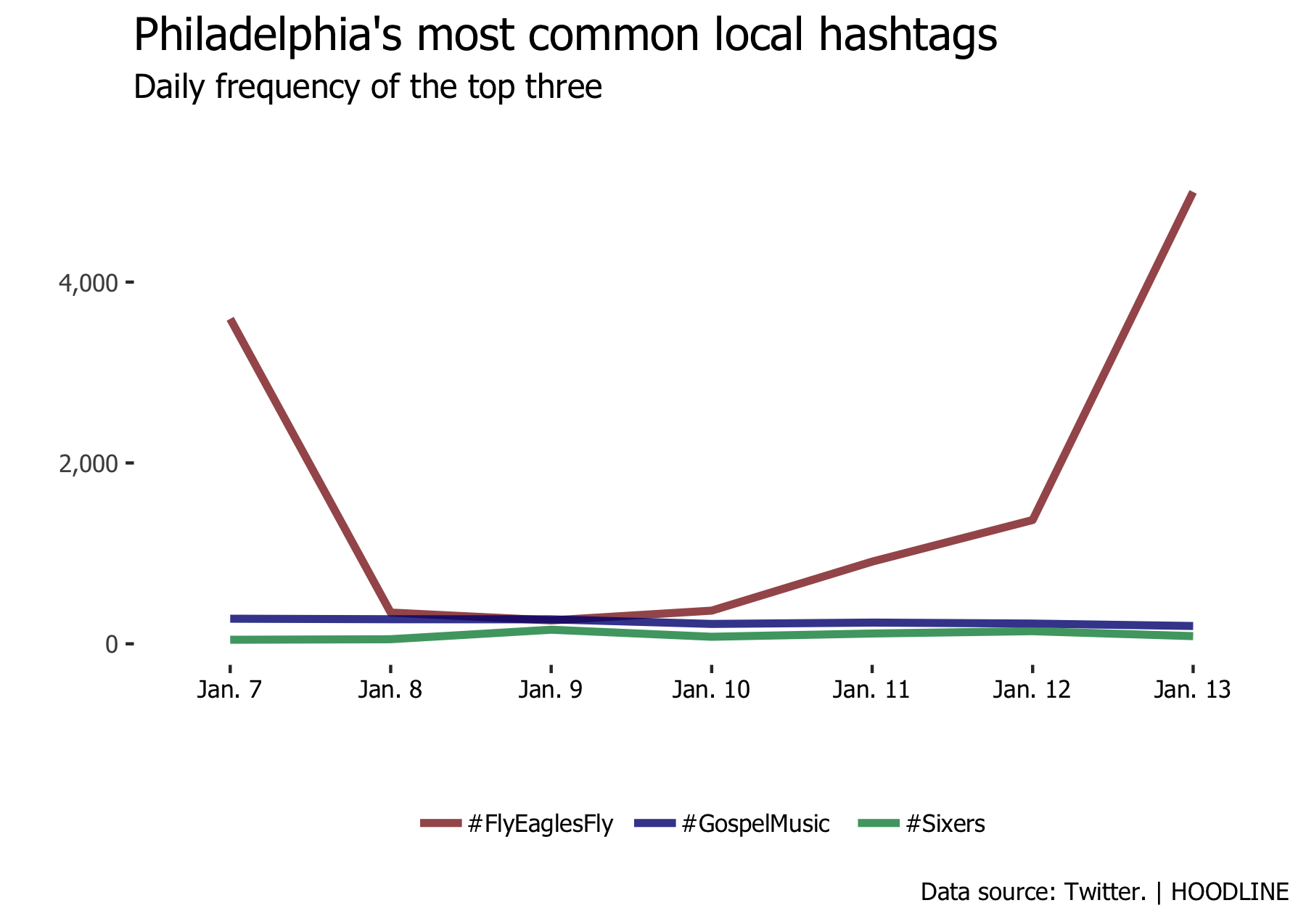 The reigning Super Bowl champion Eagles played their way into the NFL's divisional round, taking on the Saints on Jan. 13 in New Orleans. The city was ready for a repeat, with @PhillyMayor Jim Kenney tweeting the night before, "Ready for a big win tomorrow! #FlyEaglesFly". But when the dust settled, there was no joy for Philadelphia: New Orleans won out, 20-14.
Ready for a big win tomorrow! #FlyEaglesFly pic.twitter.com/9DpPL6Ikbw

— Jim Kenney (@PhillyMayor) January 12, 2019
And @ThePhillyVoice brought news from another hometown team, tweeting:
The #Sixers will honor the late Moses Malone by retiring his number next month https://t.co/jKFnAFYtFf @KyleNeubeck

— PhillyVoice (@thephillyvoice) January 11, 2019
Most of the city's Twitter conversations happen without hashtags, so Hoodline also applied our analytical tools to the text of all 1.6 million tweets to surface more of what was on your mind. For many, it was the hometown team's playoff run and eventual loss. For others, the president and national politics.
The word cloud shows the relative frequency of the top 50 terms from tweets originating in Philadelphia during the week. No. 1 — unsurprisingly — was "Eagles," appearing 39,814 times. Other top words included "Trump" at 25,766, "wall" at 13,419 and "God" at 10,032.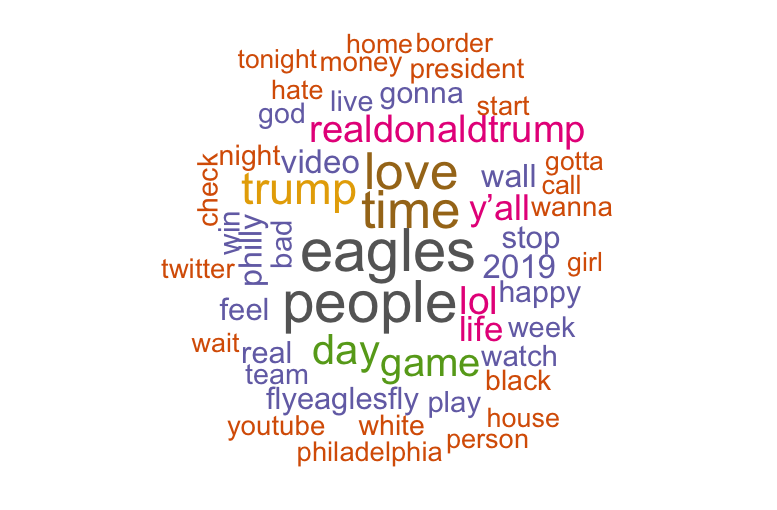 ---
To take the temperature on social media each week, we collect all tweets from Philly-based Twitter users and those tweets tagged with locations in the city, then apply our own complex analytical tools to refine the flood of tweets into a coherent analysis of the city's week on social media.
There's a lot of data behind our story, but it doesn't include absolutely everything. We have, for example, cooked up ways to screen out offensive tweets, and we've taken steps to reduce the noise from bots and fake accounts.
Want more of Hoodline's coverage of Philadelphia news and neighborhoods?
The 3 best Cantonese spots in Philadelphia
Jonesing for bagels? Check out Philadelphia's top 5 spots
3 ways to make the most of your week in Philadelphia