Despite the "for lease" sign in its window, 45-year-old Upper Haight skate shop Skates on Haight is hoping to stay put. But to do so, it needs a new co-tenant.
"It's a retail problem," said owner Carol Sloan. Foot traffic to the retail storefront at 1818 Haight just isn't carrying the burden of overhead, as much of Skates' business (and commerce in general) has shifted online. 
"What I would really like to do," Sloan said, "is find another business who could share the space. For some reason, I think it's possible."
But if she can't find someone to share her space, she said, she'll have to relocate.
"Unfortunately, our best prospects aren't in the Haight," Sloan said. "They're not even in San Francisco."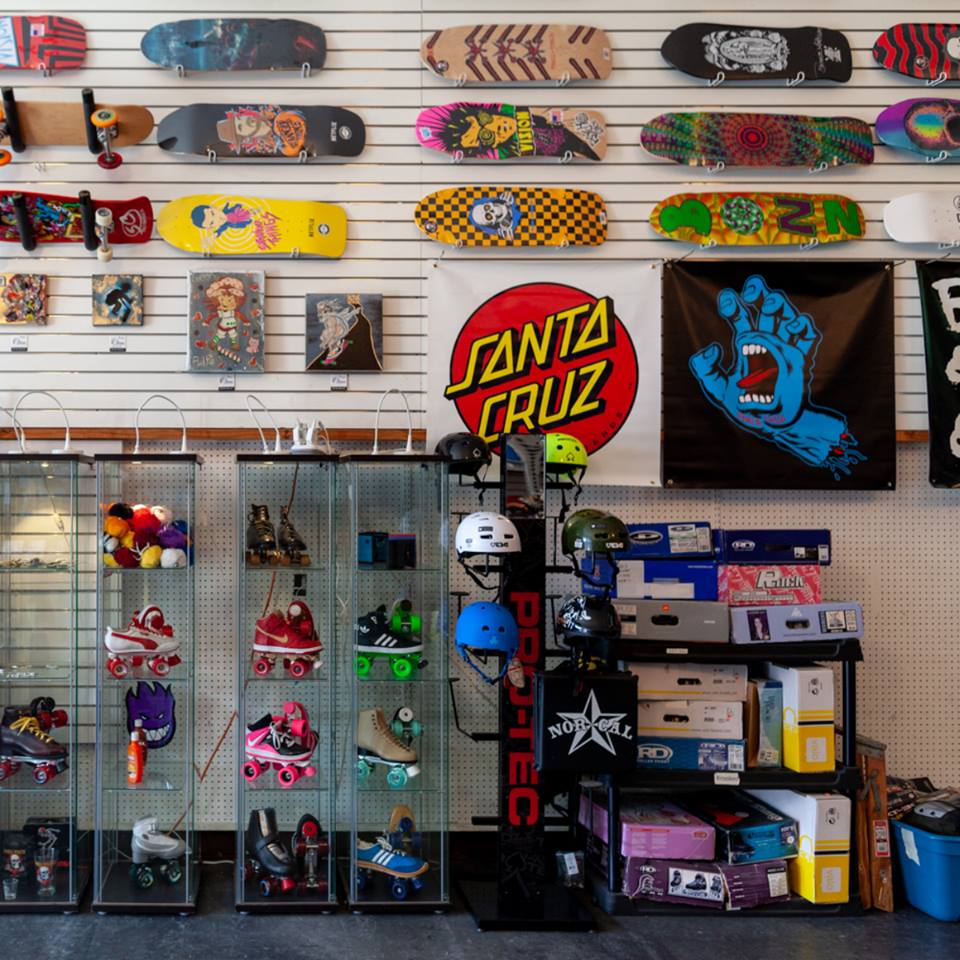 The shop's roots in the Upper Haight run deep. Opened in 1974 by Lee Cole — Sloan's business and romantic partner, with whom she raised a family and lived until his death in 2009 — the shop got its start on Taraval Street, but moved to the Haight two years later.
Cole, a former competitive cyclist, got into the skating business after he was sidelined by an injury. He got the idea for the shop after visiting the original FTC Ski and Sports on Bush Street, a pioneer in selling roller skates (and eventually, skateboards and snowboards). 
"There were thousands of roller-skaters in Golden Gate Park in the '70s," said Sloan. "Lee was one of the people who helped bring about the [skating] renaissance [in the Upper Haight], after the detritus of the Summer of Love."
Sloan herself first met Cole in the early '80s, when she came in to buy a pair of roller skates.
"I looked a lot better then," she said with a laugh. "We did what all young people do, we got together."
Even as roller-skating went out of fashion and Skates' business shifted more heavily to skateboards and snowboards, Cole held onto the shop on Haight Street "mainly out of legacy," Sloan said.
Over its more than four decades in business, Skates has built a community. "We have customers who are the grandchildren of the boys who were the original customers at the shop," she said. 
Though it's struggling in the face of the brick-and-mortar retail crunch, Sloan counts Skates on Haight lucky to have a "very supportive landlord," she said. "Both the landlord and myself would like Skates on Haight to continue [in the space]."
Asked whether she would seek acknowledgment by the city's official legacy business program, which can provide longtime businesses with rent and wage assistance, Sloan replied, "I already am a legacy business. I don't need the city government to tell me so."
With a flourishing online business, why is she fighting to keep Skates' brick-and-mortar store alive?
"It's not because I have nothing better to do," she said, laughing. "I believe I have a service to offer. Skateboarding is a 19th-century technology — it's human-powered, it's non-vicarious living. Anything that takes us out of our heads and puts us in our hearts is worth the struggle."
---
Thanks to tipster Steve H. See something interesting while you're out and about? Text Hoodline and we'll try to find out what's going on: (415) 200-3233.